As the market reaches new highs, one has to wonder if there is a correction looming or if the markets will continue posting new highs as time marches on. Opinions are varied from Cal Icahn recently saying:
I am very cautious on equities today. This market could easily have a big drop.
To Warren Buffett stating:
I would say that they're in a zone of reasonableness. Five years ago, I wrote an article for The New York Times that said they were very cheap. And every now and then, you can see that they're very overpriced or very underpriced. Most of the time, they're in an area where maybe they're a little high, a little low, and nobody really knows exactly. They're definitely not way overpriced. They're definitely not underpriced.
Which is it? This article looks at the Shiller PE ratio both past and present in an attempt to frame possible outcomes. Data for this article was obtained here. We used the median Shiller PEs over various points in time and compared them to the historical Shiller PE. We'll start with a look at the yearly data: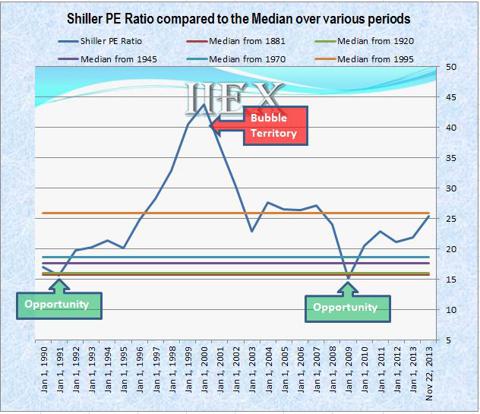 Click to enlarge
Different median values are shown starting at 1995 and at different stages going back through history (Legend at the top of graph). Why 1995? This period in history was a game changer as far as easy access to the markets. Advances in technology from 1995 revolutionized trading allowing easy access to information and trading for the investor, resulting in more participation both in the USA and around the world. Many would agree the market was oversold in the 2009 time frame (illustrated above), creating opportunity for those that had the courage and dry powder to invest. It also illustrates why using data from the early 1900's is no longer representative of today's world but yardsticks of eras past. Starting at 1995 better reflects the technology driven culture of today. Of course waiting for years' worth of data is a long time to wait, so we will break this down further by looking at the monthly data.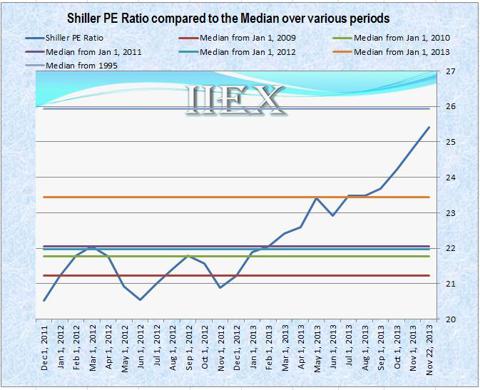 Click to enlarge
Observations:
The median value from 1995 was added to the monthly graph as a longer term reference line. Some may argue that the median from the bubble distorts the overall value but if we look at the period from approximately 2003 (post bubble) to the pre-crash of late 2008, the median value is about the same. Anyone wanting to look at other time periods can use the interactive model here.
Using median values from Jan 1, 2013 and 1995, this model seems more in line with Warren Buffett's comments, "They're definitely not way overpriced. They're definitely not underpriced."
In the short term, Carl Icahn may also be right stating he is cautious on equities today. The monthly graph could be interpreted as signaling a small correction although Carl Icahn's "big drop" comment doesn't appear to be in the cards. Based on the short-term data, a small correction is possible, maybe five percent or slightly higher but the long-term data indicate the market trading in a range defined by Buffett's comments. A large correction would need to be triggered by some unexpected outside event such as a more dysfunctional US government (if that's possible) whose policies would drag down corporate earnings. The Federal Reserve could also play a role but it's unlikely they will do anything that is a big surprise now that we know Janet Yellen will be the new Fed chair.
Market corrections yield opportunities after allowing time for the sell-off to run its course. Companies with a history of solid cash flows and earnings will perform better than companies with little or no track record. Is a correction imminent? No one can time the market as illustrated in the first graph where some were calling for a correction long before the market reached stratospheric levels. What history tells us is there will be a correction once metrics move into overvalued territory. The unknowns are the timing and how damaging it will be, dependent on how much "Irrational exuberance" abounds once the market becomes overvalued.
Here is a sampling of companies we've written about on Seeking Alpha that could represent opportunities should a correction occur. Microsoft (NASDAQ:MSFT), Apple (NASDAQ:AAPL) and Intel (NASDAQ:INTC) are large cap stocks with good track records of generating strong cash flows and earnings and low debt-to-equity ratios. Level 3 Communications (NASDAQ:LVLT) is a higher risk pick whose stock price may take a disproportional hit in any correction since earnings and free cash flow will not turn positive until 2014.
| | | | | | | |
| --- | --- | --- | --- | --- | --- | --- |
| Stock | Updated FV | Date first Published | Publish Closing Price | Recent Price | Dividend Yields | FV Research |
| MSFT | $37 | 9/24/2010 | $24.32 | $37.64 | 3.0% | |
| LVLT | $39 | 1/18/2011 | $19.05 | $29.20 | NA | |
| AAPL | $640 | 3/14/2011 | 353.56 | $523.74 | 2.3% | |
| INTC | $23 | 4/6/2011 | $19.79 | $23.75 | 3.8% | |
Conclusion:
A market correction is not inevitable at this point but a small correction would not be surprising. Given the market is valued in a reasonable range, it's hard to see any correction turning into an over-correction without an outside catalyst causing panic and fear as occurred with the financial collapse.
Those with cash to spare may want to put some aside in the event any correction presents an opportunity or to modify Buffett's words; fall in a zone of (un)reasonableness.
Disclosure: I am long MSFT, INTC, LVLT. I wrote this article myself, and it expresses my own opinions. I am not receiving compensation for it (other than from Seeking Alpha). I have no business relationship with any company whose stock is mentioned in this article.