No doubt exists that the local telecommunications market is fundamentally flawed, but it doesn't mean that local providers such as CenturyLink (NYSE:CTL) and Windstream Corporation (NASDAQ:WIN) lack a rewarding future for investors. Both CenturyLink and Windstream trade near 52-week lows after decent Q3 results yet investors haven't been willing to step up and buy the stock.
The third largest telecom provider in the U.S. continues to pivot from a legacy voice service to one that focuses on growing data hosting, broadband, and TV services. The shift hasn't come without pains for investors, but CenturyLink remains a financially strong telecom service provider.
The ultimate question for investors is whether one wants to focus on the constant strong cash flow generation and massive cash returned to shareholders or to focus on the minute details of the revenue growth and market potential.
Building A Future
One real key takeaway from all of the quarterly earnings reports is that CenturyLink and even Windstream continuously shift from legacy services to more strategic ones including data hosting, high-bandwidth data services, and consumer TV.
In total, strategic revenues in Q3 for CenturyLink grew 4.2% compared to the same period last year. The main factors were solid subscriber growth with the addition of 33,000 high-speed Internet customers and 17,000 Prism TV customers. Again, the numbers aren't massive, but the growth in these areas provides stability with the declining legacy revenues.
Analysts forecast Windstream to report a less than 1% decline in revenues for 2014. Again stability is the name of the game in this sector and along with stability comes positive cash flows and mega-dividends.
Cash Flow Story
The story with CenturyLink remains one of stable cash flow generation and a significant return of capital to shareholders. With the stock dropping down to nearly $30 following what some investors perceived as a disappointing quarterly report, the stock now trades at only 2.5x operating cash flow for the last 12 months and roughly 6x free cash flow. Both numbers are incredibly low and supportive of the company continuing huge returns of capital to investors.
The following table from the earnings supplement showcases the constant cash flow generation and ability to pay for significant capital expenditures of roughly $3 billion per year: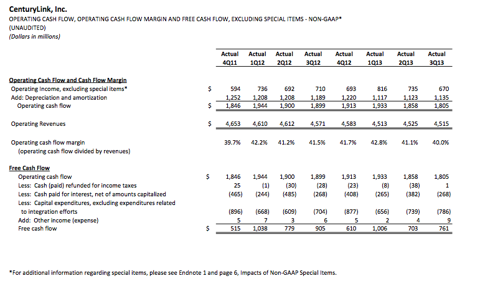 Soaring Net Payout Yield
With the shift in the structure of returning capital to shareholders back in February (see Did CenturyLink Just Become A Gold Mine To New Investors?), CenturyLink whether intentionally or not started providing greater insight into the 'real' expectations of management. While Windstream has been stuck with a dividend yield that has bounced around from 10% to over 12% in the last year, CenturyLink cut the dividend in order to ramp up a massive buyback plan. The plan has been so enormous in the first eight months that the company has repurchased 38 million shares for approximately $1.3 billion through November 5, 2013.
The below chart provides the different yields backing up the net payout yield, or basically the dividend yield plus the net buyback yield. The chart shows how the combined yield for CenturyLink has now surpassed that of Windstream: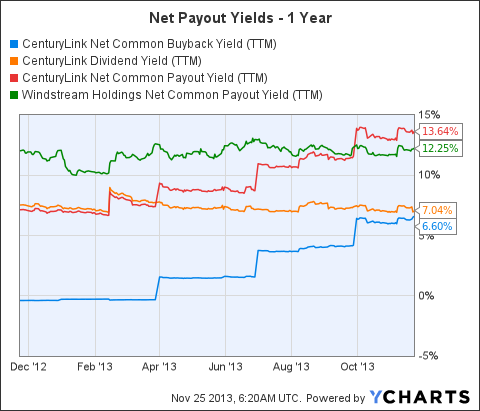 CTL Net Common Buyback Yield (TTM) data by YCharts
Historically a net payout yield exceeding 13% has provided for huge returns for shareholders. Investors that question that theory might want to check out the returns of the defense sector stock when those associated net payout yields surged to those levels at the start of 2012.
Conclusion
Investors can chose to ignore these telecommunication stocks due to fears of a weak business or instead focus on the strong cash flow generation. CenturyLink is the more interesting stock now because management has the financial flexibility to shift spending on share repurchases. A reduction in spending over the next couple of quarters would be a sure signal of problems ahead, but the company continues to plug away on buying shares. The lower the stock goes the more shares can be purchased.
Windstream is less attractive since the company is tied into a historical investor mindset that dividends shouldn't be cut. The lack of flexibility is a huge negative and reduces the visibility into management's forecasts.
Disclosure: I am long CTL. I wrote this article myself, and it expresses my own opinions. I am not receiving compensation for it (other than from Seeking Alpha). I have no business relationship with any company whose stock is mentioned in this article.
Additional disclosure: The information contained herein is for informational purposes only. Nothing in this article should be taken as a solicitation to purchase or sell securities. Before buying or selling any stock you should do your own research and reach your own conclusion or consult a financial advisor. Investing includes risks, including loss of principal.