According to UBS yesterday on S. Korea [bold emphasis mine]:
Most indicators have already hit peak growth rates and are likely to drop by mid-year. The 6mth rate of change in the government's leading composite indicator already points to a very notable slowdown for GDP and industrial production.
Why is this important? Because leading East Asian economies, including S. Korea and Taiwan, are bellwethers for the global economy. As my January 23 article (January 21 Instablog) said, "Emerging Markets Leading Global Markets Down, as They Did Going Up." (I had downgraded China from my highest rating back in a Jul 31, 2009 article, as loan growth there peaked, along with the Shanghai Composite on August 4.)
Below is a good chart to monitor what's going on in East Asia. It shows the relative strength of AAXJ, MSCI All Country Asia ex Japan ETF to ACWI, MSCI All Country World Index ETF, which I use as a proxy for global equities in many of my relative strength charts that I post in real-time throughout the trading day on my Instablog.
Here's a link to the iShares page for AAXJ showing its top holdings, sector and geographic breakdown, the top 5 countries as of 12/31/2009 are: Hong Kong 21.4%, S. Korea 18.4%, China 16.9%, Taiwan 15.2%, India 10.3%.
In the chart, AAXJ (which only started in August 2008) started gaining global relative strength in Nov 2008, on the basis of the anticipated impact of China's massive stimulus package on the economies of the region. This was well before SPX bottomed on Mar 6-9, 2009. Key things to note which show AAXJ starting to lose global relative strength are:
a potential triple top in AAXJ's global relative strength (black line) between Nov 2009 and Jan 2010 that was lower than the previous highs in July 2009 (I don't know if the spike high then is a data glitch);
a lower low in AAXJ's global relative strength (black line) in late January, 2010;
20-day ema (blue line, exponential moving average) of AAXJ's global relative strength has just slightly dipped below its 50-day ema (red line);
AAXJ lost a little relative strength the first two trading days of February, the little down squiggle (black line) right at the end, despite a low volume "oversold" rally in SPX.
Since I'm submitting this post, I'll also include an excerpt from a new Bloomberg commentary by Mohammed A. El-Erian, Pimco's CEO, his six listed items below are a good checklist of current market concerns in the U.S. (Feb. 3 (Bloomberg)):
...Judging from market valuations, I sense quite a gap between consensus market expectations and key political and economic realities, especially in the U.S...the seemingly unquestioned manner that so many have assumed in regard to the following six scenarios for 2010:

-- First, an orderly handoff from temporary sources of growth (think government stimulus and inventory rebuilding) to sustainable components of final private demand.

-- Second, a smooth exit from unconventional measures, with policies regaining much-needed degrees of operational flexibility.

-- Third, the government's delivery of a credible, pro- growth medium-term fiscal adjustment program.

-- Fourth, a rebound in bank lending that alleviates the enormous pressures facing small businesses.

-- Fifth, the ability to defend the institutional integrity of key public institutions.

-- And finally, effective global policy coordination.
(Mohamed A. El-Erian is Pimco's chief executive officer and co-chief investment officer. The opinions expressed are his own.)
I'll close with a brief comment on market action, summarizing from my many Instablog posts (from memory, I don't have the time right now to double-check the intraday charts I closely monitor during the trading day).
The two-day snapback rally was on low volume. The "usual suspects" rallied the most, i.e. the cyclicals that are tied to East Asian growth that had gotten hammered, e.g. XME (which I use as the global relative strength leader), XLI, XLB, SLX, OIH, etc., up to their 7-8 day support/resistance levels, I'll be watching those levels closely Wed for clues about the snapback's sustainability.
XLF rallied first, bottoming at critical support at 14 at January 26 close-January 27 opening, SPX followed, bottoming Jan 29. On Monday XRT also rallied well, and XHB joined in the fun, on DHI earnings. QQQQ, IWM noticeably did not rally as strongly the past two days, also watching them closely Wednesday.
Left click on chart to enlarge.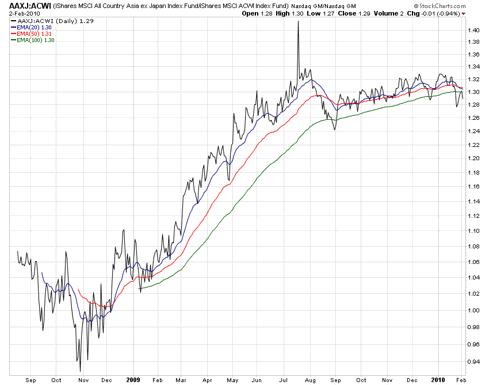 Click to enlarge
Disclosure: No position in ETFs mentioned.