On Monday (November 25, 2013) the National Association of Realtors (NAR) reported a fifth straight month of declining pending home sales. NAR chief economist Lawrence Yun projects that 2013 will end with existing home sales 10% above 2012, so the current monthly declines represent a cooling off from near over-heated conditions earlier in the year. Yun expects 2014 will be flat with 2013. The projected annual sales pace of 5 million units still only gets the housing market back to levels last seen in 1998.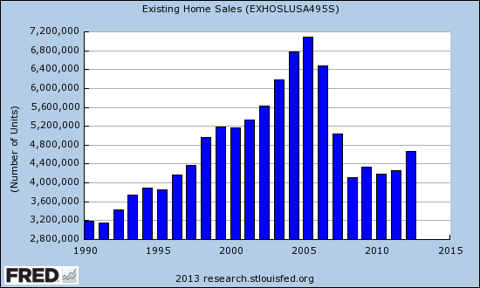 Existing home sales remain relatively low despite the recent bounce off the bottom
Source: St. Louis Federal Reserve
In the short video accompanying the release, Yun also commented on his expectations for interest rates. Up until now, I had not heard these assessments. Yun believes long-term interest rates, and thus mortgage rates, are headed up next year no matter what the Federal Reserve does with tapering. He referenced the rise in renters' rent and homeowners' equivalent rent, the largest components of the Consumer Price Index (CPI). At their current pace, these measures may generate inflationary pressures next year, especially if another component flashes red as well. Yun mentions a rise in energy prices could trigger such pressures, but the Fed is not likely to pay attention to this non-core component of the CPI.
I graphed the rent measures along with the 30-year fixed mortgage rate over the last 20 years to see whether recent history can confirm the inflationary potential. The graph below shows a very mixed bag.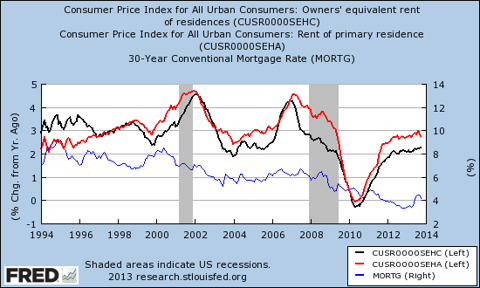 Pace of increase in rents has slowed but may point to potential pressure on long-term rates in 2014
Source: St. Louis Federal Reserve
The primary problem in trying to tease out a relationship is that long-term interest rates, and thus mortgage rates, have been on a generational, secular decline that has only experienced ever-so-brief interruptions. While the rent measures tend to move together, the mortgage rate can move with and opposite these rent measures in the short-term. Clearly, other factors are involved.
It IS notable that the current near 4-year rise in rents has no parallel in the last 20 years. These gains were made possible by the deep trough caused by the financial crisis and recession, but I suppose it is plausible that such a prolonged and sustained rise in rents will finally get the bond market extremely antsy next year. Perhaps even this on-going and sustained rise is part of the Fed's rationale to start the conversation about tapering. Regardless, it seems that if job creation continues grinding along and if the economy does not experience any sudden shocks, longer-term rates will get forced up in the context of the rising rent measures. Of course, the rise will be seen as anticipation of tapering. Since tapering will only arrive in the context of a sustained recovery, the logic for higher rates gets a neat, self-reinforcing loop.
Yun does not think higher rates will end the housing recovery. Instead, he sees financial institutions looking to the mortgage market for new business as they sit flush with cash and profits and face a collapsed market for refinancing activity (given the higher rates). Declining foreclosures and dropping default rates should also finally encourage these institutions to loosen up underwriting standards a bit which will in turn facilitate more (pent-up) demand into the housing market (all else being equal). Perhaps rising competition to originate loans will take some of the edge off mortgage rates.
Lender Processing Services (NYSE:LPS) reported last week that October's total U.S. loan delinquency rate - loans 30 or more days past due, but not in foreclosure - is now down to 6.3%. This is a drop of 10.7% from a year ago. Foreclosure inventory is at its lowest point since 2008. Here is the historic chart from the LPS September Market Monitor presentation.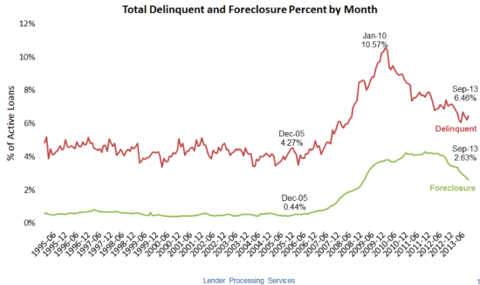 Recent positive trends continue in delinquencies and foreclosures
Source: Lender Processing Services
Overall, 2014 still looks like a pivotal year for the housing recovery. Rising pent-up demand for housing, easing credit conditions, and higher rates will combine into some kind of volatile mix. I will continue to treat negative responses to poor data during this period as potential opportunities to add to my participation in the housing recovery at better prices.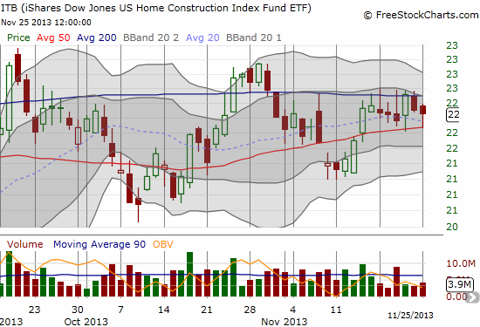 iShares US Home Construction (NYSEARCA:ITB) barely sneezes on very low trading volume in the wake of pending home sales numbers
Source: FreeStockCharts.com
Be careful out there!
Disclosure: I have no positions in any stocks mentioned, and no plans to initiate any positions within the next 72 hours. I wrote this article myself, and it expresses my own opinions. I am not receiving compensation for it (other than from Seeking Alpha). I have no business relationship with any company whose stock is mentioned in this article.