Target (NYSE:TGT) is the second largest retailer in the US after Wal-Mart (NYSE:WMT). The company has been making efforts to increase its customer base and revenues. I am aiming to analyze if these initiatives can help Target in strengthening its position? I believe that an effective timing is a key to success. I wonder if Target initiated its strategies at the right time.
These are some issues I will address by analyzing the company's operations.
First ever International Expansion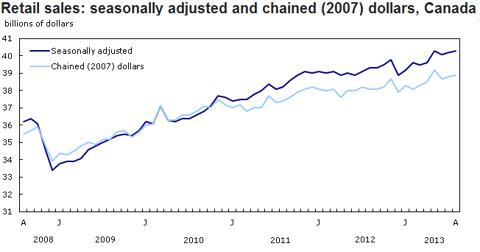 The company has been working aggressively on its first ever international expansion into Canada. The Canadian expansion will fuel long-term growth and will lower risks through diversification. Short-term investment and expenditures incurred by Target for this expansion are likely to dilute the earnings as well as its growth. Target will, most likely, start realizing growth once this expansion phase is complete.
In the most recently ended quarter of fiscal year 2013, the company added 44 new stores in Canada. The company further plans to open additional 124 stores by the end of fiscal year 2013. Additionally, the company expects to operate 200 stores in Canada by the end of 2023, which will contribute $6 billion to revenues.
However, the Canadian market is already saturated and the domestic players in this market are attracting customers by cutting their margins. Some rivals are either selling products at a zero profit or incurring economic losses in order to attract guests, and ultimately increase the sale probability of discretionary high margin products. I think Target will have to establish its footing and decrease its margins so that it can compete with peers in the new Canadian market.
Online Retail
In response to the increased popularity of online shopping, Target has signed several deals to acquire companies that will increase its online presence and help to capitalize on e-commerce growth opportunities. In fiscal year 2013, Target made three acquisitions: DermStore Beauty Group, CHEFS catalog and Cooking.com.
According to the research conducted by All recipes, the global home cooking trend is changing. The report highlights the fact that more and more people, now, prefer to cook food at home because of the increasing awareness on the effects of food on their health, lower costs and increased meal variety. Love for cooking is also fueling the growth to some extent. Therefore, I think Target's acquisition of CHEFS catalog and Cooking.com is a smart move and the company can capitalize on this positive trend.
Also, the beauty market is among the few markets that are considered to be recession proof. Despite the economic conditions of the past decade, the beauty market has successfully grown at a CAGR of 4.5%. Additionally, the strategies used to market these products have also evolved and online sales of beauty products are increasing, especially in the developed world. This is positive news for Target because the acquisition of DermStore beauty group will increase Target's presence in the growing beauty market.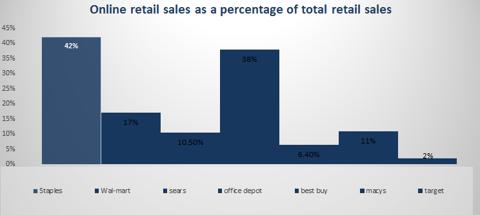 Moreover Target's online sales as a percentage of its total sales are approximately 2-3 percent, which is very low as compared to other major US-based retailers. I think the results of these acquisitions should not be expected to show positive trends in the near future.
Online Digital Video Service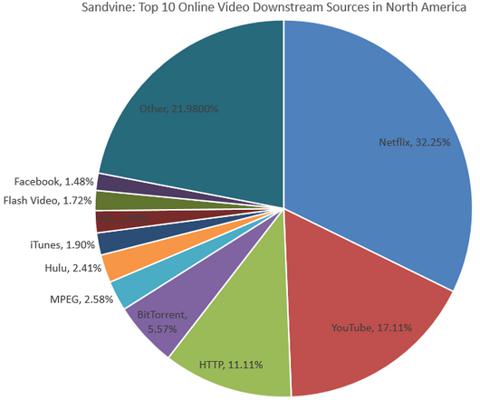 Target has also entered the online video streaming business. This market has grown rapidly over the past few years and still has a lot to offer. In order to capture a meaningful market share, the company has to compete with some popular and very well established service providers like Netflix, YouTube and HBO.
I think Target is assuming a lot of risk and is betting high on its customer's trends to use the retailer for all of their needs. Target's operations are US-centric and the market is already saturated. Big players in the industry are now offering streaming, download, purchase and renting options at very low prices as compared to Target. Therefore, I think this service will support Target's growth to some extent but since it is apparent that target is new to this market it would be difficult for the company to gain a significant market share.
Expansion into the Grocery Business
The company also entered the low-return food business with the introduction of PFresh. However, with the giants in the grocery business already dominating the excess profits from the grocery business, there is little room for new competition.
Additionally, it was expected that Target might be able to attract customers to its PFresh grocery business but till now this segment did not have any significant impact on the grocery business.
Increasing Visibility in Urban Areas
Target has also announced its plan to open smaller stores in the urban areas where there are real estate constraints. These smaller Target stores in the urban locations will provide an easy access to department stores and will ultimately attract more shoppers. Moreover, Wal-Mart's interest in the concept of smaller department stores will enable the company to reach out to more customers. The company's success depends upon how they manage and operate in smaller urban areas.
Prospects of the Trade-in Program for Electronics
Target's service that allows customers to trade in old electronics for monetary compensation was not one of their best ideas, especially since the payment Target offers for the old electronics is usually very low. I compared the price quotes of different electronics offered by Target with the prices they are usually sold for on eBay or other such sites and found that there is a significant difference. And I think that a well-informed buyer would never prefer to trade their old electronics at Target when they can easily receive a better compensation for them elsewhere.
Following in the Footsteps of Wal-Mart
Following Wal-Mart's footsteps, Target has recently launched its Bright spot mobile service in collaboration with T-Mobile.
Through this service Target has entered into the prepaid mobile service market. Currently, the company is offering three plans starting from $35 to $65 per month. The Basic plan of $35 per month offers an unlimited talk plus text option, while the other two plans add unlimited web browsing with data plans of up to 1 GB and 4 GB.
Current plans offered by Target are not as alluring as those offered by Wal-Mart. So, until Target offers better plans at competitive prices, this new strategy will not bring profits for the company.
Performance in the recent Quarter
Target recently announced the results of the third quarter fiscal 2013. In the results, the company reported revenues of $17,258 million, representing a 4% YoY increase. Currently, the inflation rate in the US is 3.34%, which means that the company has just grown by 0.66% in real terms. Hence, the critical issues, which I highlighted previously, are showing up and I think if the company does not get it right, these issues will further hamper company's ability to grow.
Moreover, the company reported net income of $558 million, which was 44% less as compared to the same period last year. This decline was triggered by an increased cost of sales and SG&A.
Comparable same store sales performance
To get a better insight of the company growth, let's focus on some retail specific performance measures.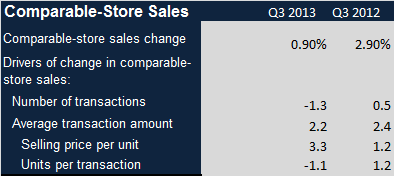 In the most recent quarter of fiscal 2013, comparable same store sales increased merely 0.9%. This increase was mainly attributable to the inflated prices. Excluding the inflation effect, the number of transactions decreased by 1.3%. Hence, we can conclude that the company is facing difficulties in convincing shoppers to spend at its stores.
Conclusion
It is clear that Target is not an innovator since the company has been emulating the strategies of others.
The current economic conditions are not favorable for retailers; unemployment, taxes and immense competition will put a downward pressure on growth.
Additionally, there are some serious issues with the recent steps taken by the company. If the company wants to achieve growth in the future, it should address the issues of high prices and high margins it charges in comparison to their peers. Also, the latest financial results validate my opinion.
I think that the future of the company is dependent upon too many "what ifs" so investors should avoid Target. My recommendation is to sell.
Disclosure: I have no positions in any stocks mentioned, and no plans to initiate any positions within the next 72 hours.
Business relationship disclosure: The article has been written by a Blackstone Equity Research research analyst. Blackstone Equity Research is not receiving compensation for it (other than from Seeking Alpha). Blackstone Equity Research has no business relationship with any company whose stock is mentioned in this article.