Over the last 12 months, or perhaps since the secular equity market top in 2000, market commentators have been complaining over the missing revenue of the S&P 500, or in other words, the missing revenue of the boomers.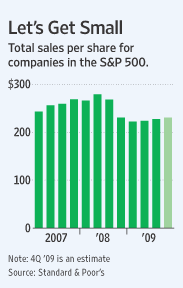 We have said on many occasions that within this generational opportunity the world is not ending, but is changing, and in order to spot this change you must change too.
If we look at the table below, which maps out the number of American consumers from 1990 to 2025 in five-year segments, we can clearly see that the "Pig in the Python" is the dramatic increase in the number of consumers between the ages of 41 to 65 between 1990 and 2010.
During this time investors, businesses, and the media became lazy and concentrated all of their focus on this age band. The expectation was that if a new product or service was launched this consumer cohort would need to gobble up the service or product in order for it to become a success and make its investors rich.
Today, investors, businesses and the media are asking: "the recovery is here, but where have all the consumers gone?" What they do not realize is that current consumer demand has little to do with a strong, weak, double-dip or back-flip economy, but more to do with the fact that the U.S. demographic landscape is undergoing change, and this change is affecting consumer demand.
Looking out over the next 15 years the American consumer base going forward will be far more balanced than ever before. We will see higher numbers of consumers in every age bracket, except within the small Generation X window from 46 to 60.
The evidence is simple: if you want to make money over the next 15 years go where the demand is. You must change your horizon, let go of the "Red Balloon" and move away from the 46- to 60-year-old consumer and fish in the lucrative pools of the 0- to 45- and 65- to 85-year-olds.
These consumers will help drive the "Super Stocks" for the next decade.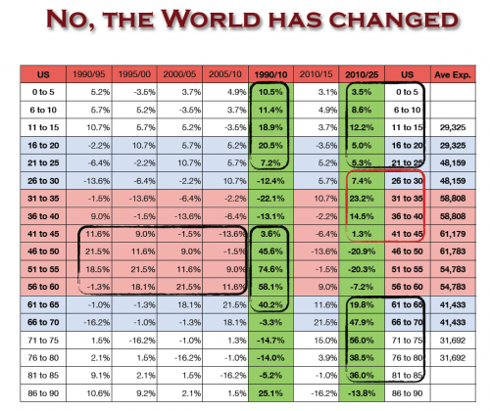 *Ave Exp. stands for average U.S. consumer expenditure per age bracket.
Disclosure: Author holds long positions in the market.