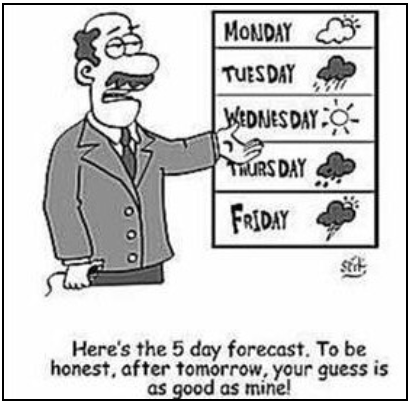 We rarely hear a weather forecaster say "I do not know" because we expect them to have a view. Just like investors expect market analysts to forecast the stock market [e.g. tickers: SPY (NYSEARCA:SPY), DIA (NYSEARCA:DIA)]. The expectations of course are not always realistic.
I would argue that in the face of growing uncertainty, a prudent analyst should say "I do not know" instead of trying to put a precise figure on the future. In practice, the analyst would not admit "I don't know," but would indicate a large margin for error in his forecast. Paradoxically, such statement would have more value than a forecast of spurious accuracy pulled out of a hat. It would give a signal for investors to additionally safeguard their investment strategies on the downside in times of increased uncertainty instead of creating a false sense of security.
The stock market value can be calculated by multiplying combined profits of all companies in a market index and a valuation multiple. From the two components, profits are more predictable than the valuation multiple.
Bottom-up analysts try to forecast profits or earnings for individual companies and form a view about the total market by adding up the individual outlooks. Top-down macro analysts look at macroeconomic forces that create positive or negative environment for profits growth for everybody.
Both groups of analysts have to forecast valuation multiple - the second component of market valuation. The multiple, such as P/E Ratio, is driven by crowd psychology and investor sentiment, among other factors. These can change rapidly and unexpectedly, impacting the stock market valuation.
There are periods when a stock market behaves more "rationally" and moves with the profits trend. At other less rational and uncertain times, investor sentiment dominates and market moves with the valuation multiple.
We are approaching such uncertain times in the USA - the largest market influencing global trends.
Here are just two reasons why:
First: the current almost five year long bull market from the March 2009 bottom has been underpinned by a spectacular V-shape recovery in Corporate Profits as my USA chart shows. The S&P 500 market index (e.g. ticker SPY) rose by 162%.
But significantly, recent market gains have come mainly from P/E Ratio expansion and less from the earnings growth - chart: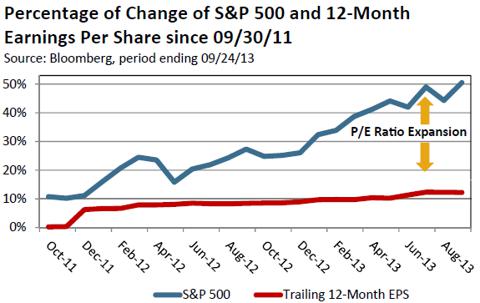 Source: forwardinvesting.com
Although the current P/E Ratio at around 15 times is not exuberant, the reliance of the market valuation on P/E ratio growth increases the risk.
Second: in the early stages of the market recovery, hardly anybody would dare to call it a bull market; now most commentators and investors are jumping on the boom bandwagon.
The near record USA margin debt is a good indication of bullish investor sentiment - chart: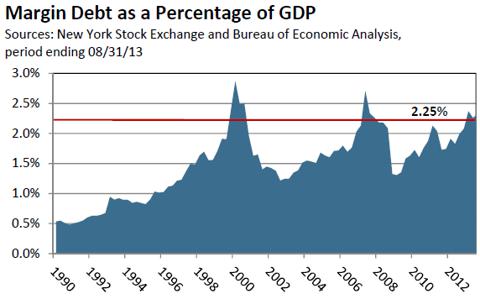 Notably, previous margin debt peaks in 2000 and 2007 coincided with a stock market top followed by a crash, and that may give another reason for concern.
Summing up, the USA stock market outlook comes down to a judgment on the future P/E and EPS growth. Should the P/E grow faster than earnings, the market risk would increase even further, while a relative acceleration of the EPS growth would reduce the risk and reinforce the bullish case.
In times of increased uncertainty, the investor needs first an awareness of the uncertainty and second, a dependable indicator of turning points in the market as has been provided by the corporate profits growth leading indicator.
George Bijak, MBA, is an investment strategist and director of GB Capital Pty Ltd - a provider macroeconomic research for global macro and dynamic multi-asset allocation investment strategies. Their USA Profits and S&P 500 Outlook based on the Corporate Profits Growth Leading Indicator cpgli.com signaled major market turning points: 2007 top and 2009 market bottom.
Disclosure: I have no positions in any stocks mentioned, and no plans to initiate any positions within the next 72 hours. I wrote this article myself, and it expresses my own opinions. I am not receiving compensation for it. I have no business relationship with any company whose stock is mentioned in this article.