By David Russell
Polo Ralph Lauren (NYSE:RL) reports earnings before the bell today, and investors are positioning for the high-end fashion retailer to push lower.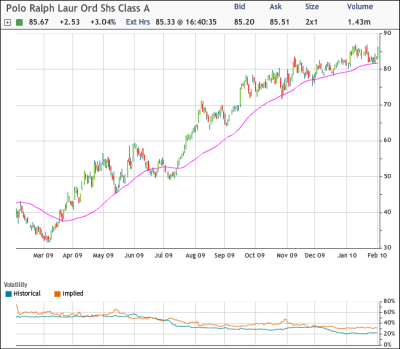 optionMONSTER's Depth Charge tracking program detected the purchase of 1,946 March 85 puts for $4.40 and the sale of 3,892 March 80 puts for $2.35. The transaction resulted in a net credit of $0.30 and volume was more than five times open interest in both strikes.

RL rose 3.04 percent to $85.67 yesterday and has been has been slowing down after rallying more than 160 percent in the last 10 months. Shares formed a "double top" just below $87 in January and has been stalling around the $85.34 level where it peaked in September 2007, suggesting that the stock is at a potentially important resistance area.
Yesterday's so-called ratio spread trade is designed to leverage a modest decline and will earn a maximum profit if RL closes at $80 on expiration. The gains will erode below that level and turn to losses below $75. The strategy may have been implemented by a shareholder who wants to hedge against a possible correction and is willing to buy more stock for $80.
The company raised its full-year revenue estimate the last time it reported results on Nov. 3.
Overall options volume in the name was 11 times greater than average yesterday. Puts outnumbered calls by almost 3 to 1.

(Chart courtesy of tradeMONSTER)