By Pete Najarian
Standard Pacific (SPF) is attracting upside option activity ahead of its fourth-quarter earnings report after the market closes today.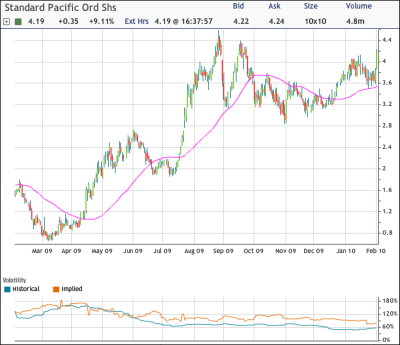 The homebuilder's shares closed the regular session yesterday up 9.11 percent to $4.19 on triple their average volume after rival D.H. Horton (NYSE:DHI) reported strong earnings earlier in the day. SPF plunged a year ago to under $1 but has recovered slowly, finding a range of $3 to $4.50 since rebounding last July.

optionMONSTER's Heat Seeker system lit up yesterday with activity at the March 5 strike as traders snapped up 8,571 calls, mostly for $0.20 to $0.30 in a strong buying pattern. That was well above the open interest of 2,340 contracts and dwarfed average call volume of just 55 per day in the last month. Traders were also buying June 5 calls in large numbers, most of them for $0.40 to $0.55.

For the March calls to turn a profit, the stock would need to gain more than 25 percent by expiration. SPF would need to rise more than 30 percent for the June calls to make money.

As one of the nation's largest homebuilders, Standard Pacific has had to ride ups and downs that have been as volatile as any sector in the economy. As the recovery has progressed, however, the short interest levels have shrunk across many names, and SPF measures under 7 percent short at our most recent check.

Disclosures: I own SPF calls.
(A version of this post appeared on InsideOptions yesterday. Chart courtesy of tradeMONSTER.)