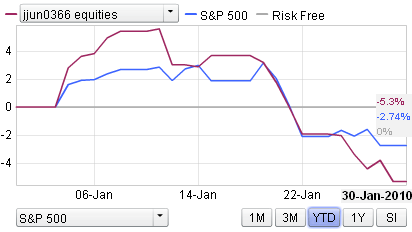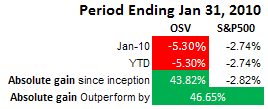 Portfolio Performance
Not an ideal start to the year. Down -5.74% compared to the market's -2.74%. It was a tough second half of January where I gave up all the gains I had achieved in the beginning of the month.
Portfolio Movers
My biggest holdings ValueVision Media (VVTV) and Gen Growth Prop. (GGWPQ.PK) have been falling much faster than everything else which is the main cause of the loss in portfolio value.
There hasn't been any game changing news for VVTV so I'm holding on as I am keen to see how Q4 turns out. It will be interesting to see their full fiscal year numbers.
GGWPQ on the other hand hasn't announced any bad news but the public debate between Hovde, T2 and Pershing Square seems to be dictating the short term volatility.
Add Bolt Technology (BOLT) to the mix where they released Q2 earnings that were not as impressive as the previous comparable quarter and the stock gave back all of the 30% gain I was sitting on, but upon reviewing the financial statements, the fundamentals are still strong.
Portfolio Trades
January was chockablock full of action. More than I liked.
1. Bought ELST.OB
I'm trying to sell it now. I'll explain once I'm finished with the trade.
2. Sold Emmis Communications (EMMS) @ $1.15-1.19 for a 23.79% gain
After EMMS announced their last quarter, the company wasn't performing as well as I had hoped. I was considering holding, but preferred to move to cash. EMMS was never a good company. It was a mediocre company but a great opportunity, where I didn't realize the full value but still got out with a tidy profit.
3. Bought Gravity (GRVY)
Doubled down on GRVY as I continued learning more about the company. Dropped back to my buy level as the market dropped. Turned out to be a lucky move as the price climbed back up with the news of the Nintendo (OTCPK:NTDOY) DS release of Ragnarok.
As a member mentioned in the forum, this is just another one of the free games and royalties shareholders receive at the current unbelievable stock price.
4. Bought Linktone (LTON)
This is the second time entering LTON. The company has fallen back to less than its net net value.
5. Bought BOLT
As mentioned above, BOLT didn't meet Wall Street expectations and the stock dropped to around my original buy price, so I doubled down on this one as well.
6. Sold Salem Communications (SALM) @ $5.25 for a 390.58% gain.
Radio stocks turned out to be a very good bet. Especially considering I entered my positions in late August. I believe that the industry still has plenty of potential for cash flow to increase, should advertising spending return to the norm, but most of the stocks are now fairly priced and I'm getting out.
Cash has been reduced to about 5% now. As I mentioned on my twitter, I'm trying to clean my portfolio and want to move some of it to cash, but I've been doubling down lately which has been using up most of the cash.
Disclosure: I hold all stocks mentioned except sold positions.