Something so routine as going to the dentist is an afterthought here in the United States. Every year, Americans take a trip or two to their local dentist office for a check-up and possible procedures. With a growing middle class population in emerging markets, trips to the dentist could soon become routine as well. One of the leading dental product companies Dentsply International (NASDAQ:XRAY) is set to see continued growth from emerging markets through acquisitions and an increased sales presence.
Dentsply International sells products and medical devices in over 120 countries. The company has operations in 40 countries. Here is a look at 2012 yearly sales by region:
· United States: 33%
· Europe/CIS: 45%
· Asia (excluding CIS/Japan): 5%
· Japan: 4%
· Canada: 4%
· Latin America: 4%
· Middle East/Africa: 3%
· Australia: 2%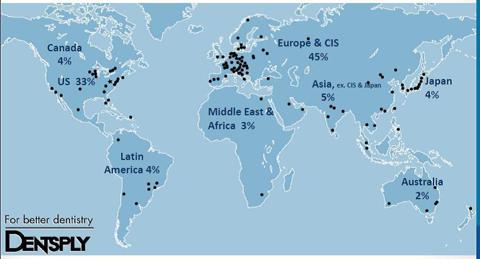 As you can see, Dentsply gets 78% of its annual revenue from the two regions that include the United States and Europe. Sales in the United States have been strong, while Europe has remained flat. The company's other operating regions continue to see the biggest boosts in sales and will soon make up a much larger percentage of annual sales.
Dentsply has a nice diversified revenue base from four business segments, which include:
· Specialties (implants, endontics, orthodontics): 48%
· Chairside consumables: 28%
· Medical: 13%
· Prosthetics: 11%
Dentsply has major competition from big companies like 3M and Danaher. However, Dentsply continues to see top five market positions in all business segments around the world. Here is a look at how the company ranks in its respective fields:
| | | |
| --- | --- | --- |
| | Worldwide Share | United States Share |
| Chairside Consumables | #1 | #2 |
| Prosthetics | #1 | #2 |
| Specialties (endodontics) | #1 | #1 |
| Specialties (orthodontics) | #4 | #5 |
| Specialties (implants) | #3 | #3 |
| Medical | #2 | #3 |
Consider the following from Dentsply's recent investor presentation:
· Developed markets: market opportunity 18% of population (1.2 billion people)
· Emerging markets: market opportunity 82% (5.5 billion people)
Dentsply continues to grow through acquisitions. In 2011, revenue from newly acquired businesses saw growth of 10.8%. In 2012, that figure jumped to 16.4%. In 2011, the company saw overall growth of 14.8%, while 2012 saw total growth of 16.4%. You can see what kind of impact the acquisitions have had on the revenue totals over the last two years.
Last week, Dentsply announced two international acquisitions that should continue to expand international sales and boost bottom line earnings. The company acquired Qahr, a direct dental selling company with operations in Hong Kong and mainland China. Dentsply has had a relationship with Qahr since 2000 and will now be able to collect a larger portion of revenue when selling products in the region. The other acquisition was for Triodent, a New Zealand based consumable for restoration company. From the two acquisitions, Dentsply will see over $30 million in annual revenue.
The company is also seeing more money trickle down to the bottom line as earnings per share continue to see good growth. In fiscal 2010, the company posted earnings per share of $1.94. Since that time, earnings have increased 5% and 9% respectively over the last two years. As the company cuts costs, these figures continue to improve. In the most recent third quarter, earnings per share were up 11.8%. This is a huge number, considering it was over 3x the total sales growth of 3.4% posted.
As margins and costs continue to improve, Dentsply will see larger earnings per share numbers. This should increase the stock price with a premium price to earnings valuation. Also, Dentsply will be able to pay out a higher dividend. The yield is currently less than 1%, as Dentsply pays out around 10% of earnings yearly.
Analysts are calling for earnings per share of $2.35 in fiscal 2013. Dentsply has given a range of $2.33 to $2.38 for the current year. Dentsply will announce its 2014 goals in February when it reports fourth quarter earnings. Analysts currently see earnings jumping to $2.58 in fiscal 2014 from a slight revenue increase of 4.1%. I think guidance will come in above both of these numbers in February, due to a nice pipeline of new products, continued growth in the rest of world segment, and the recent acquisitions. Take a trip to the dentist with this international play.
Disclosure: I have no positions in any stocks mentioned, and no plans to initiate any positions within the next 72 hours. I wrote this article myself, and it expresses my own opinions. I am not receiving compensation for it (other than from Seeking Alpha). I have no business relationship with any company whose stock is mentioned in this article.