Shares of Sears Holdings (Nasdaq:SHLD) are making new 52-week highs this week on hopes that CEO and majority shareholder Eddie Lampert has finally decided to embark on a swifter piece-meal liquidation strategy that will successfully monetize the company's many assets, shrink the company into a more nimble, profitable enterprise, and generate substantial shareholder value. There is just one problem with that theory; it flies in the face of everything Lampert has done since orchestrating the merger of Sears and Kmart in 2004.
There is no doubt that Lampert is a great hedge fund manager, as his track record at ESL Investments has shown over the last few decades. Equally as certain, however, is his dismal performance at trying to run a retailing company. While he has only been CEO officially for a short time, Lampert has been Chairman since Sears Holdings was formed nearly a decade ago and has been delegating responsibilities to his lieutenants from the board room ever since. The result has been a complete disaster, which should cast serious doubts over how he is going to save face now that the company has accelerated its transformation after nine years of retail failures.
To quantify exactly how bad Lampert has been for Sears Holdings shareholders, I decided to take a look at how investors would have fared had they invested in Kmart shares the day before Lampert announced the blockbuster merger with Sears. A 100-share investment at that time, at the closing price of $101.22 on November 16th, 2004 (the Sears/Kmart deal was announced on 11/17), was worth $10,122.
Almost exactly nine years later, those same 100 shares, after numerous corporate restructurings including the Sears Hometown (Nasdaq:SHOS) rights offering, now-bankrupt Orchard Supply spin-off, and Sears Canada (SEARF) partial spin-off, are worth just $7,574 today. That comes to a 25% loss over 9 years. During the same period the S&P 500 index has risen from 1,175 to over 1,800 (excluding dividends). In all, Sears Holdings shares have underperformed the S&P 500 by approximately 75% since 2004.
Here is the breakdown of the value destruction: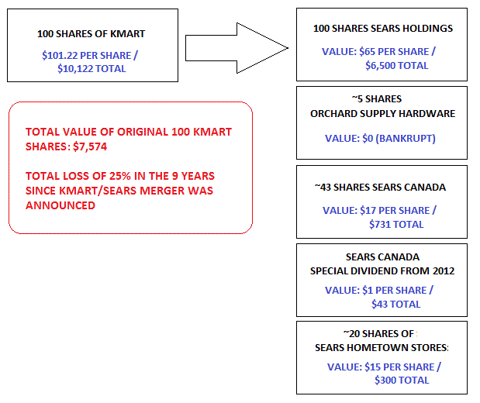 Click to enlarge
After seeing what Lampert has done it is hard to remain confident that he has finally figured it out and knows how to extract maximum value out of this 2,000-store company that loses money and becomes less and less relevant to the consumer every single day.
To me, the company's debt looks to be the far more attractive investment, as opposed to the equity. Lampert has done a good job keeping the company in business and paying its bills since he took over, but that's about it.
Disclosure: I have no positions in any stocks mentioned, and no plans to initiate any positions within the next 72 hours. I wrote this article myself, and it expresses my own opinions. I am not receiving compensation for it (other than from Seeking Alpha). I have no business relationship with any company whose stock is mentioned in this article.
Additional disclosure: I am long Sears Holdings debt on the belief that they will be able to pay their obligations regardless of the company's unprofitable operations.