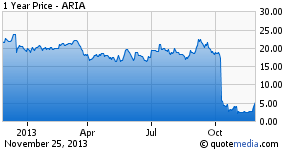 Ariad Pharmaceuticals (NASDAQ:ARIA) shares have been on a tear over the last two days rising 178% on news that European regulators will allow the company to continue to sell its primary drug Iclusig despite toxic side effects. Iclusig is a cancer drug used to treat chronic myeloid leukemia. In a trial of 500 people, 12 died while on Iclusig which may cause a higher incidence of blood clots leading to strokes and heart attacks.
In mid October, Ariad halted its late stage trial of Iclusig leading to a dramatic drop in its share price from $17.14 to a low of $2.15. When the trial was halted, the company seemed to be giving up on its plan to take the drug to the front lines of leukemia treatment, emerging from a much smaller market of people who are diagnosed with a strain of leukemia that is resistant to other treatments.
However, since that time, two things have occurred that seem to have changed the outlook for the company. 1) Iclusig received a positive EMA CHMP opinion that included recommendations on measures to help minimize the risk of occulusive vascular events but did not constrain its sales. 2) Patients and doctors in the U.S. began lobbying regulators to reopen access to the drugs that have been keeping some people's cancer in remission.
While nobody wants to take a drug that increases the risk of blood clots, there are people who have seen their cancer go into remission for multiple years after being resistant to other drugs. So at this point, it looks like Iclusig will come back on the market with a warning label that restricts its use to the sickest of patients. So the question is: What is the market opportunity with and without marketing in the United States?
The cost of Iclusig is extremely high at $115,000 per year so the company doesn't need hundreds of thousands of patients in order to derive a healthy profit stream. In the U.S. there are 5,000 new cases each year but most are treated with Gleevec from Novartis (NYSE:NVS). However, 20-30% of the cases are in patients with a resistance to Gleevec leaving 1250 to 1500 to be treated with Iclusig. According to the company's 10k, it estimates there are 2500 patients in the United States, 3800 in Europe and 600 in Japan that are resistant or intolerant to existing therapy.
If the company's estimates are scaled back from 2500 in the U.S. to 1500 but the markets in Europe and Japan remain unchanged, this could be a $675 million market each year. If you exclude the U.S., it is still a $500 million market.
My personal opinion is that we see some resurgence in the U.S. that allows the company to sell to patients that have been unresponsive to other therapies but whether that is a 500 person per year market or a 1500 is yet to be determined. The availability in Europe however, will provide the needed cash for the company to keep operations going as it tries to reduce the risk of clotting, heart attacks and strokes.
It is important to note that by buying this stock, you are buying into the belief that Iclusig will generate an increasing amount of income. Earnings estimates today are for -$0.99 for 2014 indicating that there is little earnings support but existing business. However, if ARIA could capture half of the opportunity, even without including U.S. sales, the company could be on a NTM EPS run rate of $0.50 in 2014. It all depends on the timing of adoption. In addition to regulatory risk, competition from other drug companies will remain an issue, Novartis being the most prominent but also Takeda Pharmaceutical Company (OTCPK:TKPHF) and Zeltia S.A. (OTC:ZLIXF).
Disclosure: I have no positions in any stocks mentioned, but may initiate a long position in ARIA over the next 72 hours. I wrote this article myself, and it expresses my own opinions. I am not receiving compensation for it (other than from Seeking Alpha). I have no business relationship with any company whose stock is mentioned in this article.