Even though Apple (NASDAQ:AAPL) launched new and very interesting products on the market, the stock seems to be at the end of its long term rally. Now it is ready for a steep decline towards previous bottoms. The first top that I expected (222 dollars) has been only dodged in the days near to iPad launch. Now the decline has begun. How it often happens, the tremendous hype for Steve Jobs and his wonderful products has been read as an alert bell from a contrarian point of view: decline is ready for the next months. There are many reasons that lead me to say so.

Analysing Apple's business context, we see that the competitors arena is tougher than ever, even if the market (that is: revenues) is more and more in contraction. As far as the music content is concerned, a lot of competitors are playing the same business model as iTunes, selling mp3s and other content in a way very similar to the Apple one. As far as cellular is concerned, lots of classical cell phones makers (e.g. Samsung (OTC:SSNLF), HTC, Nokia (NYSE:NOK), etc.) have copied the iPhone "look and feel", and even Google has launched its killer attack to Apple with its NexusOne mobile phone, based on its open source operating system Android. As soon as the mobile applications of the competitors will be quantitatively and qualitatively similar to the Apple ones, the room for iPhone will be necessarily smaller than nowadays.
Only the Apple PCs are holding their competitive advantage: Apple PCs are characterized by high quality, high usability and strong performances, especially in media management (e.g. photo retouching, video making, music making, etc.). No other PC competitor has reached this level of excellence. But unfortunately, the PC market is affected by a revenues decrease effect for all PC makers, and this is a problem that Steve Jobs knows well.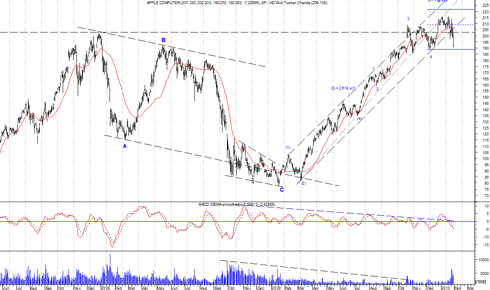 From a strictly technical point of view, the stock has raised from March 2009 to January 2010 with a strong price rally but without an increase of volumes (see chart). This is a technical bearish divergence that is an alert for the force of the rally. Volumes have come back during the recent Apple hype, near to its tops at 215 dollars: this is a sign that distribution is taking place.

That is why I am strongly bearish on Apple. Bear movement could not be quick, and it will hurt a lot.

Disclosure: Short AAPL