I have been a long time holder of Bank of America (NYSE:BAC) since the end of the financial crisis. I have made a great deal of money both on the equity side and by using strategic bull options spreads over the past few years. Over the last few months, the shares have been in a tight trading range but during the last two weeks the stock has broken out to the upside (see chart).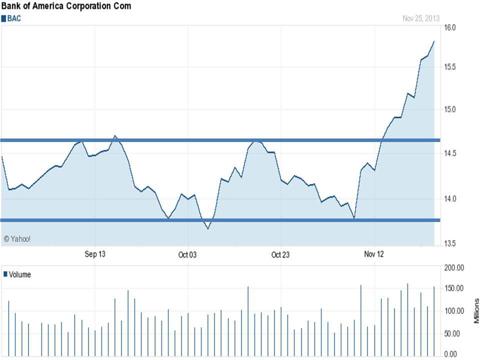 Click to enlarge
I believe this is the start of the next leg up for the stock of Bank of America for a variety of reasons:
Valuation:
Book value is one of the best ways to value financial institutions. On this measure, Bank of America is cheaper than its major competitors (see graph).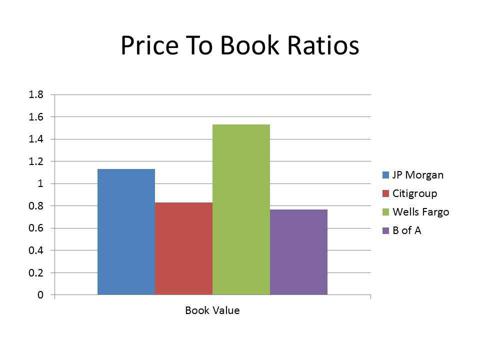 Click to enlarge
Making progress on the legal front:
Unlike JPMorgan (NYSE:JPM) which has become the government's favorite whipping boy among the banks in 2013. Bank of America is quietly making progress in putting the litigation arising from the aftermath behind it (I, II, III). These settlements will continue in the near future, but the worse of this legal gauntlet seems to be ready to be put in B of A's rear view mirror.
Other catalysts:
Although the Federal Reserve has managed to put off "tapering" throughout 2013, it is fairly obvious that it will move in 2014 to begin to withdraw QE. This should cause interest rates to rise. Some of this "normalization" has already started to occur as the rate on 10-year treasuries has moved from ~1.6% in May to a current ~2.75%. Higher interest rates are good for interest spreads which in turn are beneficial to banks' margins.
In addition, the continued recovery in the housing market should bolster the bank's balance sheet as asset prices continue to rise.
Finally, as Bank of America gradually moves out of rigid Federal supervision it should be able to increase its dividend substantially over the coming years. B of A was one of the highest dividend payers among major banks prior to the financial crisis and I would expect it will go with that approach again as the environment for banking returns to normal over the next few years. As we do get back to something approaching a "normal" economic environment, we might even see a spinoff of its Merrill Lynch business, but that is a topic for another column.
In summary, Bank of America has more than tripled from its financial crisis nadir but it is still cheaper than its competitors from a book value perspective. It is also still selling for less than a third of its pre-financial crisis levels. The environment is slowly improving for banks, the company has several catalysts in front of it and even Jim Cramer gave B of A a positive "shout out" the other day. Buy.
Disclosure: I am long BAC. I wrote this article myself, and it expresses my own opinions. I am not receiving compensation for it (other than from Seeking Alpha). I have no business relationship with any company whose stock is mentioned in this article.