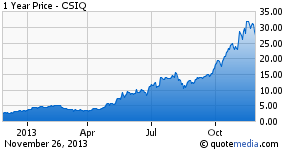 Last time we reviewed Canadian Solar Inc. (NASDAQ:CSIQ), we focused on the lack of market awareness about the solar plant project portfolio. It was a forthright assessment, which showed the company had unrecognized assets that were driving future revenues. It did not take long for the market to catch up and within a couple of months, the price of the stock doubled.
This time around, it is not the narrative, listing the 1GW of late stage and some 3.5GW of early stage projects. The evidence of how undervalued the company is lies in the company's financial statements and foremost, in its future operational ability.
In order to assess Canadian Solar, we should parallel the company to an existing comparable benchmark. Since American solar companies are the only ones left standing, it only makes sense to compare Canadian to one of them.
Based on third-quarter results, SunPower Corporation (NASDAQ:SPWR) delivered $0.89 per share on revenue of $657M. The basic number of shares for the company is 121M. Revenue generation per share was $5.42. The amount of the EBIT was $81M. SPWR has been valued at the market capitalization near $3.5B, while CSIQ is at $1.4B
It is necessary to consider that Canadian has been classified as a module manufacturer, and even with recent plants sales its shipments are dominated by third-party sales. For example, during Q3 only 60MW out of the 478MW sold by Canadian belonged to the type of systems/solutions.
How is Canadian Solar stacking up? On the basic share count, CSIQ made $0.58 per share. The revenue for the company was 74% of SunPower's. CSIQ generated $10.34 per share in revenue, almost twice as much as SPWR. SunPower's 29% gross margins were significantly higher than Canadian's 20.4%. The crucial difference is also EBIT percentile, which shows 12% of revenue for SunPower and 9% for Canadian.
SunPower had $79M of operating expenses versus Canadian's $44M. In comparison to revenue SPWR's Opex was 12%, while Canadian's was 9%. It appears that Canadian can keep Opex down quite well finding evidence of it in another comparison. In the second quarter Canadian had $380M in revenue and operational expenses were $36M, which suggests that in the third quarter operational expenses did not grow in the same way as the increase of revenue.
Moving on to the balance sheet we find more similarity than divergence. SunPower had $775M in cash and cash equivalents, while Canadian had $681M. SPWR had a convertible debt of $751M and $170M of debt, totaling $921M. Somewhere in the total of SPWR liabilities was a measure reflecting $100M in project assets. Canadian Solar has $992M in short and long debt, and what is paramount, $228M within that number was directly related to solar projects. The significance in this case is that the debt is automatically removed from liabilities upon the sale of the project.
Short- and long-term project assets for SPWR were listed at $100M, while CSIQ has $488M of the same. Basically, this means that Canadian Solar has almost 5 times more opportunity to expand its gross margins, along with its revenues.
At the initial conclusion, Canadian Solar looks as good or perhaps better financially, but the gross margin and EBIT percentile separates both companies and makes SunPower superior. Feasibly, this is the reason why SunPower has a lot larger market capitalization. Canadian lagging SunPower today is related to the ratio of systems sales versus its manufacturing sales, a condition which will be changing rapidly in 2014.
The best example of possibilities, once more, is the third quarter. The company sold 60MW of modules to third parties at some $0.69 per watt, while its solar plant sales and solutions generated around $3.36 per watt. From the perspective of revenue generation, this was 41% of revenue, but only 12% of shipments.
If the company had its solution shipments up to 21% of modules sold, CSIQ would have another $103M in revenue. Having 25% gross margins, assuming Opex increases by $8M and income tax of 26% it would make an extra $0.26 per share, getting it to a total of $0.84, almost approaching SunPower's result. In the first nine months of 2013, the company recognized shipments of 120MW in business solutions, including 26MW of solar plants sold in Canada. This is only 10% of the total 1.2GW of modules shipped by the company thus far in 2013. Excitingly, more than half of that amount was shipped in the third quarter.
Reviewing the company's recent presentation, 2014 numbers quickly become remarkable to the incoming change. In Canada alone, the company has at least 180MW in solar plants for sale. This is almost 7 times what has been done to date and does not include 20MW, which can be still sold in Q4. When adding Japan and the US pipeline, income generation moves into uncharted territory. An average analysts' estimate for 2014 is about $2.30 EPS. Canadian selling 100MW in solutions per quarter can deliver at least $3.36 to $4.00 for the year. Having gross margins closer to 25%, by including Japan and blend of the US projects, earnings can reach as much as $5 per share.
In addition to its current business model, the management has been acting creatively to expand future income streams. One US strategy involves partnerships with banks to provide easier financing for the retail consumer building rooftops. Another, an operating and maintenance (O&M) service for solar farms, offered on recently sold projects to Blackrock and DIF. Executives also talked about a potential spin-off, or Yield Co idea, separating the systems/solution business from manufacturing, thereby creating a convenient and perhaps lower interest rate source of capital.
Canadian is probably one company out of the Chinese universe that next year will not be looking to expand its manufacturing capacity. This should not be confused with lack of growth. Besides savings in Capex, internal growth will be only limited by the amount of EPC contracts, and the recent 500MW MOU in Punjab, Pakistan, and the queue of projects in China attests that this will not be an issue.
During the third quarter Canadian had the highest ASP among Chinese companies, guiding manufacturing gross margins to 15% in the fourth quarter. If the 2014 market is as strong as predictions indicate, Canadian modules will continue to receive top ASP, only helping the bottom line.
In summary, SPWR is expected to show earnings of $1.20 for 2014. While probably imperfect, at the double of those shown, SPWR stock has a PE of 12. At $28.85 per share, a closing price on November 25, 2013, future earnings for Canadian at $5 only equates to 5.7 PE. It is only reasonable to expect that Canadian will be at 12 PE during 2014, offering a potential 100% stock increase.
Disclosure: I am long CSIQ, JKS, SOL. I wrote this article myself, and it expresses my own opinions. I am not receiving compensation for it. I have no business relationship with any company whose stock is mentioned in this article.