Editors' Note: This article discusses micro-cap stocks. Please be aware of the risks associated with these stocks.
Mercury is a serious threat to the environment and human health. Exposure to mercury can destroy the human nervous system and permanently damage the brain, heart, kidneys, lungs, and immune system. With over 50% of mercury emissions in the United States coming from coal fired power plants, the US Environmental Protection Agency or EPA has issued new regulatory mandates, which will become effective in April 2015. The Mercury and Air Toxics Standards (MATS) establish new power plant emission requirements for mercury and other toxic pollutants. These mandates will prevent about 90% of mercury emitted by power plants from being released into the air.
These EPA regulations have been in the works for years and bring the US into agreement with the 147 governments from around the world that recently signed the Minamata Convention on Mercury to protect human health and the environment from emissions and releases of mercury and mercury compounds.
The EPA's mercury reduction regulations have created a substantial new market opportunity for broad based air pollution control technology companies, such as Advanced Emissions Solutions (ADES), Calgon Carbon Corporation (CCC), Albemarle Corporation (ALB) and Midwest Energy Emissions Corp. (OTCQB:MEEC), which are focusing on this new market opportunity valued at around $10 billion annually.
Advanced Emissions Solutions, Calgon Carbon, and Albemarle Corporation provide sorbent injection techniques through powdered activated carbon (PAC) or brominated activated carbon (BAC). Midwest Energy Emissions has its own multi-patented sorbent enhancing additive technology. Their Sorbent Enhancement Additive or SEA technology represents a second-generation approach to reducing mercury from power plants.
Why mercury control?
Coal combustion releases carbon dioxide, NOx (nitrogen dioxide and nitrogen trioxide collectively), sulfur dioxide, sulfur trioxide, and particle emissions called fly ash. These air pollutants are responsible for many human diseases and environmental degradation. Mercury has been proven to be one of the most dangerous air pollutants released during coal burning at power plants and other industrial units. It is among the most harmful of toxic materials and directly affects the human nervous system.
More than half of coal is consumed for electricity generation; industrial units and the residential sector utilize the remainder. Being the second biggest coal consumer behind China, the U.S. has been regulating the emission levels of coal burning plants to reduce the adverse environmental impact. Although the share of coal in U.S. electricity generation has been reduced drastically over past few years with the transition towards natural gas, it still remains a major contributor.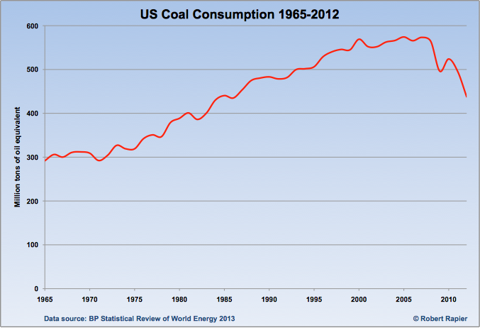 EPA's new mandate for mercury control
To control the emission of these harmful air pollutants in the atmosphere, the U.S. Environmental Protection Agency (EPA), has been controlling major air pollutants like NOx, Sulphur dioxide, and particulate matter through the Clean Air Energy Act since 1990.
This act has been extended to controlling Mercury emissions after finalizing the Mercury and Air Toxics Standards. The mercury reduction measure was finalized in December 2011, with final revision to the limits made in April of last year. This standard requires coal and oil powered power plants generating more than 25 megawatts of power to reduce mercury emissions by 90%. This norm will cover new as well as existing plants. Interestingly, 1,100 coal fired electricity generating units (EGUs), and 300 oil fired EGUs will also come under its ambit. These power plants have to meet this mercury reduction requirement within three years, or by April 16, 2015, as per the rule, but does provide for a one-year compliance delay tied to tight equipment installation timeline
Power plants are among the major contributors of air pollution in the U.S. with emission contributions of mercury (50%), acid gases (over 75%), and many toxic metals (20%-60%).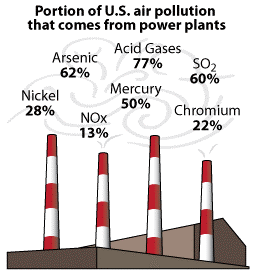 Source: EPA
Unlike other air pollutants, there were few mercury emission regulations earlier in the U.S. This resulted in existing power plants not installing mercury reduction equipment to save costs. Around 40% of the current EGUs don't have advanced pollution control equipment. Therefore, the need for such a regulation for mercury emission control was required. The EPA has estimated that the ultimate cost incurred by the U.S. utility sector for MATS compliance is expected to be around $10 billion per year including operational and sorbent costs. This will be the capital cost related to equipment purchase and other operational cost related to monitoring and maintenance of the equipment. Although the EPA hasn't estimated the total cost, this regulation is expected to impose a large financial burden on the power sector.
Mercury Reduction Technique: Activated Carbon Injection
MATS compliance will now require power plants to achieve the 90% mercury reduction levels. To meet this requirement, utilities are looking for specialized mercury reduction techniques rather than traditional usage of very costly scrubbers, which fail to remove the elemental mercury.
For elemental mercury reduction, the Activated Carbon Injection (ACI) technique, which involves injection of sorbent, can be used. A sorbent is a material used to absorb or adsorb liquid or gases. The sorbent used for this purpose is activated carbon, which can be either Powdered Activated Carbon or Brominated Activated Carbon. ACI is essentially the injection of PAC, or BAC, which oxidizes mercury, thereby reducing it via use of scrubbers. This sorbent is injected into the flue-gas after the boiler itself, but in front of the Electro-Static Precipitators (ESP).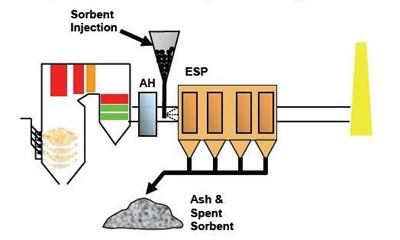 Source: www.power-eng.com
ACI technology can give results in a variety of fuel types, but it is only effective in mercury reduction to below the 70% level. Therefore, to achieve the required >90% level, an increased rate of sorbent injection is required. This not only increases the overall cost due to the high rate of injection, but it also creates some operational issues. Therefore, low cost injection is required to reduce the overall cost of ACI technology.
One of the main issues with ACI technology is that it affects the quality of byproduct produced during coal combustion, i.e. fly ash. This particulate matter is a waste material that can be sold to concrete manufacturers, which use this as an ingredient. Using an excess of PAC or BAC injections adversely affects the quality of fly ash, thereby making it unfit for sale to concrete companies. It is important for every power plant to market its fly ash, as failure to do so will result in a pile up of this byproduct, resulting in excess disposal cost.
Though there are some disadvantages of using ACI technology, it is popular among power plants, especially old power plants, as this technology can be deployed in a short span of time and demands low initial cost related to equipment purchase. Companies like Advanced Emissions Solutions, Albemarle, and Calgon Carbon are among the front runners for capitalizing on this new market opportunity.
Overview of ACI Solution Providers
MATS compliance has opened a new revenue growth opportunity for mercury reduction technology providers. The following are the important players in ACI:
Advanced Emissions Solutions - Through its subsidiary ADA-ES, Advanced Emissions Solutions provides ACI technology for mercury control, mercury measurement instrumentation, and related services. The company is the leader in clean coal technology and provides a wide range of solutions to coal based power plants. The company is benefiting from the new MATS requirements, which resulted in recent contracts worth $7 million from multiple utilities for its ACI and dry sorbents injections, or DSI. Advanced Emissions is working on bids for installing its mercury control systems to the tune of more than $160 million. The market for equipment related to ACI and DSI is expected to reach $1 billion, and due to these contracts, we believe the company has sustained its leadership in providing equipment to meet the MATS standard.
The company posted strong top line growth of approximately 400% year over year in fiscal year 2012 driven by the new contracts from utilities for MATS compliance. The company is upgrading its ACI technology, and with usage of flue gas conditioning along with ACI, the company managed to provide the 90% mercury reduction target. Flue gas refers to the exiting gas (like Carbon dioxide, Sulphur dioxide, and Nitrogen compounds) from the chimney of the power plant. These gases also have mercury content; therefore, it's important to reduce it to permissible levels before releasing it into the environment.
We believe Advanced Emissions Solutions is best positioned of the ACI technology providers, as its ACI provides end to end solutions starting from reducing the level of mercury from coal itself via its refining technology to reducing emission from flue gas via ACI.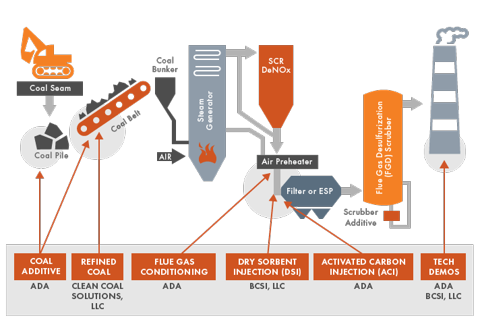 Source: Advanced Emission Solutions website
Albemarle Corporation - Albemarle's fine chemicals segment provides brominated activated carbon sorbents, non-brominated PAC sorbents, and bromine chemicals, as well as custom-designed Sorbent Injection Systems and full-scale trial capabilities. Other than utility companies, the company also provides mercury control technology to the Iron & Steel and Cement industries. The company was first to demonstrate BAC technology.
Brominated powdered activated carbon gives better results than the plain sorbents. This means more efficiency in mercury reduction at lower injection rates. BAC can work at higher temperatures, but it is more expensive than PAC, which means a higher application cost as the injection rate increases. In addition, the use of brominated activated carbon injections can also create corrosion potential in the air heaters.
Albemarle has a diversified product line, and even if the company's expensive BAC products fail to attract more customers in mercury control, the company will have relatively less impact on its top line. Albemarle's fine chemistry division, which manufactures brominated products, contributed 28.6% of the total revenue in 2012. Fine chemistry manufactures bromine products, which are used in chemical synthesis, oil and gas well drilling and completion fluids, mercury control, paper manufacturing, water purification, beef and poultry processing, and various other industrial applications.
Calgon Carbon Corporation - Like ADA-ES, Calgon Carbon provides activated carbon products and specializes in PAC sorbents for removal of mercury. Unlike Advanced Emissions Solutions, Calgon Carbon has presence in Europe and Japan in addition to the U.S. Apart from providing and manufacturing PAC, the company also provides related services in mercury reduction like leasing, monitoring, and maintenance of carbon fills at customer sites. The company has a broad product line and provides pollution control solutions to different markets other than mercury. Therefore, even if the company fails to gain new contracts in the mercury reduction market, we believe it can offset this negative impact from its other markets like water purification. In addition to its PAC sorbents, the company manufactures granular activated carbon, which is primarily for water purification.
Mercury Reduction Technique: ME2C's Sorbent Enhancement Additive
For achieving the desired result without incurring high cost, another technology called Sorbent Enhancement Additive (SEA), is becoming widely popular for mercury reduction. Midwest Energy Emissions, an environmental services company, owns the rights of the multi-patented SEA technology. SEA can be specifically customized for each application to match a customer's fuel type and boiler configuration for optimal results. This process involves injection of sorbent enhancement additive in minimal amounts into the boiler, which works in support with its proprietary sorbents to insure maximum mercury capture.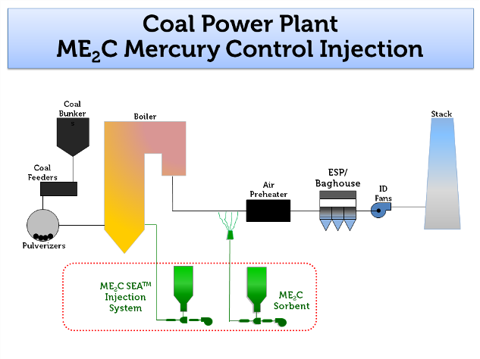 Source: ME2C
The company provides this technology in the U.S. and Canada, with future expansion into Europe and China. ME2C holds around 23 patents in air pollutants emissions control. The company has been sharing its R&D initiative with one of the world's leading developers of cleaner, more efficient energy and environmental technologies to protect and clean air, water, and soil. The independent R&D center maintains worldwide recognition in mercury emission control techniques, and the EPA officially designated it as the Center for Air Toxic Metal (CATM).
The company holds the exclusive right to these patents in the U.S., Canada, Europe, and China until 2025, while it also has some pending patents applications. These patents hold the key to the ME2C growth perspective, as the company is in the developmental phase and caters to a niche segment of emission control technology.
ACI v/s SEA technology
ME2C's SEA technology provides tailor-made mercury control techniques to coal based power plants and provides customization according to the customer's fuel type and plant configuration. This technology provides the required mercury reduction without any operational issues unlike ACI technology. This is one of the most cost effective techniques available in the market for Mercury control, and it has been important in keeping the mercury emission below the government norm.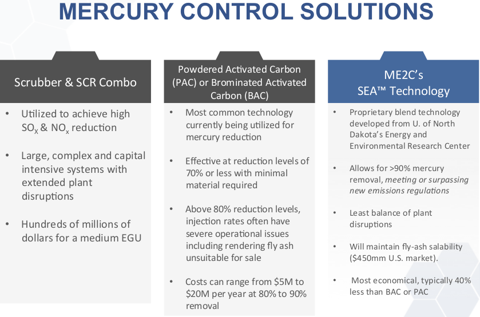 SEA technology is less expensive and delivers more than 90% mercury reduction without tampering with fly ash qualities. Thus, fly ash remains fit for sale to concrete manufacturers. The fly ash market in the U.S. stands at $451 million, so maintaining the salable properties of this byproduct is important for additional revenue generation from this waste product.
The company is a niche player and caters to a single market, mercury emission control technology. This technology has removed all the issues witnessed during implementation of ACIs. Therefore, ME2C is perfectly positioned to benefit from the current MATS requirements for power plants. The following is the cost comparison analysis between SEA and BAC techniques: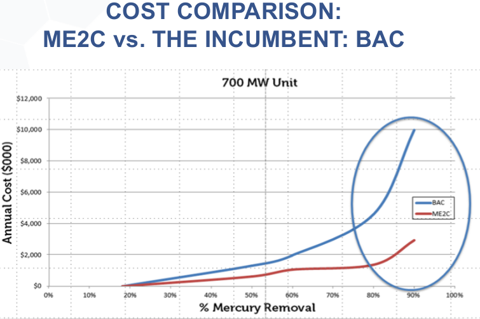 Price Comparison
ACI installation price is based on factors like plant size, type of sorbents used, and company specific technology. ACI's initial cost related to installation of equipment are relatively lower than other technologies, but increased usage of sorbents to get more than 90% mercury reduction increases the overall annual operational cost. For example, Advanced Emission Solution's ACI and Dry Sorbent Injection capital equipment cost ranges from $600,000 to $2 million for large utility coal boilers. Due to increased usage of sorbents, the annual operational cost of ACI becomes similar to the initial capital cost.
In comparison to ACI, ME2C's SEA technology has an annual operational cost typically 40% less than the PAC or BAC.
As per Alan Kelley, President and Chief Executive Officer of ME2C, the company charges between $2 million and $5 million per year for its more than 90% mercury reduction technology for an average size coal unit of about 500 megawatts.
ACI technology can be installed in 12 months or less as per the Northeast States for Coordinated Air Use Management. Therefore, due to quick installation and low initial capital cost, ACI can win new contracts, especially from old plants, as the compliance date is near.
As per EPA estimates, there are 1,400 coal and oil fired electricity generating units in the U.S. that will be affected by this regulation. Therefore, we believe that there is a multi-billion market opportunity for mercury control solution providers, and as the deadline for this compliance draws near, demand for these technologies from power plants will witness a sharp increase.
Revenue Analysis in the Emission control solutions industry
After the passing of MATS standards by the EPA, mercury emission control solution providers have been betting on new contracts from utility companies. Here, we are comparing Midwest Energy Emissions Corp., Calgon Carbon Corporation, Advanced Emissions Solutions, and Albemarle.
ME2C is a relatively small company in terms of revenue compared to its peers in mercury control, but this is because ME2C is in the development phase and is 100% dependent on providing mercury control solutions, i.e. SEA technology and ME2C sorbents. The company took rights of this SEA technology on October 2008, and since 2009, it has been paying annual license maintenance fees for using this technology.
Unlike ME2C, Advanced Emissions Solutions provides a wide range of products in clean coal technology other than mercury emission control, which include refined coal technology for enhancing combustion and reducing emission of Nitrogen compounds and mercury from coal. In addition to this, it also develops carbon control technologies, whereas Calgon Carbon provides services and solutions for purifying water and air, food, and beverages. Albemarle specializes in manufacturing specialty chemicals, which have applications other than mercury control.
The following is the annual sales of all the three companies from the period 2009 to 2012
| | | | | |
| --- | --- | --- | --- | --- |
| Sales (in $ million) | 2012 | 2011 | 2010 | 2009 |
| ME2C | 0.78 | 0.46 | 0.082 | 0.007 |
| Advanced Emissions | 212.52 | 53.32 | 22.28 | 20 |
| Calgon Carbon | 562.26 | 541.47 | 482.34 | 412 |
| Albemarle | 2745 | 2869 | 2,363 | 2,005 |
Source: Yahoo finance
We can see that since the MATS requirement in 2011, both ME2C and Advanced Emission have posted strong top-line growth unlike their previous year. This was because unlike Calgon Carbon and Albemarle, both companies have more dependence on mercury control. Both the companies have posted strong top line growth due to new contracts from the power plants for MATS compliance.
On the other side, despite having lower revenue due to its single product based business model, ME2C is expected to give tough competition to its peers in the mercury reduction market. After acquiring the rights of SEA technology, ME2C is perfectly positioned to capitalize on this new market opportunity.
Non-U.S. market opportunity
Although the U.S. market currently holds the key to growth for mercury control solution providers, other big emitters of mercury are adopting strict standards to curb the mercury as well. Non-U.S. markets will provide new growth opportunities to these market players. Like the U.S., Canada is also going through a mercury reduction control mission, and as per ME2C's 2012 10-K filings, all the Canadian provinces achieved a 60% mercury reduction by 2012, which will increase to 80% by the start of 2018. Canada also signed the Minamata Convention on Mercury, which requires the country to bring mercury emissions below the permissible limit. Canada has reduced its domestic mercury emissions by almost 90% over the past 30 years, and the government is working to strengthen rules to curb mercury emissions. We believe that ME2C will take the lead against its rival in grabbing this Canadian opportunity, as the company already holds a mercury reduction technology patent in Canada and has been providing its solutions to the domestic power plants based in Canada. Calgon Carbon also markets its products in Canada, but it has a very limited presence.
China, on the other hand, is the biggest consumer of coal with 47% share in global coal consumption for its power generation, leading to high mercury emissions. The following is the world's coal consumption by leading consuming countries for the period 2010-2040: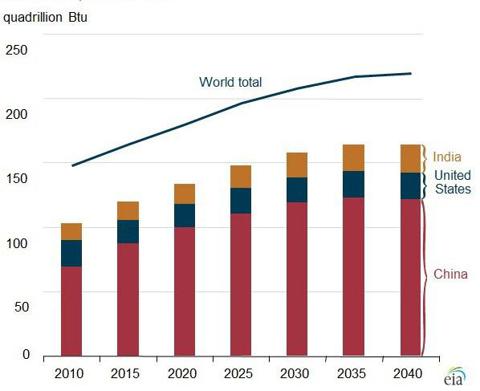 Source: EIA
Most of the coal in China is used for power generation followed by use in industrial units. Thus, power plants are the major contributors towards the mercury emission in China.
The following is sectorial consumption of coal in China for the period 2010-2040: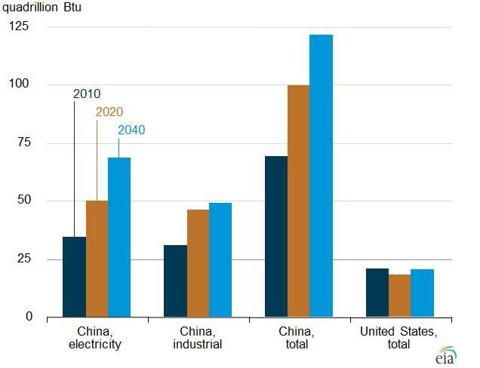 Source: EIA
On July 18, 2011, China adopted the air pollutant emission standards for coal-fired power plants, which was effective from January 1, 2012. This requires power plants to achieve the set targeted reduction in air pollutants like mercury, sulfur dioxide, and nitrogen oxide by 2015.
Advanced Emissions Solutions' presence is limited to the U.S., while Calgon Carbon has limited presence in China and generated 2.7% of its total revenue from this market in 2012. Although ME2C doesn't have a considerable presence in China, we believe that this market has a lot of growth potential, and a future expansion to the Chinese market will give ME2C an opportunity to boost its top line. Like Canada, ME2C also holds exclusive rights to a mercury reduction technology patent in China; therefore, we believe this will help the company expand its presence in the country. Both companies, i.e. Calgon Carbon and ME2C, are expected to lead in grabbing the Chinese market opportunity because of their set base in the country.
Bottom-line
MATS requirement has created a new market growth opportunity for all the mercury reduction solutions providers.
We believe SEA technology will help ME2C gain maximum benefit from this demand growth. It will help ME2C boost its top line growth, but 100% revenue dependence on only one product, i.e. mercury control solutions, and having a high fixed cost may affect the company's growth in the long run.
On the other hand, Calgon Carbon has a wide range of products other than mercury control. The company has low dependence on mercury emission control market, so losing to the SEA technology will have less impact on its overall top line. Despite having low dependence on mercury control, the company is dependent on government regulations generating returns, and any major change in regulation may impact the business of Calgon. In addition to this, the company operates in a competitive environment of activated carbon products. Therefore, these risk factors are of an important consideration for the top line growth in the long run.
Like Calgon Carbon, Advanced Emissions Solutions also has diversified products in the clean coal technology. The company has an advanced ACI technology, which will help it to achieve the desired results. It is best positioned to lead the ACI technology providers due to its wide range of product offerings in clean coal technology. Its end to end solutions for power plants are expected to help it win new contracts for MATS compliance. Like its other peers, the company's business is affected by environment regulation. In addition to this, having presence limited to the U.S. may limit its top line growth in the long run.
Albemarle has depth and breadth in its product line, which gives it much needed diversification. The company caters to different markets, and therefore even if the company loses out on its bromine products for mercury control, its ultimate impact on the top line will be minimal.
We believe that ME2C has the potential to lead amongst its peers in the mercury reduction technologies, but due to its weak financial statement compared to other companies in the industry, the company might lack the resources for new product development. Meanwhile, Advanced Emissions Solutions is expected to dominate in the ACI technology due to its 90% mercury reduction techniques. ME2C is in the developmental phase, and its R&D partnership will help it develop market leading technology. Therefore, going with the new market opportunity, we recommend a buy rating to all these air pollutant solutions providers, i.e. ME2C, Advanced Emissions, Calgon Carbon, and Albemarle.
Disclosure: I have no positions in any stocks mentioned, and no plans to initiate any positions within the next 72 hours.
Business relationship disclosure: Fusion Research is a team of equity analysts. This article was written by Madhu Dube, one of our research analysts. We did not receive compensation for this article (other than from Seeking Alpha), and we have no business relationship with any company whose stock is mentioned in this article.