Investing in the healthcare sector is considered defensive, but some biopharmaceuticals are among the most risky of investments.
In this article the term biopharmaceuticals refers to companies within the Biotechnology Industry. Companies within the Life Sciences Services & Tools industry are referred to as just "life sciences."
Investment thesis:
Small cap biopharmaceuticals are a minefield with stocks that explode then implode due to inappropriately high expectations and valuations
Valuations are key to investment decision, not the promise of miraculous cure
Life sciences companies provide opportunity to invest in the rapidly growing field of DNA- and RNA-based diagnostics, and more often have reasonable valuations and lower volatility than biopharmaceuticals
A screen for biopharmaceutical stocks traded on U.S. exchanges and ADR with market cap > $100M and which were not headquartered in China identified 102 companies. A screen using the same criteria for companies in the life sciences services & tools industry yielded 42.
Relative Risk. Prices of the life sciences companies tended to be less market-correlated and less volatile than biopharmaceuticals. Compared to biopharmaceuticals, prices of life sciences stocks had a lower beta statistic (i.e. lower market correlation); life sciences stocks also had a lower standard deviation for price fluctuation about the average share price (i.e. lower volatility). These statistics are shown in the following table along with the 2 companies for each industry having the lowest and highest standard deviation (STD).
39 of the 102 biopharmaceutical stocks are > 25% off their 52-week highs as of 26th November, 14 of them are off by > 50%: these 14 are listed in the following table showing the % that each stock is down from its 52-week high and 52-week price appreciation. Most are small caps $2B or less.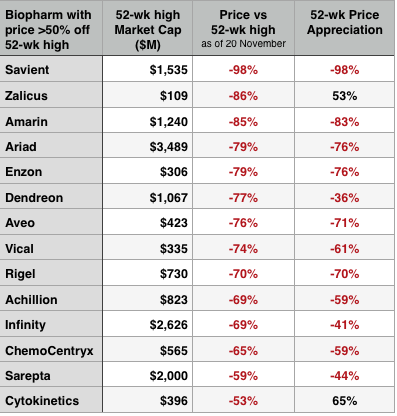 Two of these biopharmaceuticals down by >50% from their 52-week highs are bouncing back. Acadia (NASDAQ:ACAD), is not on this list because it is only down 26% off its 52-week high but is still up >1,000% year to date - that is why it is the most volatile stock found on the screen - volatility can be a good thing if it is in the right direction! However, 43 of the 102 biopharmaceuticals have underperformed the NASDAQ, and 25 of them are in negative territory for the 52-week period. The average biopharmaceutical company 52-week price appreciation = 73% (including Acadia). These large average gains in a raging bull market do not make picking stocks in this industry safe for individual investors who are not devoted to understanding biopharmaceuticals.
Diversification reduces but does not eliminate volatility in biotech. The returns for the following biotechnology funds (all up 55% or more year-to-date) can be seen at the Morningstar which also reports risk as measured by standard deviation:
All five of the above funds experience price volatility approximately twice that of S&P 500 as shown in the blue bar in the graphs found by clicking the respective links.
Only FBT heavily weights life sciences companies: Illumina (NASDAQ:ILMN) and Qiagen NV (NASDAQ:QGEN) are among the top 5 holdings, and this fund has slightly lower volatility than the others.
However, life sciences stocks can also be volatile and in a negative direction. Although none of the life sciences identified in my stock screen are off more than 50% from their 52-week highs, 3 of 42 are off by 40-50%: Nanosphere (NASDAQ:NSPH), Sequenom (NASDAQ:SQNM), and TrovaGene (NASDAQ:TROV).
For an explanation, look at valuations prior to the 40-50% price decline in the next table (source of data: ycharts.com). Median price:sales ratio for the entire group of 42 life sciences stocks was 2.7, so TrovaGene and Nanosphere were clearly in the stratosphere price-wise.
Growth in the life sciences industry. For the entire group of 42 life sciences stocks the 52-week price appreciation was 67% and only slightly less than for the riskier biopharmaceuticals. According to &P Capital IQ:
Biotechnology Industry
Return on Equity [TTM] = 5.79%
Return on Investment = -0.76%
P:E ratio (this year's estimate)= 368
Compare that to:
Life Sciences Services & Tools Industry
Return on Equity [TTM] = 13.36%
Return on Investment = 6.86%
P:E ratio (this year's estimate)= 29
So with Life Sciences you pay less than 1/10th the price and get a greater return!
Intensity of research in the field of nucleic acid sequencing, and in particular, in the field of micro-RNA or miRNA greatly increased during the past decade. This research has resulted in novel methods of disease detection (e.g. in cancer) and an entirely new class of drugs with the potential to treat many types of diseases including cancer. A scientific article in Circulation Research, 2012 provides a review of diagnostic and therapeutic applications of miRNA research. The explosion in the amount of miRNA research is paralleled by an increase in the number of patent applications which tripled between 2009 and 2011. Companies enjoying growth in the field of nucleic acid sequencing and miRNA diagnostics, and whose stocks sell at reasonable valuations were the object of another screen.
I searched for those companies in the miRNA and sequencing business with TTM and recent quarter year-over-year revenue growth and recent quarter year-over-year EPS growth, and with price:sales ratio equal to or less than that of Life Technologies (NASDAQ:LIFE). The rationale for choosing LIFE's valuation as a cutoff is that Thermo Fisher Scientific (NYSE:TMO), the largest life sciences in market cap ($36.7M) and with annual revenue ($12.5M), is buying Life Technologies which sells at price-to-sales ratio of about 3.5. I believe this figure gives a measure of sensibility to pricing of for a company in the nucleic acid sequencing business - you shouldn't have to pay triple or even double digit P:S for a growing, highly desirable investment.
The following table lists life sciences companies passing the screen for revenue and EPS growth at a price:sales <3.5:
Sequenom's recent revenue growth, its P:S ratio of about 2 and an enterprise value of less than half what it was beginning 2013 makes it interesting, and the company has been the subject of 3 SA articles already in November. Other life sciences stocks which have imploded then resurged after a change in company strategy include Affymetrix (NASDAQ:AFFX) which fell from $8 in mid-2011 to $3 in January 2013 when it was selling for book value; AFFX price is now back to near $8. When a company engaged in the sophisticated science of DNA- or RNA-sequencing like AFFX begins to increase revenues, nears profitability, and sells for book value which it did in summer of 2013, it is a low risk value stock.
TMO had the lowest volatility in life sciences this year (see table above), and is a highly leveraged but growing company; however, my comfort level for stock purchase is not high when a stock appears as #1 on the WhaleWisdom.com Heat Map as did TMO in Q2 of 2013. Current P/E = 27 and price to free cash flow of 19 for TMO.
Illumina which did not make the above value screen is the next largest life sciences in market cap ($12.5B) with annual revenue $1.2M won prominence in the 19th of November electronic edition of New England Journal of Medicine for its "First FDA Authorization for Next-Generation Sequencer." Valuations are accordingly high: P/S of 8.2 and P/E of 119.
Concluding remarks. DNA- and RNA-based therapies and diagnostics will dramatically improve health care and will provide unparalleled opportunities for investment in innovation and growth. Companies participating in this growth but having reasonable valuations and less volatility are more likely to be found in the diagnostic-oriented life sciences. These companies make headlines less often than those in the biopharmaceutical industry, and can be purchased at much more reasonable prices; examples are TMO and AFFX. Others will become more reasonably priced after the stock implodes, like SQNM did this year.
Disclosure: I am long AFFX. I wrote this article myself, and it expresses my own opinions. I am not receiving compensation for it. I have no business relationship with any company whose stock is mentioned in this article.