Plains All American Pipeline (NYSE:PAA) has an extensive pipeline network that connects major shale operations across the U.S. plains. It is heavily dependent on its crude oil transportation business; natural gas liquids, refined products, and natural gas storage. Additionally, 65% of its cash flows are fee-based, which allows it to diversify the risk against the fluctuations in commodity prices.
The increase in fee-based activities and future organic growth capital investments remain the key to Plains All American's growth. The company plans to have a total organic investment of $1.65 billion this year and a further $1.3 billion to $1.5 billion for 2014. It plans to achieve this organic growth with a 20% increase in fee-based activities. These moves will further reduce Plains All American's exposure to commodity risk, making it a fee-based dominant revenue structure.
The effect of Plains All American's organic growth initiatives can be seen in the revenue growth in its transportation segment. This segment's revenue grew 13% in the first nine months of this year, as compared to the corresponding period in the previous year. Higher volume of crude oil transportation, higher average pipeline tariffs and the company's organic growth project initiatives contributed to this growth. Crude oil production is forecasted to increase significantly at all major shale operations across the U.S., and Plains All American has a presence in all these regions, which bodes well for the company's future.
Another noteworthy factor is Plains All American's EBITDA growth. The company has met or exceeded the EBITDA guidance for the past 46 consecutive quarters over more than 11 years.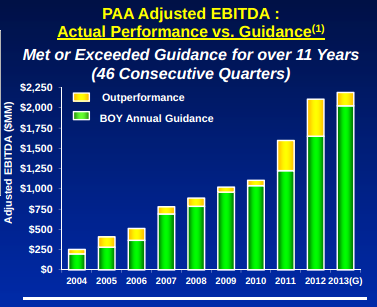 A consistent increase in EBITDA coupled with a record of beating the guidance estimates for a long period of time highlights the company's ability to weather the macroeconomic conditions and sustain growth.
Consistently growing dividend
Another metric on which Plains All American looks promising is its dividend yield. The company has a great distribution history, but I think it still isn't fully acknowledged by Mr. Market, because other MLPs are available at a relatively higher dividend yield.

Plains All American has increased distributions in 36 of the last 38 quarters, including the latest quarter, which amounts to a compounded annual growth rate of more than 7.7% since 2001. Plains All American now pays a quarterly distribution of $0.60, which is a growth of about 10.6% over the quarterly distribution at the same time last year. Thus, the company has exceeded its target of 9%-10% distribution growth in 2013. The current annualized distribution of $2.40 is a 133% growth over the relatively modest figure of $1.03 in 2001, and it indicates Plains All American's capacity to reward its investors with increasing distributions over a long period of time.
One thing to look for in companies distributing cash to investors is the sustainability of the distributions, or the distribution coverage ratio. Distribution coverage ratio indicates the capacity of a company to meet its financial obligations toward investors, and it should ideally be greater than or equal to 1. Plains All American has had a distribution coverage ratio in excess of 1 over the last four years, with the coverage ratio at present being 1.39 for the nine months ended in September 2013. This indicates a healthy state of affairs for Plains All American with respect to distributions. The annualized dividend yield at the current stock price is 4.6%. The company has a target of achieving distribution growth of 10% over the next 12 months.
Another MLP that I like is Kinder Morgan Energy Partners (NYSE:KMP). With plans to increase its storage capacity to address growing oil production in the U.S., Kinder Morgan began commercial operations at the BOSTCO terminal project in Houston last month. The project is spread over two phases, with the planned storage capacity in the first phase being 6.5 million barrels. The second phase, which is expected to be pressed into service by the fourth quarter of 2014, will raise the storage capacity to 7.1 million barrels. Initiatives like these are allowing Kinder Morgan to reward its investors with robust cash distributions. Kinder Morgan has a current dividend yield of 6.6%, which is more than double the yield offered on a 10-year U.S. Treasury bond. Investors should also note that Kinder Morgan has increased its distribution per unit for the past 17 years at a CAGR of 13%. Over the past 13 years, Kinder Morgan has missed its budgeted cash distribution only once, in 2006. This indicates that Kinder Morgan is able to provide investors with a sustainable and growing cash flow.
Energy Transfer Partners (NYSE:ETP) also looks like a very "compelling" MLP from the dividend yield perspective. At a current dividend yield of 6.8%, it offers investors the highest yield among these three MLP players. Energy Transfer's dividend yield was stagnant for a long time, but a shift from an energy-sales model to a fee-based model has reduced the commodity risk for the company. At present, it is reaping the benefits of a number of acquisitions made last year, which allowed Energy Transfer to increase its distribution by 1.26% in the third quarter of 2013. The distribution coverage ratio for the company improved to 1.02 in the nine months ending in September this year, up from 0.93 in the corresponding period last year. This is a positive sign for income investors.
Conclusion
While there are a lot of MLPs in the oil and gas sector and most of them provide great distributions, sustainability and growth of distributions over a significant period of time should also be given consideration. Plains All American is one company that fits the bill. A strong financial performance in the past coupled with a proactive management at its head makes it a compelling choice for investors who are looking to delve into the MLP space. A healthy distribution coverage ratio, long-term, indicates that the company doesn't have to depend on debt to fulfil its financial obligation.
Disclosure: I have no positions in any stocks mentioned, and no plans to initiate any positions within the next 72 hours. I wrote this article myself, and it expresses my own opinions. I am not receiving compensation for it (other than from Seeking Alpha). I have no business relationship with any company whose stock is mentioned in this article.