The U.S. utility sector has been facing headwinds because of soft forward power prices, continued soft electric demand expectations, and a rising interest rate environment. Utility companies in the U.S. are investing to expand their regulated operations and scale down their merchant assets, as forward prices remain weak. In the given conditions, I believe Southern Company (NYSE:SO) remains a good investment prospect for income-seeking investors, as the stock offers a high dividend yield of 4.9%. Also, the company offers high quality and stable earnings, as almost 90% of the company's total revenues are generated through regulated operations. Moreover, the stock is trading at compelling valuations, as it is down almost 13% since May. Therefore, I reaffirm my bullish stance on the stock.
Stock Price Driver
SO is among the leading utility companies of the U.S. and has been spending aggressively to strengthen its power generational fleet. Recently, the company presented at the EEI conference and disclosed that it is projecting to spend $17.9 billion in upcoming years, from 2013 through 2015, to strengthen its production portfolio. The projected capital expenditure in the upcoming years will help the company increase its rate base and fuel future earnings growth. The company has been efficiently allocating its capital expenditure towards its growth projects, which is evident by an increase in ROE and ROIC. The following table shows the continuous increase in ROE and ROIC in recent years, and the chart shows the projected capital expenditure from 2013 through 2015.
| | | | | |
| --- | --- | --- | --- | --- |
| | 2009 | 2010 | 2011 | 2012 |
| ROE | 11.5% | 12.6% | 12.5% | 12.6% |
| ROIC | 3.12% | 3.77% | 4.26% | 4.4% |
Source: morningstar.com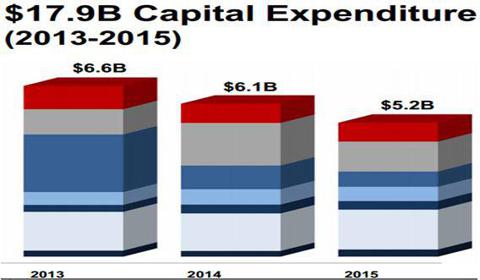 Source: Presentation Slides EEI Conference
Also, consistent with its peers in the industry, SO targets to expand and strengthen its renewable energy portfolio. Duke Energy (NYSE:DUK), PPL Corp. (NYSE:PPL), Dominion (NYSE:D), and Consolidated Edison Inc. (NYSE:ED) are among the other leading utility companies, who anticipate adapting to rapidly growing renewable energy sources rather than fighting them. SO expects its environmental spending to accelerate in 2017, which will strengthen its renewable power generation portfolio and fuel bottom line earnings growth via a rate base increase.
SO has several ongoing construction projects, which have experienced delays and cost overruns, and have had adverse impact on SO's bottom line results in recent quarters. Among the important ongoing projects are Kemper IGCC and Vogtle Unit 3 and 4. Delays and cost overruns at Kemper IGCC have already resulted in a 65% increase in the plant costs, making it almost $5 billion. Plant Vogtle Unit 3 and 4 are other important ongoing projects, with a generational capacity of more than 2000MW, and are expected to cost almost $15 billion in total. Investors should look for any delays and cost increases of the ongoing project, which can have an adverse impact on the company's future earnings. However, I believe once the ongoing construction projects are completed, it will boost investor confidence, strengthen SO's generation fleet, and bode well for the company's future earnings.
During the recent EEI conference earlier this month, SO disclosed that for its ongoing construction project of Plant Vogtle, it will receive loan guarantees by the year end from the Department of Energy [DOE], which would lower debt financing needs to almost zero in future. Once SO receives loan guarantees from DOE, it will be able to immediately withdraw $2.5 billion of already spent funds, from the total loan guarantee of $3.5 billion. The loan guarantee would improve SO's financial flexibility and lower debt issuance needs in the future.
Another important stock price driver for SO is a requested rate case increase for its subsidiary, Georgia Power. Last week, the company announced a three-year settlement agreement with Georgia Public Service Commission's Advocacy Staff. The settlement is subject to approval from the Georgia Public Service Commission, which is expected on December 12, 2013. If the rate increase request is approved by the commission, it will result in an increase in base revenue of $110 million, $186 million and $169 million on January 1, 2014, January 1, 2015 and January 1, 2016, respectively. A constructive outcome of the pending rate case will remove an overhang, boost investor confidence and have a positive impact on SO's future revenues.
Financial Highlights
SO is a high quality regulated utility company in the U.S. and has delivered healthy performance over the years. The company registered a decrease of 2.7% in 3Q'13 earnings, as EPS decreased from $1.11 in 3Q'12 to $1.08 in 3Q'13. Cost overruns at Plant Kemper had a negative impact on quarterly earnings. The company has experienced an EPS increase of 9% in the last three years. Also, the company offers a high dividend yield of 4.9%, supported by its healthy operating cash flow yield of 14%, which makes it a good investment option for income-seeking investors. Its high dividend yield of 4.9% limits a near-term price downside.
Final Words
The completion of ongoing projects and projected capital expenditure in upcoming years are key long-term earnings growth drivers for SO. Also, SO's high dividend yield of 4.9% makes it a good investment prospect for income-seeking investors. Moreover, the stock is down almost 13% since May, and is trading at compelling valuations; SO has a cheap forward P/E of 14.5x in comparison to DUK's and Dow Utility's forward P/E of 15.5x and 16.1x, respectively, as shown below in the table. Therefore, I reaffirm my 'buy' rating on the stock.
| | | | |
| --- | --- | --- | --- |
| | SO | DUK | Dow Utility Forward P/E |
| Forward P/E | 14.5x | 15.5x | 16.1x |
| Dividend Yield | 4.9% | 4.4% | - |
Disclosure: I have no positions in any stocks mentioned, and no plans to initiate any positions within the next 72 hours. I wrote this article myself, and it expresses my own opinions. I am not receiving compensation for it (other than from Seeking Alpha). I have no business relationship with any company whose stock is mentioned in this article.