In October, American Tower American Tower Corporation's (NYSE:AMT) entered a deal with Nextel International Incorporation (NASDAQ:NIHD) to buy 2,790 towers in Brazil for $413 million and 1483 towers in Mexico for $398 by the end of fiscal year 2014. As per the deal, Nextel agreed to lease back the tower sites from American Tower for 12 years. American Tower is expected to generate around $149 million in annual run rate revenue from both the regions. As most of the towers are located in highly populated areas or nearby highways, with an average tenancy ratio of one tenant per tower, I expect this provides a significant leasing growth opportunity if the company increases its tenancy ratio from one tenant to multiple tenants.
Before acquiring the business of Nextel International in October 2013, American Tower acquired Global Towers Partners for $3.3 billion, adding 5,400 towers and management rights of around 9,000 tower sites. The deal is expected to generate revenue of around $345 million in 2014, and in the fourth quarter alone it expects revenue of around $86 million from the deal with Global Towers and Nextel Mexico.
American Tower has huge growth potential available in Brazil due to less tower sites availability. Countries such as Japan and the U.S. have one tower for every 400 to 1200 people, but Brazil has only one tower for almost every 4,500 people. In order to capitalize on the opportunity, American Tower is planning to expand its tower portfolio to over 15,000 towers in Brazil and Mexico in 2014. I believe American Tower can generate more revenue from its operation in Brazil due to the country's rising mobile penetration of around 7% annually.
On the other hand, the deal with American Tower is expected to help Nextel International compete with major players such as America Movil S.A.B de C.V (NYSE:AMX) and Telefonica (NYSE:TEF) in Brazil and Mexico. Nextel is strengthening its position in these regions and is planning to rollout 3G LTE services integrated with the push to talk, or PTT, technology by the end of 2013. In order to finance the 3G LTE network rollout, the company is planning to raise around $1 billion either through tower sales or issuing senior notes. The company is already running short of funds for the launch of 3G LTE. In the third quarter ending September 2013, it recorded debt of around 5.7 billion and cash of around 2 billion. The debt to equity ratio of Nextel Holdings was 3.76, while the debt to equity of the industry is around 1.06. I believe selling towers will provide Nextel Holdings with much needed liquidity, although this isn't the first time selling its towers; it already sold its Peruvian business to Empresa Nacional S.A for around $411 million earlier this year.
The deal is expected to consolidate the position of Nextel International in Latin America because the region is one of the fastest growing mobile markets with over 10% of the world's mobile subscriber base. As of August 2013, Brazil had around 268 million users, as compared to 46 million users in 2003, which is almost a 48% rise every year. Anatal, a telecom service provider in Brazil, expects the number of mobile users in Brazli to be around 350 million by 2018.
Competitor's line of action
One of the biggest competitors of American Tower, Crown Castle International Corporation (NYSE:CCI), has agreed to buy or lease 9,700 towers from AT&T for $4.85 billion for 28 years. In return, Crown Castle will provide network capacity to AT&T for 10 years, charging $1,900 a month per site with rent rising about 2% every year. Crown Castle has an option to buy the leased towers for $4.2 billion after the lease term of 28 years. The company is planning to expand its reach in the top 100 markets of the U.S and nearly half of AT&T's towers are located in the top 50 markets of the U.S. This deal will strengthen Crown Castle's position in the U.S.
The deal will increase Crown Castle's tower count by around 33%, reaching around 40,000 towers in the U.S. It will also increase its revenue since the deal is expected to contribute around $245 million to $255 million to the company's Adjusted Funds from Operations in the forth quarter of 2014. The acquired towers from AT&T currently average 1.7 tenants per tower, whereas Crown Castle has an average of 2.8 tenants per shared site. This shows that Crown Castle has an opportunity to lease out available space on towers to other telecom operators.
Cash Flow Analysis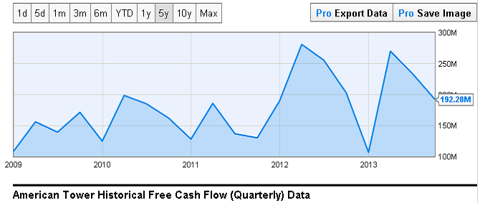 | | | | |
| --- | --- | --- | --- |
| Quarter | Free Cash Flow ($) | Outstanding Shares (million) | Free cash flow per share |
| First quarter 2013 | 270.13 million | 395.59 | 0.68 |
| Second Quarter 2013 | 233.78 million | 395.13 | 0.59 |
| Third Quarter 2013 | 192.28 million | 394.54 | 0.48 |
(Source: Ycharts)
American Tower generated $1.14 billion from its operating activities year to date as of the end of third quarter of 2013. The company's free cash flow decreased in the third quarter after utilizing cash for acquisitions. It has spent around $365.7 million for the purchase of 59 domestic towers and 1530 internatinal towers in the first nine months of this year. In addition, the company also paid $3.3 billion to complete the acquisition of Global Towers this year.
I expect the company's cash from operations to increase in fiscal year 2014, as revenue the from deals with Nextel Holdings and Global Towers are expected to strengthen the company's cash flow in 2014. Free cash flow per share is also expected to increase in the long run due to increasing revenue. Thus, I are optimistic about the company's future cash flow.
Conclusion
From the long term point of view, American Tower is a good investment. As mentioned above, the company is constantly buying new towers and is increasing its footprint in emerging markets such as Brazil and Mexico. This is expected to give increased return to the company in the long run, which can be seen starting in the next quarter. Apart from above mentioned information, American Tower has a PEG Ratio of 2.17 compared to Crown Castle International's PEG ratio of 3.54 and the industry's PEG ratio of around 2.27. This indicates that the American Tower stock is undervalued, and based on its latest initiatives, I expect the stock price to rise in the future.

Source: Yahoo Finance
The Earnings per Share, or EPS, of the company is also rising, and is 0.45. I expect the EPS to grow going forward due to expected future earnings. Based on the above mentioned information, I believe American Tower will give increased returns to its shareholders in the near future.
Disclosure: I have no positions in any stocks mentioned, and no plans to initiate any positions within the next 72 hours. I wrote this article myself, and it expresses my own opinions. I am not receiving compensation for it (other than from Seeking Alpha). I have no business relationship with any company whose stock is mentioned in this article.