"If you didn't know any better you would think they wrote the Obama budget kind of like a nom de plume…

Thanks to the acquisition of Washington Group in 2007, URS is now a major nuclear player with an experienced team that stands to benefit from any new nuclear bills that are going to happen in this country. It's one of only three engineering nuclear constructions with full build capability. Shaw Group that everyone thinks of ran right up after the State of the Union…

They service everything from transportation to a lot of military businesses. That matters given the 3% increase in the Defense budget, 2% in the Transportation budget. URS has a strong relationship with the Defense Department. It's possible the company could take a larger share of an already expanding pie. There's all the beautiful stimulus money just starting to hit now. There's about $100 billion left in total infrastructure spending and they're competing for it…

As for the company's nuclear power business, utilities are required to upgrade power generation fleets in order to reduce green house gas emissions, which is one more area of expertise for URS… Their $17.9 billion backlog, that's 4.7 times the size of its whole market capitalization. That's huge…

Obama's proposed budget isn't essential to URS but it's the best play we can find on this budget. A company with a terrific long-term story especially because of its brilliant nuclear power acquisition. It makes money immediately feeding off the federal trough and should get an even bigger payday when the inevitable nuke design and construction kicks in." — CNBC's Mad Money 2/2/2010
On Tuesday night, Jim Cramer discusses his idea for the stock that will stand to benefit from the newly unveiled budget. The actual budget and accompanying documents total a few thousand pages, which the vast majority of us simply don't have the time (or desire) to read, so it was nice of Cramer to put his research team on the project. His conclusion is that engineering, construction and technical services firm URS Corp. (NYSE:URS) stands to benefit the most due in part to their savvy 2007 acquisition of The Washington Group.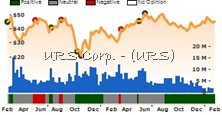 A large part of his analysis revolves around the prevalence of nuclear energy as part of the Obama administration's push for abundant, cleaner energy. President Obama said that nuclear power must become a bigger part of the nation's energy portfolio, and this idea that will likely have broad support in Congress. There has been a resurgence of interest in building nuclear power plants, and this may signal a reversal from years of federal policy denying new building applications for nuclear power plants. As Cramer notes, the $3.1 billion acquisition of The Washington Group brought URS to the forefront of nuclear waste cleanup and remediation business. URS now has the full build capability that places it in direct competition with Shaw Group (NYSE:SHAW). Since the President's State of the Union address, Shaw has advanced by double digits while URS is about even.
In addition to nuclear power projects, URS will compete for infrastructure spending from the $100 billion left in the stimulus bill. Transportation and Defense are two key areas where URS competes for government contracts and those budgets are expanding in the year ahead. Lastly, in addition to URS's prospects for growing revenue through new contracts, they already have a larger ratio of backlogged work to market capitalization than all of their competitors. Even if they are unsuccessful in securing new government contracts, they still have plenty to keep them busy for the next few years.
We agree with Cramer that URS is Undervalued and looks poised to benefit from new spending proposals. Based on the current fundamentals, we see this stock as having significant upside. For example, price-to-cash earnings has historically ranged between 9.8x and 17.2x, but the current multiple is well below that range at 8.6x. The current price-to-sales is .38x, which is on the low end of their historical range of .35x and .61x. These valuation ranges are based on current fundamentals and would only become more attractive if URS can secure a few new projects.