"Always have exit strategy." - Mark Mobius
On May 22, 2013, the U.S. REIT market entered a bear market. Six months later, the iShares U.S. Real Estate ETF (NYSEARCA:IYR), which tracks the Dow Jones U.S. REIT Index, closed down 20.03%. The IYR is also down year-to-date, as noted by the dotted red line in the chart below. Also, as noted by the solid red line, the IYR sits below its 50-day simple moving average.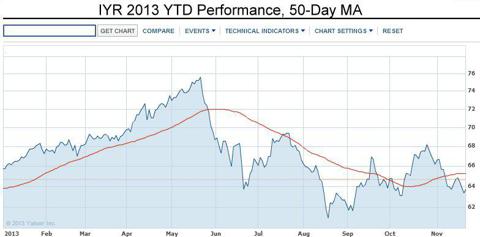 Click to enlarge
(Click to enlarge)
U.S. REITs Are In A Sector-Wide Bear Market
For a correction to occur, a loss of 10% is required over a short amount of time. Corrections are defined as a temporary price correction of at least 10% that interrupts an uptrend.
A bear market, however, is a price decline of 20% over a minimum time frame of two-months. According to the IYR, a bear market in U.S. REITs began May 22, 2013 after a four-year bull run.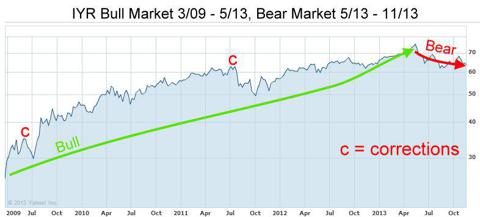 Click to enlarge
(Click to enlarge)
The U.S. Stock Market Remains In A Bull Market
With a reversal of fortune in aggregate U.S. REITs, investors have taken money off of the table. Rather than stick with losing stocks, the focus has been on the S&P 500 market trend, which continues to climb higher each month.
As measured by the SPDR S&P 500 Index ETF (NYSEARCA:SPY), a divergence in performance is evident since the REIT market peak in May.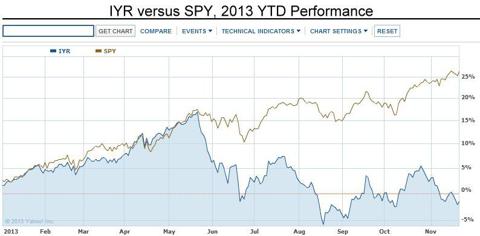 Click to enlarge
(Click to enlarge)
Avoiding Above Average Losses In The U.S. REIT Bear Market
When it comes to individual REITs, investors often ignore the tape and believe they have found value after a correction. While this may be true in some instances, investors must heed caution in purchasing REITs as the sector is in a short-term decline that is now defined as a bear market.
For those who are willing to purchase REITs in the downturn, a higher than normal level of caution could be advised to REITs that are experiencing negative momentum at a higher rate than the index, as well as those trading near important psychological pricing levels.
Don't Buy Underperforming REITs In A U.S. REIT Bear Market
Individual companies that underperform their sector in the same year as a bear market should be avoided. These companies are likely to have company-specific problems that add to their risk profile in addition to sector-related negative momentum and sector-related fundamental risks.
One example of such a decline is Digital Realty Trust, Inc. (NYSE:DLR). The stock has held a yield premium all year versus the IYR, however it has underperformed the index since January 2013. As noted by the red arrows in the chart below, one can see the clear divergence between DLR and IYR before the bear market began.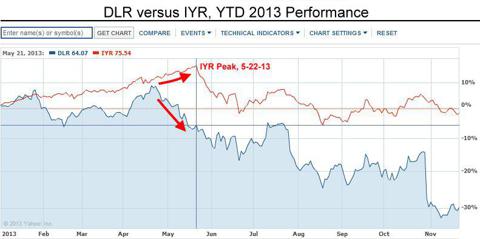 Click to enlarge
(Click to enlarge)
Once the IYR began its fall from grace, DLR followed the index closely except for a short June/July rally and a dramatic decline in late October.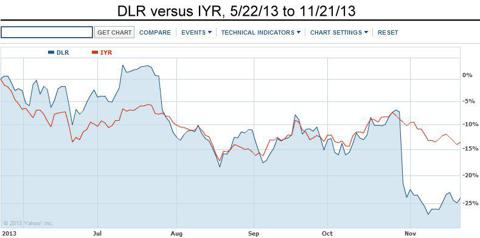 Click to enlarge
(Click to enlarge)
Beware Of The Dead Cat Bounce
When the tape is broken, investors witness what is often coined a "dead cat bounce." This occurs when a stock that is in a downtrend has a temporary relief rally after achieving a short-term correction.
In June 2013, the brief DLR rally pushed the stock up over 15% in a matter of weeks. Next, the stock declined into a new low in August 2013. This was a classic dead cat bounce.
In September and October 2013, the stock once again staged brief rallies after 10% or greater declines, even testing the June low on two occasions. Unfortunately for long-investors, the stock interest eventually waned, leading to a third new low of $45.22 in November.
If DLR breaks $50 on the upside, then moves to the downside by year-end, a third dead cat bounce would be observed.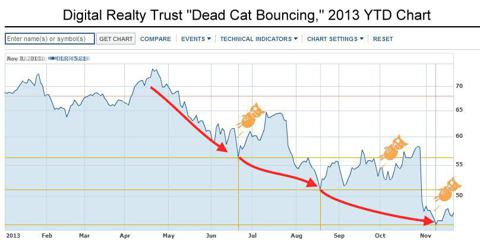 Click to enlarge
(Click to enlarge)
Avoiding Psychological Price Traps
While there may be great long-term investments in the U.S. REIT sector at this time, investors who chase low prices and/or high yields in a bear market are risking immediate loss of capital. The market does not trade on price levels alone as multiples, momentum and sector movement take lead roles.
Take Realty Income Corporation (NYSE:O), also known as The Monthly Dividend Company. This retail REIT leader has a cult-type following that enjoys a monthly dividend payout that equate to a 5.63% annual yield.
The Realty Income Corp. mean 2013 FFO estimate is $2.40 and historically the REIT has traded at an average P/FFO ratio of 13.4 (20 years), however in the last five years the normal P/FFO has been 16.1. In this sense, a P/FFO of 16.1 with FFO of $2.40 would put the stock at $38.64 for normal pricing. So what's the deal with a $40 price?
In a recent article regarding O, investors were talking about how they bought O under $40. With an FFO of $2.40, this would put the stock at 16.67x 2013 FFO, which is $1.36 (3.52%) above the normal pricing level.
In that November 2013 Seeking Alpha article regarding O, investors commented that a $40 or under price is a great deal. Names are withheld, however here are a few quotes:
I'm betting with you on O. Got more this week. It is a definite Value below 40.

I always think I have enough O, but when its price goes under $40, I usually can't resist buying a little more.

accumulating under $40.

I am hoping O stays under $40 for a while longer, I want to keep buying.
With a November 26 intraday pricing level of $38.43, investors who bought at $40 have lost $1.57 per share (3.9%) in just a few trading days. The low of the day, which is where O found support, was $37.97. This is just below the normal pricing level at 15.82 times 2013 FFO.
Investors who noticed the price discrepancy between normal pricing and a psychological price target in such an instance would have saved money by ignoring the $40 buy level that so many others have tried to bank on.
How To Determine Current Normal Pricing For O
If 16.1 times 2013 FFO would be the normal price using the recent 5-year time frame, then a margin of safety would only be found if the stock fell below $38.64 (16.1 x $2.40) by year-end. This price is too high, however, as the year-end is still five weeks away.
A further discount should be added in to fund the expected annual return as the normal value would not be reached until December 31, 2013, as the normal price is determined by the multiple of TTM FFO.
If a 10% annual total return is expected, the current normal value would be $38.48.
The equation would be X = Y/(1+r) + rY/(1+r) x (1-t) + D, where
X = Current Fair Value of Security
t = Trading Weeks Left In Period/52 Weeks
r = Expected Annual Rate of Return
Y = Normal Year-End Price
D = Accrued Dividends To Be Paid During T
Therefore, with an expected normal value of 16.1x 2013 FFO and an expected 10% annual return, the November 26, 2013 fair value of O would be $38.48. With these assumptions, only shares bought below that price, on that date, would entail a margin of safety.
For high quality stocks, such as O, value investors would typically suggest buying the stock at 90% of fair value. Using the above calculations and assuming O is a high-quality company, value investors on November 26, 2013 would be interested in O at $34.63, or 90% of the current fair value price of $38.48.
Other psychological levels in the U.S. REIT market that have been broken in the last 1-2 weeks include:
HCP, Inc. (NYSE:HCP), $40 (now $37.21, -6.98%)
Camden Property Trust (NYSE:CPT), $60 (now $57.59, -4.02%)
Ventas, Inc. (NYSE:VTR), $60 (now $57.69, -3.85%)
In addition to the recent psychological price barrier break of $40 with Realty Income Corp., the stock has underperformed the IYR in this bear market in a similar fashion to DLR.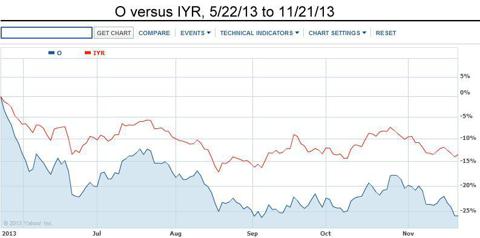 Click to enlarge
(Click to enlarge)
The Perfect Storm In U.S. REITs Continues
As I noted in the REIT Sell-Off Trifecta: Further Weakness Ahead, published on November 10, 2013, it could be concluded that there are three major catalysts driving the REIT market. I argued that these variables were forging the perfect storm for U.S. REITs that will continue to send the general U.S. REIT market lower in 2013.
10-Year Treasury Weakness
The first driver I mentioned was weakness in the 10-year treasury. As noted in a November 22 article by Adam Aloisi, rising rates lead to an increase in the cost of leverage, which is a major component of REIT growth.
In addition to leverage risks, Aloisi gave a clear explanation of how the risk premium of REITs over the 10-year treasury influence investor behavior. According to Aloisi,
In a scenario where cash investment rates and fixed-income yields rise, risk averse investors who may have waded into the higher-risk, higher yield milieu of REITs may decide to forgo the risk and move back to safer waters.
In the long-term (30-year) 10-year treasury chart, one can note that current yields are now moving in an upward, linear fashion.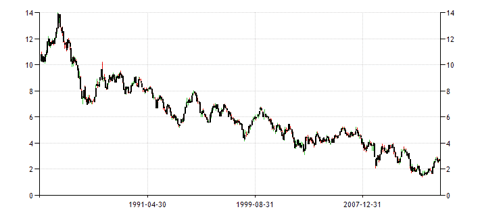 Click to enlarge
(Click to enlarge)
In looking at the 1-year 10-year treasury chart, the 52-week yield low is seen in early December 2012. The 52-week low was 1.56%, which is 114 basis points lower than the current yield of approximately 2.70%. As noted by the 100-day moving average (red line), the 10-year treasury yield trend is clearly moving upward.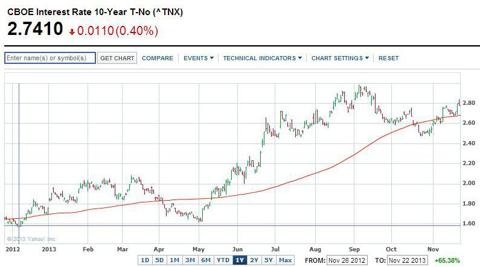 Click to enlarge
(Click to enlarge)
In looking at select examples of this risk premium, three of the REITs mentioned earlier (HCP, CPT and VTR) showcase how the general yield movement of this sector has followed the 10-year treasury trend over the last three years. As noted in the chart below, the 10-year treasury yield increase that began in May 2013 has been met with no resistance by REIT yields.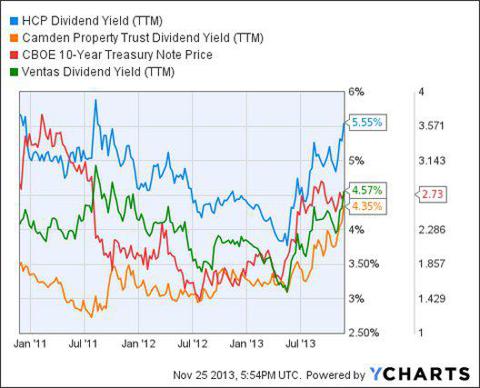 Click to enlarge
(Click to enlarge)
Fund Manager Selling & Tax-Loss Selling
The two other drivers of REIT weakness noted were fund manager selling and tax-loss strategy. As noted in the investment world, fund managers have incentive to beat the index by year-end and as such, are unlikely to buy into sectors experiencing negative momentum. Tax-loss selling is a normal phenomenon, however it is heightened when there are only a few losing sectors (such as REITs, metals & mining in 2013) in an otherwise huge market advance.
Conclusion
The U.S. REIT market entered bear territory in 2013 and currently sits approximately 20% below the market peak set on May 22, 2013.
Individual REITs that have underperformed the sector present investors with both sector risk and company-specific risk, which could lead to additional losses versus the REIT index. Also, REITs that are about to break an important psychological price barrier hold additional risk as psychological price traps offer price targets that generally do not relate to fair value pricing.
While chasing yield and buying stock after a price correction may bring an immediate sense of satisfaction, investors should caution against such investment decisions and instead focus on company fundamentals and fair value pricing.
As 2013 comes to a close, REITs may experience further decline as the S&P 500 continues to build momentum in an upward, linear fashion. In this sense don't be fooled by what is perceived to be a good deal. For long-term income investors, it may be best to put together an end-of-the-year REIT wish list and wait out the storm.
To learn more about two catalysts sending the U.S. REIT market lower into the end of 2013, please read The U.S. REIT Market, IYR Ripe For A Pullback, published on October 21, 2013. From October 21 to November 22, the IYR returned -5.34% while SPY advanced 3.68%.
To learn more about high-yielding REITs to be avoided now, please read Chasing Yield: Don't Buy These 3 REITs, published on November 18, 2013. From November 18-22 the three REITs mentioned returned -2%, while SPY advanced .42%.
Disclosure: I have no positions in any stocks mentioned, and no plans to initiate any positions within the next 72 hours. I wrote this article myself, and it expresses my own opinions. I am not receiving compensation for it (other than from Seeking Alpha). I have no business relationship with any company whose stock is mentioned in this article.