Berkshire Hathaway (NYSE:BRK.B) has been one of the best investments for over twenty years, as Warren Buffett continues to find value and growth at a pace that eclipses the market. However, Berkshire is a rapidly changing company that looks tremendously different than it did 10 years ago with a far bigger investment portfolio,a far more sophisticated insurance division, and new additions to the operating companies, most notably Burlington Northern. As a consequence, it can be quite difficult to find an intrinsic value of the firm when you look at it as a whole. This is why I am going to break Berkshire into three distinct parts and see where they would be valued as stand-alone entities and then combine them to get a fair value for Berkshire Hathaway in totality (NYSE:BRK.A). Here are Berkshire's results over the past nine months: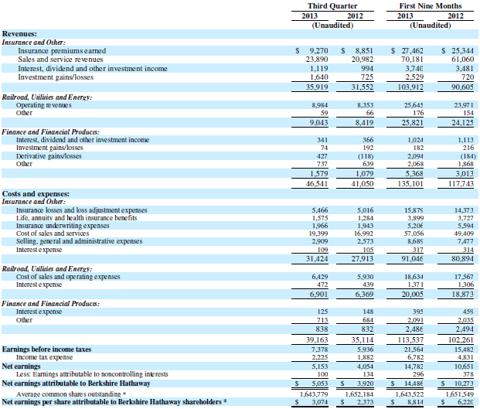 First let's look at Berkshire's insurance unit, which has generated $27.46 billion in underwriting revenue this year. Berkshire has turned a 9% profit in insurance underwriting with a loss and expense rate of 91% in part due to a lack of catastrophes. However, over the past 15 years, Berkshire's insurance unit has averaged an expense rate of 97%, though it has been trending lower. Still in the long run with pressure at its reinsurance unit and the inevitability of future catastrophes, this 91% rate is likely unsustainable and makes its insurance unit look stronger than it can expect to sustain with a $2.47 billion pre-tax underwriting profit in the first three quarters of the year.
As a consequence, we should adjust expenses up to find a more sustainable earnings figure. With improving loss trends, I am willing to give Berkshire better than its typical 3% underwriting profit and will assume a forward loss ratio of 96.5%. This translates into annual earnings power of roughly $1.05 billion after taxes. With consistent growth and underwriting profits that consistently best the industry, I would value this part of Berkshire at 16x earnings or $16.8 billion.
Next, we have Berkshire's operating units or its non-insurance business. I take out dividends, derivatives gains/losses, and investments gains and losses because these items are also not sustainable and consistent. If Berkshire sold some shares of Coca-Cola (NYSE:KO) it has held for over twenty years, its investment gains account would soar despite no change at is businesses. If you take out these items, its sustainable operations yield earnings of $9.44 billion. At 15x earnings, reflecting the fact Berkshire is levered and exposed to virtually all facets of the economy, its operating units are worth $141.6 billion.
Finally, we have Berkshire's investment portfolio, which is difficult to analyze depending on how you value some of their liabilities. Berkshire has $192.8 billion in cash and invested securities, but that entire total cannot be added to the company's value. First if and when Berkshire were to sell its equities holdings, it is liable for taxes. Now, Buffett rarely sells major positions, which makes tax payments deferred quite into the future. Nonetheless with a cost basis that is roughly 55% of its $104 billion stock portfolio, there are significant taxes at some point. I assume the portfolio will be held, on average, for at least another 10 years. As such, I am taking only 50% of the deferred tax liability to reflect a more appropriate present value. This deferred tax liability therefore amounts to $8.3 billion.
With that issue behind us, there are two others: working capital requirements and the float. Buffett has said he likes $25 billion in cash at all times, so he has the capacity to meet extraordinary payments at its insurance unit and avoid the possibility of a cash crunch. Moreover, the company funds the investment portfolio mainly through the insurance float. Consumers pay insurance companies, like GEICO, before they ever receive payments, but actuarially they will likely require payment at some point. In a sense, Berkshire borrows from insurance customers to buy stocks. However because the company turns underwriting profits, its float has an effective negative yield unlike typical liabilities. Its float now stands at about $75 billion. How should investors value these requirements?
The $25 billion in working capital requirements account for the fact that the float could "come due" if there were major payments, forcing Berkshire to pay it down through insurance payments. As a consequence, it would be overly conservative to subtract our $25 billion for working capital and $75 billion in the float. Instead, I view the float similar to the deferred tax situation where there will be payments at some point but not for many years. I took the $100 billion, assumed roughly a 10 year duration, and found a present value of about $45 billion, giving Berkshire a net investment portfolio of $139.6 billion. It would be defensible to account for the float more aggressively or conservatively, but I believe my metric is reasonable value of Berkshire's investments.
If we combine the values of its three units, Berkshire is worth a combined $298 billion or $120 per class B share. My valuation suggests that Berkshire is trading at about a 3.5% discount to its fair value. While Berkshire will be vulnerable if there is a market correction, now is not a bad time to buy shares, given the slight discount to intrinsic value and consistent growth. I would not initiate a full position here, though starting a partial position here is a decent idea, and long term investors will be happy holding shares. Berkshire remains one of the best companies and stocks on the market.
Disclosure: I have no positions in any stocks mentioned, and no plans to initiate any positions within the next 72 hours. I wrote this article myself, and it expresses my own opinions. I am not receiving compensation for it (other than from Seeking Alpha). I have no business relationship with any company whose stock is mentioned in this article.