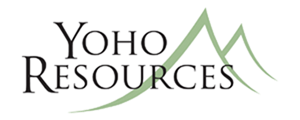 Last week YOHO Resources (OTCPK:YOHOF) released an impressive fiscal 2013 year-end reserves report. Considering the company's excellent acreage in the sweet spot of the Duvernay shale (Kaybob) and recent drill bit results, the bullish report should not have come as a surprise to investors. I am sticking with my first article's estimate that YOHO is worth 2x (or more) its recent price of about $2.95/share.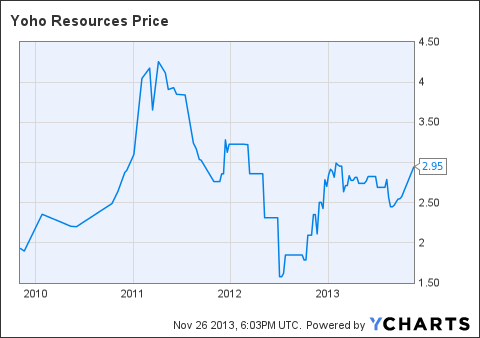 Reserves Highlights
Proved plus probable reserves increased 92% to 52.7 MMboe from 27.4 MMboe.
Proved reserves increased 9% to 11.8 MMboe from 10.8 MMboe.
Reserve replacement was 220% on proved reserves and 3,064% on proved plus probable reserves
Net Asset Value
As a result, the present net asset value of the company, based on the estimated future revenues associated with proved+probable reserves discounted at 10% works out to $409,735,000. With 50,457,000 shares outstanding, this works out to $8.12/share. That is up ~50% from the $5.43 NAV/share calculation of a year ago.
Operations Update
YOHO President & CEO Brian McLachlan recently gave a presentation at the Societie Generale Energy conference, which you can listen to here.
As noted in my first article on YOHO, the vast majority of the company's acreage in the Kaybob play of the Duvernay lies in the 50-meter thick rich condensate region (see contour lines below). YOHO's land is surrounded by acreage held by Chevron (NYSE:CVX) and Exxon Mobil (NYSE:XOM) after XOM's purchase of Celtic Exploration. But YOHO was early in the play. The company began acquiring acreage in 2009 and now has 36,000 acres in the sweet spot of the Kaybob:
McLachlan says:
We were buying land at Crown sales very quietly in 2009 for about $20,000 per section. From there, prices went up to as high as $3 million to $3.5 million per section.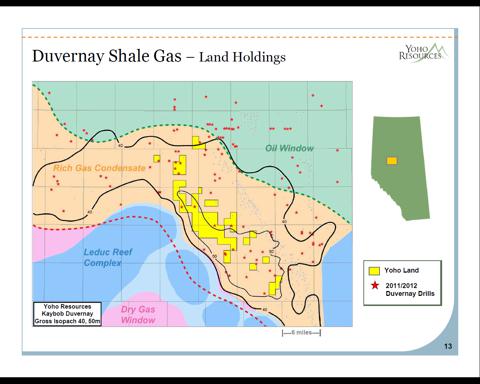 This area of the Duvernay has the second highest pressure of any shale play in North America, excellent permeability, and the rock is rich in organic content. As a result, it is no surprise the majors have moved in and the pace of drilling has picked up dramatically. In the last 12 months over 180 wells have been licensed, drilled, or are currently being finalized (see red stars on diagram above). Over 50 wells are now on stream and that number will increase sharply in 2014. Although it's still early in the play, drilling results have been very encouraging. As I reported last month, Chevron's results in the Duvernay exceeded the company's expectations. McLachlan updated results for YOHO's 8 completions and the liquids content has been very good due to the high level condensate: 100-150 bbls/MMcf.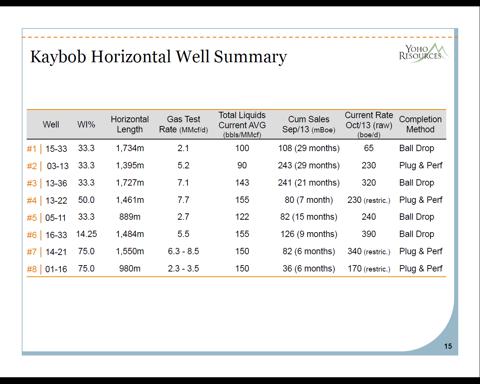 However, drilling is still rather expensive in the region. Yet drilling and completion techniques are bound to improve with experience. YOHO currently estimates a 1.4-2.6 year payout for its wells and IRRs in the range of 30-60%. These numbers should get better as activity ratchets up and infrastructure efficiencies improve.
2014 Outlook
YOHO is currently participating (50%) in one horizontal well in the Kaybob. In 2014, the company plans to participate in 4 horizontal wells (1.5 net) in the Duvernay shale and is waiting on license approval to drill one horizontal well in the Nig Montney formation to finish delineations there. 2014 capital expenditures are estimated to be $31.5 million with cash inflow expected in the range of $18-19 million. As a result, debt is likely to increase by ~$10 million to $42 million, or roughly 1.7 annualized cash flow. Not bad considering the company's acreage position and the potential for tremendous upside.
Takeover?
A company with deep pockets could surely accelerate YOHO's progress in the sweet spot of the Kaybob. I would think a big Canadian oils sands project like Exxon's Kearl would much rather produce its own condensate dilutants locally rather than transport it from the Gulf Coast at prices above WTI. But of course this is likely the primary reason Exxon bought Celtic.
Summary & Conclusion
The value of YOHO's early move into the Kaybob region of the Duvernay has been validated as majors like Exxon and Chevron have moved into the play. Drilling activity has picked up dramatically across the region and as this Oil Week article reports, enthusiasm about the Duvernay is growing. Companies like YOHO and Encana (NYSE:ECA) are sharing drilling information, which will accelerate the learning curve on drilling and completion techniques. While the confidence I expressed in my first article that YOHO would be taken over by either Exxon or Chevron has not played out (at least not yet...), the company's recent reserve report was very impressive and indicates YOHO is more than capable of standing on its own two feet. YOHO is up only 10% since I first recommended the company back in August. However, I still believe the company is worth $6/share at a minimum. Due to updated reserve and operational information, both company specific and the Duvernay shale in general, I am changing my recommendation from "Speculative BUY" and now rate YOHO a BUY. It may take a year, or two, but this stock is going to double.
NOTE: YOHO's earnings are due out the first week of December.
Disclosure: I am long CVX, XOM, OTCPK:YOHOF. I wrote this article myself, and it expresses my own opinions. I am not receiving compensation for it (other than from Seeking Alpha). I have no business relationship with any company whose stock is mentioned in this article.
Additional disclosure: I am an engineer, not a CFA. The information and data presented in this article were obtained from company documents and/or sources believed to be reliable, but has not been independently verified. Therefore, the author cannot guarantee its accuracy. Please do your own research and contact a qualified investment advisor. I am not responsible for investment decisions you make. Thanks for reading and good luck!