Since reporting third quarter earnings, BP (NYSE:BP) shares are up sharply. The market is pleased that BP raised its dividend by 5.6%, divesting non-core businesses, and shoring up its balance sheet. More importantly, its liabilities stemming from the Gulf of Mexico spill are winding down. BP already paid $19.3B so far. Now that shares are $47.47, much higher than the $42 close when called a buy, should investors be taking profits?
There are four reasons supporting the view that BP has more room to move higher from current levels.
1) Divestment program
BP said during its conference call that it is committed to divesting $10B more in assets by the end of 2015. Shareholders will benefit because the proceeds will be used to buy back more shares. BP made $12B from the sale of its share in TNK-BP, after selling it to Rosneft for $27.5B. $8B was set to be used to buy back shares. So far, $3.8B in shares were purchased and cancelled. The ongoing buyback program, in addition to up to an additional $10B in buybacks, will continue to set a floor in BP's share price.
A price of above $40 appears to be the support price for BP: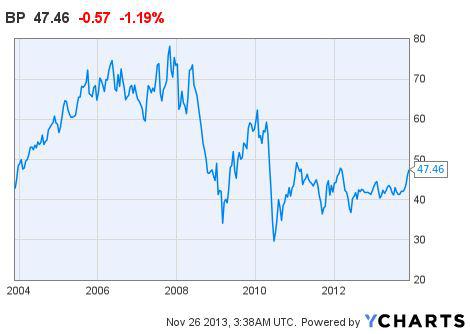 2) Improving balance sheet
BP's debt now stands at $20.1B. Operating cash flow is expected to rise by 50% from 2011 levels, to $30B - $31B in 2014. This will be helped by limited changes in capital spending. In 2014, BP expects spending will be between $24B - $25B. A combination of disciplined cost controls and positive cash flow growth will support a growth in dividend yield.
3) Favorable trial briefings possible
If post-trial briefings, due by Jan 24, 2014, for trial MDL 2179 are in BP's favor, BP could rally further. The company is arguing that it was neither negligent nor grossly negligent in its source control.
4) Conservative reinvestments
Capex (capital expenditure) in the range of $24B - $27B will still be sufficient for maintaining operations. The most notable one is the WRMP (Whiting Refinery Modernization Project). This project will ramp up by early 2014.
Past maintenance programs were also successful. Every 1% increase in uptime added $100M in operating cash flow.
BP also has plans to invest in upstream and oil projects to sustain long-term growth, but the company will not jeopardize cash flow growth. Dividends and share buy backs will rank higher in priority, which characterizes BP as a conservative investment.
Bottom Line
A strong discipline in costs and capital spending is contributing to predictable growth in free cash flow for BP. Management is strongly inclined to return excess cash to shareholders through a dividend or share buyback. In addition to litigation risks winding down, BP shares appear to have more upside in the months and years ahead. Despite breaking out of a trading range in the $40s that began in 2010, BP looks set to hold onto its recent gains.
Disclosure: I am long BP. I wrote this article myself, and it expresses my own opinions. I am not receiving compensation for it (other than from Seeking Alpha). I have no business relationship with any company whose stock is mentioned in this article.