As an income-driven investor always in search of a sustainable mid-to-higher yielding oil and gas play, I've decided to shift my focus to the refining and marketing sector and highlight several of the reasons why I'm staying fairly bullish on shares of Ferrellgas Partners LP (NYSE:FGP).
Recent Performance And Trend Behavior
On Monday, shares of FGP, which currently possess a market cap of $1.95 billion, a forward P/E ratio of 27.56, and a dividend yield of 8.13% ($2.00), settled at a price of $24.61/share. Based on their closing price of $24.61/share, shares of FGP are trading 5.00% above their 20-day simple moving average, 8.37% above their 50-day simple moving average, and 15.66% above their 200-day simple moving average. These numbers indicate a short-term, mid-term and long-term uptrend for the stock which generally translates into a moderate buying mode for both short-term traders and long-term investors.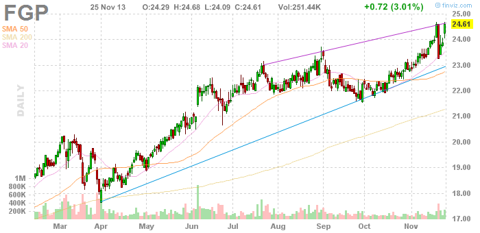 Steady Dividend Behavior
Although the idea of a company maintaining the same quarterly payout over the last 10 years isn't much to talk about, I feel that given the recent dividend behavior of a number of its peers, Ferrellgas Partners may actually be a more reliable option in terms of a higher-yielding oil and gas play.
Why do I think that? Comparatively speaking, both Eagle Rock Energy Partners LP (NASDAQ:EROC) and Northern Tier Energy LP (NYSE:NTI) have demonstrated fairly erratic dividend behavior over the past several years whereas Ferrellgas has maintained its payout.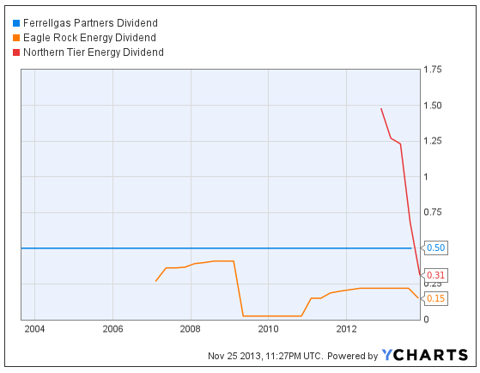 KanGas Acquisition
On November 25, Ferrellgas Partners LP, announced the acquisition of KanGas Corporation, an independent propane company based in Basehor, Kansas, and also noted that the transaction would be immediately accretive to earnings.
According to Chief Executive Officer Steve Wambold, "They've been a tremendous competitor for more than 30 of our nearly 75 years in business. KanGas has a strong reputation for service and safety, and we're pleased to welcome their employees and customers to the Ferrellgas family."
It should be noted that the partnership has adopted a pretty impressive growth-by-acquisition strategy over the last several years and as a result of that strategy, continues to demonstrate significant strength in terms of its EBITDA and gross profit performance over the last 12-24 months.
FQ4 Earnings Recap
On Thursday, September 26, Ferrellgas Partners announced a FQ4 net loss of -$0.36/share which missed analysts' expectations of -$0.32/share by a margin of $0.04/share. The company's quarterly revenue of $350.67 million surpassed analysts' estimates of $349.88 million by a margin of $0.79 million.
Although FGP missed earnings estimates, I was actually quite impressed with the fact that the partnership's EBITDA and Gross Profit demonstrated increases of 41% and 15%, respectively, on a full year comparable basis.
For example, Adjusted EBITDA climbed 41% for the year to a record $272.2 million from $193.1 million the year before, while gross profits rose 15% to a record $738.8 million, with margins improving to $0.82 per gallon from $0.73 per gallon in fiscal 2012. If the partnership can continue to demonstrate strong EBITDA growth (of at least 10% over the next 12 months) and higher gross profits (+$790.5 million over the next 12 months), I see no reason why the partnership can't meet or exceed FY14 EPS and revenue estimates.
Risk Factors
According to Ferrellgas Partners' most recent 10-K, there are a number of risk factors all investors should consider. These factors include but are not limited to the fact that sudden and sharp propane wholesale price increases cannot be passed on to customers with contracted pricing arrangements and these contracted pricing arrangements will adversely affect the partnerships profit margins if they are not immediately hedged with an offsetting propane purchase commitment, and the fact that the propane distribution business is highly competitive, which may negatively affect sales volumes and/or results of operations.
Conclusion
For those of you who may be considering a position in Ferrellgas Partners, LP, I'd keep a watchful eye on a number of things over the next 12-24 months as each could play a role in the company's long-term growth.
For example, near-term investors should focus on the company's recent performance and trend behavior, while long-term investors should focus on the company's growth-by-acquisition strategy as I strongly believe the KanGas acquisition is only the first of what could be numerous acquisitions throughout the rest of the year.
Disclosure: I am long FGP. I wrote this article myself, and it expresses my own opinions. I am not receiving compensation for it (other than from Seeking Alpha). I have no business relationship with any company whose stock is mentioned in this article.