The September S&P/Case-Shiller Home Price indices were released today, and below are a number of charts and tables highlighting the most recent data. As shown, the two composite indices both gained roughly 0.70% month-over-month from August to September, and they're now up roughly 13.3% over the last year. All but one of the 20 cities tracked were up month-over-month, with Charlotte posting the only decline (-0.18%). Detroit, Las Vegas, Phoenix and Los Angeles saw the biggest monthly gains (1%-plus).
Year-over-year, Las Vegas is up the most at 29.12%, followed by San Francisco at 25.68%. The only other cities that are up more than 20% year-over-year are Los Angeles and San Diego, so all four 20%-plus gainers are on or near the West Coast. New York and Boston, two Northeast cities, are up the least year-over-year.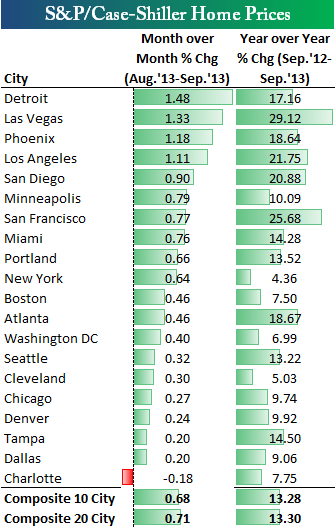 Below is a look at how much each city is now up from its bear market lows. As shown, 15 of the 20 cities tracked by Case Shiller are now in "bull markets" with gains of more than 20% off their lows. The two composite indices are also now in bull markets with gains of nearly 25%. As a result of the Internet/social media IPO boom, San Francisco is up by far the most off its lows with a gain of 53%. Detroit is up the second most off its lows with a gain of 46%, followed by Phoenix (+43%), Las Vegas (+40%), Atlanta (+38%), San Diego (+34%) and Los Angeles (+34%). The five cities that have yet to crack the +20% mark are Dallas (+18%), Boston (+16%), Charlotte (+15%), Cleveland (+14%) and New York (+10%).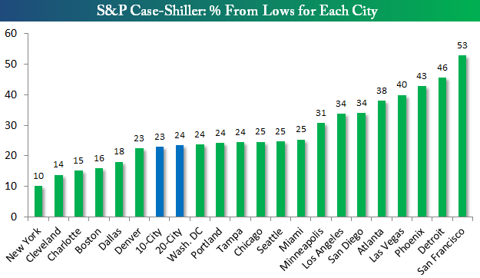 Click to enlarge
Below are long-term charts going back to 1989 of the 20 cities tracked by S&P/Case-Shiller along with the two composite indices. You can easily see the mid-2000's housing bubble and subsequent burst in the charts as well as the most recent rebound. Two cities have already taken out their prior highs -- Denver and Dallas. While most cities have experienced nice bounce backs off of their lows, New York stands out as one area of the country that has not seen much of an increase yet.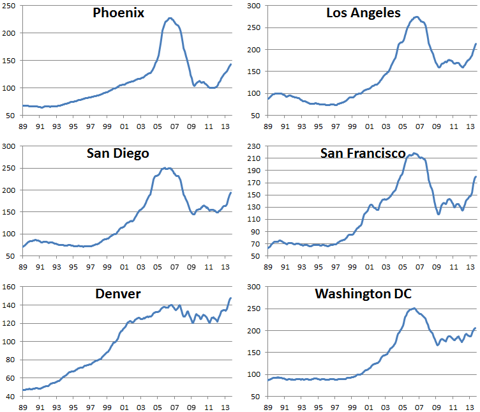 Click to enlarge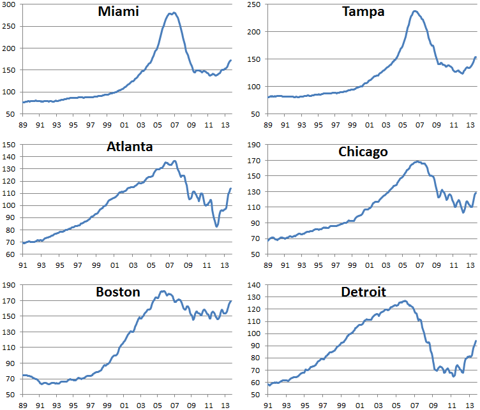 Click to enlarge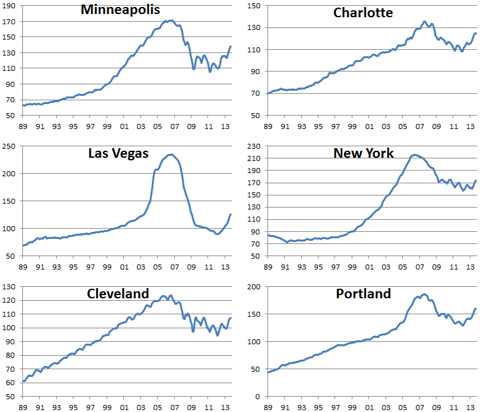 Click to enlarge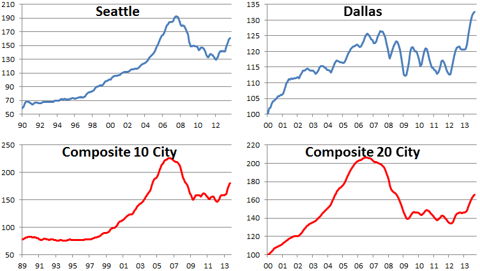 Click to enlarge