Dr. Charles Lieberman serves as chief investment officer for Advisors Capital Management L.L.C., a New Jersey-based money management and investment advisory firm. A graduate of MIT with a bachelors degree in economics, Charles earned a Ph.D. in economics from the University of Pennsylvania before beginning his professional career as an academic at the University of Maryland and, subsequently, at Northwestern University. After five years in academia, Dr. Lieberman joined the Federal Reserve Bank of New York as head of its Monetary Analysis Staff, before coming to Wall Street for 11 years. In 1997, he left Chase to found, along with co-founder Henry Kaufman, the global macro hedge fund Strategic Investors Management L.L.C. and to serve as its managing partner and principal strategist.
We had the opportunity to ask Charles what his single highest conviction stock holding currently is in his portfolio.
• • •
Seeking Alpha (SA): Charles, what is your highest conviction stock position in your fund - long or short?
Charles Lieberman (CL): We think that Royal Caribbean Cruise Ltd. (RCL) is an outstanding investment selection for those looking for a leveraged way to play the economic recovery and the return of the consumer. Carnival (CCL), its primary competitor, is also a strong investment choice, but RCL is the less expensive way to play the cruise lines and provides more upside potential.
We see RCL as trading cheaply even after its rebound off totally distressed levels during the credit crisis. The upside that still remains with respect to a full economic recovery is very substantial.
Investors dumped all consumer discretionary companies during the credit crisis and it is hard to find companies with more exposure to discretionary spending by consumers than cruise companies that sell vacations. Revenues fell sharply during the recession and the high cost of fuel in 2007 did not help. Throw in the problem of paying for new ship deliveries at a time of credit scarcity and it made for a perfect storm that crushed stock values.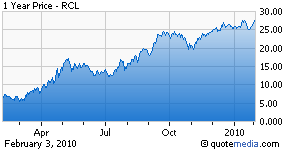 The company's net revenue yield dropped from $184/day in 2008 to an estimated $158/day in 2009. RCL traded above $46 in February 2007, but plunged to less than $5.50 in early March 2009, as investors worried about the possibility of the company defaulting on its debt. Its financially stronger competitor, Carnival, suspended dividend payments late in 2008 to ensure that its ample cash flow would enable that company to provide the cash to pay for future ship deliveries. RCL followed suit shortly thereafter. Since the March 2009 lows, RCL's stock has been on a strong recovery path, closing just above $26 last week.
RCL's new Oasis of the Seas, which began commercial operations in December 2009, is an absolute monster of the seas. It offers 5,400 berths, 16 decks, and all the usual amenities, plus a few exceptional ones, such as a zip line, two surf simulators, rock climbing walls, a carousel and a science lab for teens. The ship offers seven "neighborhoods", each with a famous "godmother" who participated in the launch ceremony, including Gloria Estefan, Michelle Kwan, and Dara Torres. It is the size of a Nimitz class aircraft carrier, so the ship is a destination all by itself. RCL has been garnering premium fares for the ship about 50% over comparables, although such premiums should erode over time and may be exerting some downward pressure on other fares. Allure of the Seas, its sister ship, is scheduled to begin service later this year. Both ships will help RCL garner much better yields and improve cash flow.
SA: What are your thoughts on RCL's valuation?
CL: Valuations for RCL, despite the ongoing recovery in the share price, remain quite low, when measured either by enterprise value per berth or stock price to book value. RCL also trades at a lower P/B of 0.7x compared to Carnival at 1.2x off its most recent quarter. The consensus of analysts expects earnings of 69 cents in 2009, rebounding to $1.47 per share in 2010, which we consider light. We see close to $4/share in earnings in 2012.
The book value of RCL's fleet is above $15 billion and its market value is above $13 billion, both well above the company's debt outstanding of $8 billion. This implies that the company has plenty of assets to use as collateral against which it can borrow to meet future ship delivery costs, aside from its rebounding cash flow. The company currently has 39 ships in its fleet upon taking delivery of Oasis of the Seas, with another four on order.
The company has already arranged for funding of all of the Solstice-class ships it has ordered and arranged unsecured financing guarantees from Finland's export credit agency for the Allure of the Seas, its second Oasis-class ship. Debt is likely to peak later this year around $9.5 billion, after the company takes delivery of the Allure of the Seas. With financing all locked up, the threat of default has been greatly diminished. Capital expenditures, which is running above $2 billion per year to reflect deliveries of the Oasis-class ships, should fall below $1 billion annually beginning in 2011. Debt repayment should begin in earnest at that point.
SA: How would you describe RCL's competitive environment?
CL: Competition in the industry is somewhat limited, as Carnival is the 800 pound gorilla and Norwegian Cruise Lines is a distant third. If Carnival were to start a price war with RCL, it would be very costly to Carnival, so the industry appears very well settled in as a near duopoly with both companies competing more on itinerary and amenities than on price.
SA: What is the current sentiment on the stock? How does your view differ from the consensus?
CL: Expectations for this company cover the waterfront (sorry about the pun), mirroring views on the economic environment. Those who expect a double dip recession, expect RCL (and the industry) to continue to struggle. However, sentiment is improving and economic bears are now more inclined to expect only a weak recovery. That economic backdrop is sufficient for this company to get an earnings recovery underway, although a slow recovery suggests it could take years for the company to realize its peak earnings potential. In contrast, we think economic forecasts are a bit light. Even the bulls on the stock expect yields to recover only gradually. So there's plenty of room to exceed market expectations.
While we think a strong recovery by historical standards is unlikely, we do expect the economy to exceed rather meager expectations. Just as importantly, with unemployment so high, the next economic expansion could last a relatively long time, which suggests that the company could achieve a high level of earnings for a number of years, which would allow the balance sheet to be deleveraged more quickly.
With delivery of the company's remaining Solstice and Oasis class ships, which will represent roughly 25% of total capacity measured by value, the bull-case earnings potential for RCL could be above $5.00 per share by 2012. At 15 times earnings, the shares could be worth $75. More realistically, earnings should be closer to $4.00 in 2012, suggesting a price target of $60, more than twice last week's closing price, assuming a slightly lower than market earnings multiple. But the industry should enjoy above average growth long-term, since only a small fraction of the population has ever taken a cruise vacation, so a slightly higher than market multiple is warranted.
SA: What could go wrong with RCL?
CL: There are a number of significant risks to the shares realizing the above valuation. Vacations are clearly a major form of discretionary spending, so if the economic recovery is derailed for any reason, the company's earnings recovery will also be affected adversely. Also, operating leverage is high, so incremental changes in revenue have a large effect on profitability. Piracy and terrorism are also possible adverse events that might discourage bookings, although the cruise ships are too big for pirates to board at sea and the cruise lines take security very seriously.
Excess capacity that depresses fares is unlikely to be a problem for some years into the future, as new orders for ships will take time to deliver. However, a surge in oil prices would hurt by raising fuel costs. Even so, cruise vacations are very competitive with other vacations, so the companies have some flexibility to raise prices to maintain margins. Financing arrangements are already in place for future ship deliveries. So, the company's risk in the event of a second credit crisis is limited to the willingness of its banks to roll over existing debt. Since the banks almost certainly don't wish to enter the cruise business, they should roll those loans, as long as bookings hold up.
SA: Thank you very much, Charles.
CL: Happy to participate.
Disclosures: ACM owns RCL in client accounts and Charles Lieberman also holds a long position personally.
If you are a fund manager and interested in doing an interview with us on your highest conviction stock holding, please email Rebecca Barnett: rbarnett@seekingalpha.com