FedEx's (NYSE:FDX) shares profited from increased buyer interest after solid Q1 2014 results in September and as renowned investors such as Dan Loeb, George Soros and John Paulson disclosed positions in the company. Dan Loeb's Third Point reported a stake of two million shares which were purchased during the third quarter of 2013. Over the last three month alone FedEx shares have risen 27% and are up 55% over a one-year period.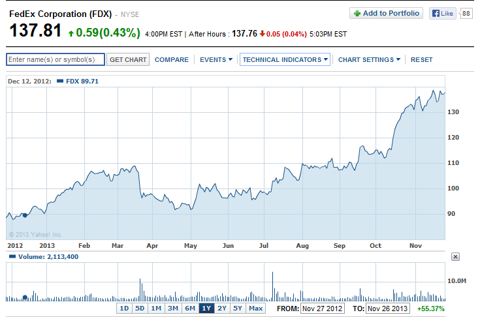 Compared to other air freight companies in the sector, FDX is the best performing stock with a plus of 75% over the most recent two-year period. United Parcel Service (NYSE:UPS) is up 50%, Expeditors International of Washington (NASDAQ:EXPD) gained 6% and CH Robinson Worldwide (NASDAQ:CHRW) lost 11%.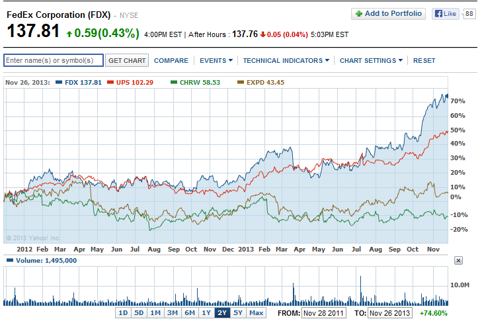 Decent Q1 2014
FedEx's first quarter results presented in September were quite solid and gave the shares tailwinds. Revenues increased 2% to $11 billion vs. $10.8 billion last year. Q1 2014 diluted EPS stood at $1.53 compared to $1.45 in Q1 2013 (a plus of 6%). Similarly, operating income jumped to $795 million vs. $742 million for the same period last year (an increase of 7%).
FedEx also reaffirmed its 2014 EPS guidance and underlying macro assumptions:
FedEx reaffirmed its forecast of full-year earnings per share growth of 7% to 13% from last year's adjusted results. This outlook assumes the market outlook for fuel prices, U.S. GDP growth of 2.1% and world GDP growth of 2.6%. The capital spending forecast for fiscal 2014 remains $4 billion.
I am slightly more optimistic about the US economy and believe strong global growth is ahead of us. The US is still digging itself slowly out of the ditch while China is taking a breather. Higher global growth will materially benefit the international freight operations of FedEx. In this scenario, EPS outperformance is a strong possibility which could give further justification for valuation growth.
Market valuation
The peer group consisting of air delivery and freight services companies has an average P/E ratio of 18.93. FedEx demands a P/E ratio of 15.64 and is the cheapest large-cap, international freight services provider in the peer group. However, a multiple of nearly 16 is clearly indicating fair value territory and I see limited room for multiple expansion from this point. UPS and CH Robinson Worldwide have P/E ratios close to the P/E average. Expeditors International fetches a valuation of 22 times forward earnings.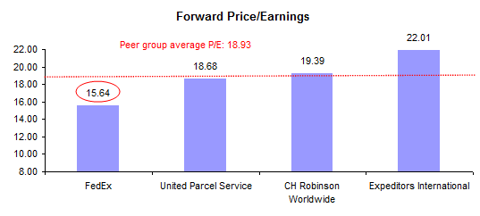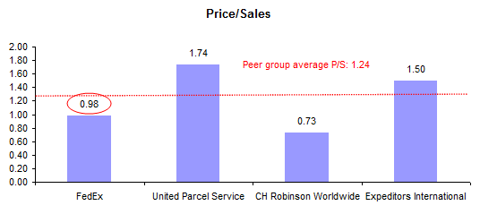 The air freight services sector does not lend itself to income investors. Valuations have quite increased over the last 24 months and rising share prices have led to low dividend yields. Accelerating share price gains for FedEx over the last month are mainly attributable to investors reacting to news that hedge fund manager Dan Loeb initiated a FedEx position in the third quarter. As a result, FedEx currently pays a negligible dividend yield of 0.44%.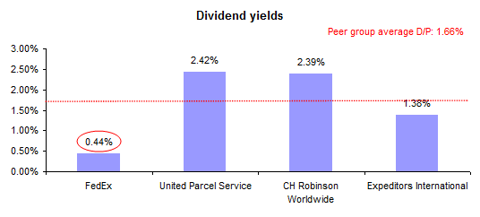 A summary table with the most relevant valuation- and dividend metrics for the air delivery and freight services sector is provided below:

Conclusion
FedEx is an air freight and delivery company which appears to be fairly valued on its current earnings picture. Improving economic conditions, which I think will materialize over the next 2-3 years, will likely have an outsized effect on FedEx's per share earnings growth. I also estimate that valuation increases will come from stronger international earnings rather than multiple expansion.
Investors who seek exposure to a cyclical company whose earnings benefit when the economy gains momentum, might want to consider FedEx. Shareholders also have renowned investors like Soros, Loeb and Paulson on their side who have demonstrated their stock picking skills in the past. Long-term BUY on possible EPS outperformance, cyclical exposure to the economy and strong activist presence in the stock.
Disclosure: I have no positions in any stocks mentioned, and no plans to initiate any positions within the next 72 hours. I wrote this article myself, and it expresses my own opinions. I am not receiving compensation for it (other than from Seeking Alpha). I have no business relationship with any company whose stock is mentioned in this article.