In today's Oxen Group recap, we will be looking at AmBev (NYSE:ABEV) in our daily deeper look as well as look at Facebook (NASDAQ:FB) after the stock has now dropped nearly 15% in the past month. The Oxen Group covers AmBev year round, and we want to update our current pricing to reflect recent occurrences. Facebook is one of the most interesting names in the market that we look at about every three months. We want to take a closer look at what's going on there. Additionally, as always, we will do our typical market overview, important news breakdown, and give our perspective on what's moving the market.
Market Overview
The markets were moving higher today after Building Permits came in much better than expected for September and October at over 1B for the latter month. Expectations were at 932K. The buildup in permits means that builders are looking to add more homes to fill large demand and under supply. Consumer confidence, however, came in lower than expected for November at just over 70, while expectations were for 72+ reading. That number was even lower than October as well, but it could have been some overhang from government shutdown. The market continues to move up in the positive environment. Lower confidence helps us delay taper while permits gives strength to homebuilders.
Deeper Look
AmBev
Overview
Today, we are taking a look at AmBev, which had earnings earlier this month. We had a price target of $49 and Hold rating, but this was before the company changed its name and reconfigured its business. We are going to take a look at these earnings and update our model.
Industry Trends
AmBev does the majority of its business in Brazil, and it is the main liquor company in Brazil with some other business in Latin America. The key for the company is growth in Brazil, which continues to be a high growth market for alcohol and in general. Further, the World Cup in 2014 in Brazil will be gigantic for sales in ABEV. According to Bernstein, those sales could be as large as $330M next year - 3% increase just from the World Cup alone. From there, in 2016, the Summer Olympics comes to Brazil, which will likely bring another 2-4% jump in sales. The brands that Bernstein expects to do well are Skol, Brahma, and Budwesier, which are all run by AmBev. The company, though, has warned that beer sales will likely fall in 2013 due to higher inflation. There is a push-and-pull occurring in Brazil. Higher income and growth has pushed inflation, which has hurt some more discretionary items.
Major Catalyst
Looking to 2014 - 2016, the main catalysts continue to be major sporting events as well as continued growth of the economy in Brazil. We believe that these two events coupled with growth and some trends that are picking up for ABEV are very bullish.
First, let's look at potential for beer around the World Cup. The expectations are that the country could see a 3% tick up in volumes in the coming year. On average, countries have seen roughly 2% jump in the given year of a Cup. Yet, with Brazil being a lover of soccer, having a large population behind it, and the team expected to do well, the stakes are even higher.
Here is a comment from Bernstein:
The World Cup provides more opportunity for consumers to go out and drink beer together and the games that Brazil will be playing are the prime focus of attention, given the country is a strong soccer nation," Trevor Stirling, European beverages analyst at Bernstein told CNBC.
AmBev has 65% of the beer market share, so this influx of spending will help the company a lot. The issues that have plagued the company, further, have been temporary and not related to interest in beer or their brands. Market share has been flat, but inflation has hurt them.
Beyond 2014, the Olympics are an even bigger sporting spectacular. In 2016, the country will likely see 10-15% jump in tourists from 2015. Spending will greatly jump, and while the Olympics is less of a drinking affair as soccer, soccer is a part of the Olympics. We can likely see another 3% tick up here again.
To pay for these trends, though, AmBev has been forced to pay higher taxes with another increase just occurring. Further, the growth of the nation at such a rapid pace has led to large inflation. In October of 2013, inflation was at nearly 6%, but economists recently trimmed yearly estimates. Food prices, though, have stayed high, causing an issue.
Pricing/Valuation
Right now, ABEV has a 21 P/E but 11 future P/E because expectations are for a large jump higher in 2014 earnings as the company has continued to improve margins despite volume slowdowns. Let's start to price out what all this means:
Revenue - 2013 revenue will likely be flat year/year around $16B. Moving into 2014, we should expect to see revenue jump 6-7% to around $17B as the company sees larger volumes. On top of the larger volumes, one of the big initiatives that ABEV is taking on right now is increasing the cost of their goods, which is going to help them to continue to increase revenue as volumes struggle. 2015 may see a slight drop with tough comps that then rise again another 6-7% in 2016.
Operating margins - We foresee operating margins continuing to expand as the company continues to increase pricing, develop more returnable glasswear that can cut costs, and gets a larger premium product mix that can have a higher price point as the average consumer revenue increases. We expect to see operating margin flat in 2014 due to high marketing costs associated with the World Cup to leverage opportunity beyond that year with a potential of 46% by 2017. It is hard to expect much higher as input costs will continue to rise in the nation.
Capex - This has been strong over the past couple years as the company has invested in new cans, different sizes, and returnable products. We see this coming back down in 2014 as the company focuses more on marketing and getting everything in place before the Cup. 2015 could see a higher rate that tails off in 2016 again.
When we use this information in a DCF analysis, we use a cap rate for the company of 5.4%, which shows middle of the road growth/risk levels. We used a tax rate of 32% as that is expected to rise over the next several years. When we use that, we see that shares are now worth $9 about 17% higher than current prices.
Company News
Today, in our company news section, we will be diving into Facebook. After the company exploded for 120% in gains from late July to mid-October, the stock has dropped nearly 15% over the past month. The company has been hit since its last earnings. Some recent information is definitely interesting to be digested for investors and traders alike. We are big fan of FB as the company has proven they can be successful in mobile advertising.
We want to take a look at three recent developments that we believe are important for FB moving forward that include the company pushing into reviews, being discounted due to Twitter IPO, and a new advertising campaign structure for 2014.
The first big news over the past week is that the company is starting to get aggressive with reviews to challenge Yelp (NYSE:YELP). The company started Facebook starred reviews for businesses with physical addresses. Users can fill in stars from one up to five, fill our a written review about "what do you think about this place," and make it public/private. This move comes in the wake of news that 16% of Yelp reviews are fake. The company is starting small, but the company has significantly larger user base than Yelp. The eventual ability to use reviews to make money is another revenue stream and helps Facebook mobile create potentially more traffic. The company has work to do here, but it can be a big catalyst. We will be watching it for more potential revenue/earnings accretion.
Another issue for FB has been Twitter IPO, which has likely drawn away traders/investors. For those that are bullish on FB, that is an opportunity. Twitter (NYSE:TWTR) went public on November 7, and the company has dropped roughly 6% since that date. The stock dropped into that IPO as well as Twitter likely caused FB to see sellers before the IPO. To us, Facebook is a great name that we believe has years of potential upside as a hallmark of the 21st Century. Therefore, this pullback is a temporary negative that is not going to exist for long and has presented an opportunity for FB. The real issues that the company has had was mobile advertising. The latest quarter was very successful with more strength in mobile, but the company noted they would not increase their ads see in the newsfeed. One of the biggest potential upside catalysts has been expectations that the volume of ads to clicks could increase.
Despite not increasing ads, the company rolled out some interesting new structure to advertising that we believe is another plus. The company introduced the Follow button as well as the Like Box. Additionally, the new structure helps the company work with advertisers to measure the performance of the ads. We believe this is a big win for Facebook as the company continues to grow advertising revenue and make the process even better. So, while the company is not looking to increase general volumes, the process is getting better and likely more expensive.
The last couple weeks have seen FB dropping, but it has not been because business is bad. In fact, recent additions make FB stronger not weaker. The company's hiatus on Facebook ad volume is temporary as well as Twitter's IPO fad. In fact, Bloomberg reported that Twitter was lagging FB considerably in retail advertising for the holiday season today. At a 40 future PE, the stock is very expensive. If you a FB bull, though, this is a great time to buy and support appears to be forming at $45.
Market Chart Overview
The S&P 500 (NYSEARCA:SPY) broke out of the 1780 but then has seen tough resistance at 1800. We are in an interesting area where we either breakout from 1800 or likely reverse to test 1750. This strong channel looks ready to be broken.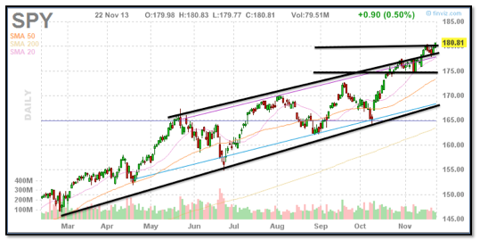 The Dow Jones (NYSEARCA:DIA) is trying to make its way over 16000 but got rejected pretty strongly twice. Now we sit on channel support. If that breaks, we do not have solid support until the 20-day MA at 15700 about and then 15500 after that.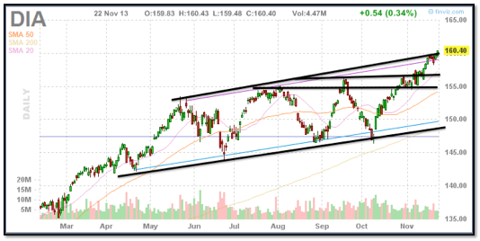 Wednesday's Outlook
Wednesday will likely be a fairly light session in the market as many traders/investors start to look towards Thanksgiving as well as institutions. That does not mean the day is devoid of significance. We get jobless claims, durable orders, Michigan Consumer Sentiment, and the Chicago PMI all Wednesday morning. A lot of key data that needs to be watched. The consumer sentiment survey will be key after today's weakness as well as jobless claims after claims looked solid Monday. Additionally, we get large amounts of data from Great Britain Wednesday with GDP, business indices, and the export/import data. Further, we get an important German Consumer Confidence report Wednesday as well.
Disclosure: I have no positions in any stocks mentioned, and no plans to initiate any positions within the next 72 hours.
Business relationship disclosure: I have no business relationship with any company whose stock is mentioned in this article. The Oxen Group is a team of analysts. This article was written by David Ristau, one of our writers. We did not receive compensation for this article (other than from Seeking Alpha), and we have no business relationship with any company whose stock is mentioned in this article.