My last article on Celsion (NASDAQ:CLSN) talked about what an unimpressive 2013 it was for the company, and where the company seemed to be heading with its drug, ThermoDox, for 2014.
Even as the company has secured a decent sized cash position ($45MM) to head into 2014 with, the stock continues to shed value on the heels of the company's recent reverse split - basically, a "short at will" opportunity immediately after it takes place for any company that partakes in one.
Here's what Celsion's reverse split adjusted chart looks like.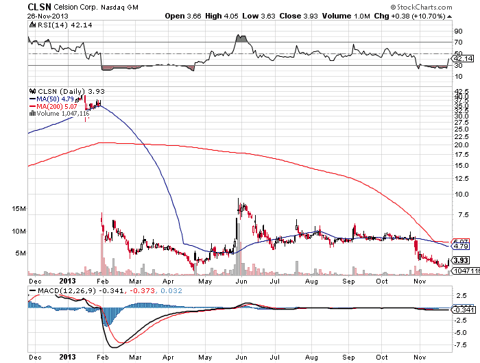 I asked in my last article if 2014 was a year that could bring an air of change for the company. Celsion announced during its conference call earlier this month that they were going to be pursing a new FDA trial for ThermoDox - and that it would likely be in early 2014.
In the past year, the company's post-hoc hypothesis on its January 13' Phase III failure has been that RFA (radio frequency ablation) to the tune of 45 minutes or more could seriously increase the efficacy of the doxorubicin when it is released from Celsion's liposomal transport vessel at the tumor site. They gathered this from the post-hoc data of the failed HEAT trial that took place in January 2013.
Tuesday morning, it continued to become evident that the company is taking steps in order to make this happen. Celsion announced a loan agreement with Hercules Growth Capital that would permit up to $20 million in capital, of which the company took $5 million of up front:
"This facility strengthens our balance sheet and provides non-dilutive capital dedicated specifically to our product acquisition strategy," saidMichael H. Tardugno, Celsion's President and Chief Executive Officer. "Our current cash position, $45.5 million as of September 30, 2013, is expected to provide resources sufficient to fund current operations well into the second half of 2016, which includes expenses associated with our planned pivotal Phase III HCC trial. This loan ensures the financial flexibility necessary to meet a number of key, value-driving objectives by providing the added capital and leverage to execute our M&A strategy. We appreciate the support of our new lender and their confidence in ThermoDox® and the Celsion management team."
Along with the loan, Celsion gave Hercules warrants exercisable for stock, with 50% of the warrants issued at the loan closing and the remaining 50% issued upon any subsequent funding.
So, Celsion should now have what they need from a funding standpoint, between this loan and the relationship with Hisun. Hisun Pharmaceuticals also hopes to get expedited trials for ThermoDox in China. Hisun continues to be interested in the company and in the upcoming studies. Celsion anticipates initiating a new trial in first half of 2014, pending FDA approval. This is a trial that could breathe some new air not only into Celsion, but its stock.
As I stated in my last article, while I'm no longer invested in Celsion, 2014 could certainly be a year to keep an eye on them. Securing this funding is a step in the right direction for the company and a good way to end 2013.
Attention is going to be on Celsion once again in 2014, as ThermoDox's amended Phase III trial results will likely decide the fate of the company for several years to come.
I'd expect a stock price run up to the trial and its eventual results, as well.
Best of luck to all investors.
Disclosure: I have no positions in any stocks mentioned, and no plans to initiate any positions within the next 72 hours. I wrote this article myself, and it expresses my own opinions. I am not receiving compensation for it (other than from Seeking Alpha). I have no business relationship with any company whose stock is mentioned in this article.