The enterprise software industry is growing at an enormous pace. As organizations are shifting from the traditional pen and paper approach to digitization, enterprise software companies are the ones benefiting the most from this evolution.
Usually growth stocks are expensive because investors are willing to pay a premium to invest in their future.
Salesforce.com (NYSE:CRM) is one of the leaders of the enterprise software industry. During the last five years, the company's stock has realized a gain in the price of around 700% whereas in 2013 the stock gained 25.28%. Although the gain is reasonable it is less than what the company used to realize in previous years because of increasing competition posed by small competitors targeting this particular niche.

Market Share
Recently CRM SWITCH conducted a survey that indicated that Salesforce clearly dominates the US market across organizations of all sizes. I think that as long as the company continues its strategy of innovation, its market share will increase further.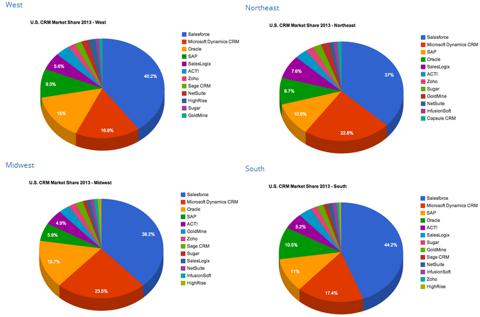 Glimpse of the History
During the third quarter of fiscal year 2014, Salesforce reported revenues of $1.08 billion with an increase of 36% year over year. Approximately $1 billion was contributed by the company's subscription and support business while $71.5 million was from the sales of professional services which reflected a 36% increase and other services which reflected an increase of 50% year over year.
Despite reasonable top line growth, the increased cost of services amounting to $268 million as well as increased operating expenses amounting to $905.7 million both contributed to the increased losses from operations. As can be seen in the chart presented above, the cost of sales and operating expenses both increased and were higher than the growth achieved at the top line. In addition to all of these factors, the interest expense of $22.92 million also increased by approximately 179.9% year over year.
It is evident that increasing competition has increased the expenses on marketing, research and development plus other sales related expenses and has resulted in the shrinking of margins. However, to some extent, the recent increase in expenses can also be attributed to the Oracle license partnership and the company's acquisition of Exact Target.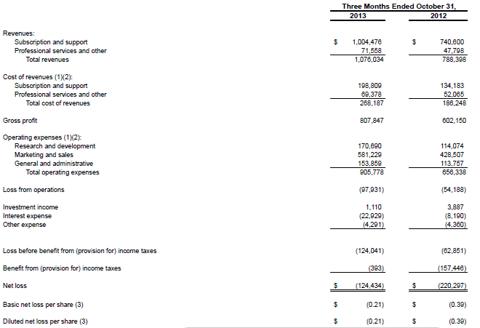 The Future of the Company
The most important question that I would like to answer is, "How will the recent initiatives taken by the company affect its performance in the future?"
Partnership with HP (NYSE:HPQ)
The recently announced cloud partnership between Salesforce and HP is a groundbreaking development. Through this partnership, Salesforce will be able to use HP's converged infrastructure hardware to enhance its data center capabilities. The company will be in a better position to offer its services to large businesses requiring exclusive virtual networks.
I think this partnership will provide an opportunity for the company to charge additional fees to its existing customers and will also entice other large enterprises into working with Salesforce.
Partnership with Oracle (NASDAQ:ORCL)
The partnership between Oracle and Salesforce has some tremendous benefits as both companies are leaders in their domains. Their partnership can actually increase their respective customer bases and lower the costs required for the implementation of their software and enhance their software performance. After this deal, both companies will work on integrating the software offered by Salesforce and Oracle to better serve their customers. Moreover, this partnership has been very warmly welcomed by the customers of both companies.
"It's a super-big win for us," said Dave Hansen, CEO of security vendor SafeNet, which uses Salesforce.com CRM and Oracle for financials. "Salesforce.com is by far the leader in CRM and is probably never going to move deeply into financials, where Oracle is especially strong", Hansen added.
Acquisition of ExactTarget
ExactTarget provides digital marketing solutions to customers and helps businesses to strengthen their relationships with customers through email, mobile, social media and web services. Salesforce acquired this company back in July 2013 for the total of $2.5 billion.
Despite reasonable top line growth, ExactTarget has been unable to report profits since 2008 but after the acquisition, Salesforce is in a better position to tap into the true value of the company by eliminating the duplicate facilities and lower operating expenses.
During the most recent quarter, ExactTarget contributed approximately $81 million in revenues. I think that after acquiring the integration of ExactTarget's services with those of Salesforce will allow for exposure to a larger customer base and this limelight will boost the company's growth.
Overall Prospects of the Industry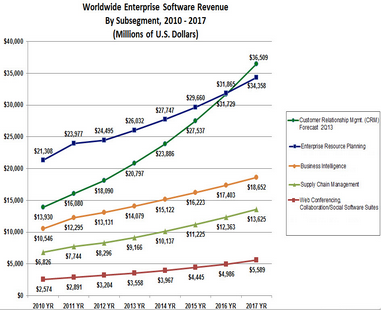 According to research conducted by Gartner, the worldwide market of customer relationship management will grow at a CAGR of 15.1% increasing the total market worth from $20.6 billion in 2012 to $36.5 billion in 2017. Additionally, Salesforce has significantly improved its capabilities to claim a bigger market share.
Projections
Historically, the revenue's CAGR was 37.43% but in my projections I have adjusted this growth rate to include the effect of increasing competition and limited growth opportunities in the market. Despite being conservative in my growth projections, the company will grow at a greater rate than the industry average. This growth will turn the net losses into profits as expenses as a percentage of sales will decrease in coming future.

Conclusion
As I have mentioned, Salesforce showed excellent top line growth in past and I don't think that there will be anything to restrict its growth in future. The company is a leader in its industry and will continue to claim the top spot in the coming future. Moreover, the stock price is currently overvalued but I think it will increase further in as the future guidance provided by the company is quite conservative. My recommendation is Buy.
Disclosure: I have no positions in any stocks mentioned, and no plans to initiate any positions within the next 72 hours.
Business relationship disclosure: The article has been written by a Blackstone Equity Research research analyst. Blackstone Equity Research is not receiving compensation for it (other than from Seeking Alpha). Blackstone Equity Research has no business relationship with any company whose stock is mentioned in this article.