Key Energy Services (NYSE:KEG) operates in the onshore rig-based well servicing industry and offers a number of facilities designed to keep offshore rigs in production with minimum downtime.
Although the industry took a substantial hit during the financial crisis, Key Energy Services has managed to weather the storm and this long established company is making preparation for what should be a profitable 2014.
Macro Outlook
The historic deal between Iran and the rest of the world last weekend brings to an end a decade long stalemate between Iran and the US.
The deal will lift sanctions on Iran's output of oil, auto parts, gold and precious metals and should see Iran reap around $7bn in lost revenue in exchange for the terminating of its nuclear weapon programme.
So far this has not been good news for energy companies as the price of crude oil fell to under $93.5 a barrel early in the week and caused many energy companies to fall in tandem.
Key Energy Services was not immune to this with the stock down -5.5% on Monday night.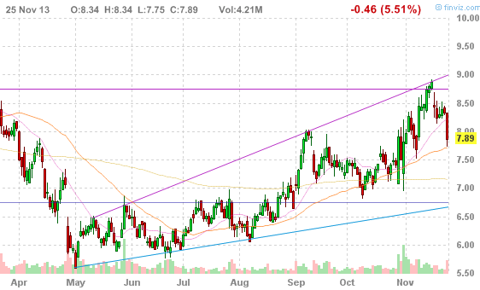 However, before this week, Key Energy Services was making fair ground and traded at a 35 week high just short of $9. This little dip, as a result of developments in Middle East, should be quickly absorbed and offers a good opportunity to buy into the stock.
Disregarding the Iranian situation, the long term outlook for oil should be strong considering that the global economic recovery has some way to go and that global oil supplies are dwindling. In any case, as we shall see, Key Energy Services are positioning themselves to profit even if the oil market doesn't take off.
Now that the company's foreign developments (in Mexico and Russia) are beginning to pay off, further stability in those regions would make the case even stronger for Key and the likely bottoming out in Mexico should also help things along.
Positioning For A Flat Market
The recent earnings call from Key Energy Services was illuminating for a number of reasons and shows how Key are positioning themselves in order to take advantage of a flat market by making long term sacrifices in the short term.
Indeed, while management expects the fourth quarter to experience a more than seasonal decline of 5-7%, this is as much strategic as it is economic as Key are purposefully retaining paid workforce in order to work more efficiently and with higher quality staff when conditions improve in the new year.
Importantly, management expects their Mexican services to come alive early 2014 and also sees a 'significant' backlog of wells in the area that will soon need servicing.
Diversification
One of the things that caught Key out in 2013 was an over-reliance on its work with PEMEX, a state owned mess of an organisation that is used to channel money to the government with a tax rate of 100%. Whiile PEMEX will no doubt require extensive and unlikely government reforms, as management point out, the problem last year was an isolated event and since then PEMEX has kept all of its promises.
Activity in the first quarter for Key is now predicted to ramp up and as economic conditions improve, Key predicts getting up to a total rig count of above 40.
With an anticipated 18 needed to break even, Key notes that the 48 active rigs could easily push into the 50s whereby double digit margins are not out of the question. All in all, Key's most recent earnings statement can be taken as one of cautious optimism and its noted that analysts on the call (notably Deutsche Bank) have maintained buy ratings with a price target of $10-11.

Bottom Line
The diversification away from the problematic PEMEX is the real boost for Key and while there is little possibility for that having any effect on fourth quarter earnings it would see the company enter the black in Q1 2014. Key has been penalized by the markets for its involvement with monopoly PEMEX but there is more to Key than just its PEMEX contracts.
This is a company that has been around since the 70's, a company that has seen good times before and with a management team that know well when good times are around the corner.
Currently, the market is failing to price in this optimistic scenario and the recent dip means that now is the perfect time to get into Key, as a profitable 2014 awaits. With this in mind, investors should look to buy Key and target a medium term move towards $11.
Disclosure: I am long KEG. I wrote this article myself, and it expresses my own opinions. I am not receiving compensation for it (other than from Seeking Alpha). I have no business relationship with any company whose stock is mentioned in this article.