In my previous two seeking alpha articles on DelMar Pharmaceuticals (NASDAQ:DMPI), I talked in detail about the fundamentals of the company, such as its lead program VAL-083 for glioblastoma, the advantage of VAL-083 for the indication of glioblastoma and the market potential of VAL-083. At that time, I had a Neutral rating for the company's shares based on its fundamentals. Since then, DMPI has made great progress of its VAL-083 program, and we are upgrading its shares to Outperform based on the progress it has made and the valuation of the company.
Positive Interim Phase I/II Clinical Data for VAL-083 Presented at WFNO
On Nov. 22, 2013, DelMar presented interim data from its ongoing Phase I/II clinical trial for VAL-083 in recurrent glioblastoma (GBM) at the 4th Quadrennial Meeting of the World Federation of Neuro-Oncology (WFNO) being held in conjunction with the 18th Annual Society for Neuro-Oncology (SNO) meeting in San Francisco.
As a reminder, DelMar initiated the Phase I/II clinical trial of VAL-083 for the treatment of refractory glioblastoma multiforme (GBM) or progressive secondary brain tumor in October 2011. The Phase I/II study is an open-label, single arm dose-escalation study designed to evaluate the safety, tolerability, pharmacokinetics and anti-tumor activity of VAL-083 in patients with histologically confirmed initial diagnosis of primary WHO Grade IV malignant glioma (GBM), now recurrent. Patients with prior low-grade glioma or anaplastic glioma are eligible if histologic assessment demonstrates transformation to GBM. Patients must have been previously treated for GBM with surgery, and/or radiation, if appropriate, and must have failed both Bevacizumab (Avastin) and temozolomide (Temodar), unless either or both are contra-indicated. Patients with brain tumors that have developed due to CNS metastases were eligible for the DelMar clinical trial at early doses.
The primary outcome measures in the dose-modernization portion of the clinical trial will be the determination of maximum tolerated dose (MTD). Secondary outcome measures include tumor response in patients and pharmacokinetics.
An initial phase of the study will involve dose escalation cohorts until a maximum tolerated dose is established in the context of modern care. Once the modernized dosing regimen has been established, additional patients will be enrolled at the MTD in a registration directed Phase II clinical trial. Up to 30 patients will be enrolled in the Phase I study.
In Aug, 2013, DelMar received a notice of allowance from the FDA that will enable the company to accelerate the dose-escalation of its ongoing Phase I/II of VAL-083 in refractory glioblastoma multiforme (GBM) patients.
The revised dosing regimen was allowed by the FDA following an extensive safety review of patients treated to date. In comparison to the original dose-escalation scheme, the revised plan will enable the trial to reach higher doses and complete the dose-escalation portion of the clinical trial more quickly by skipping two interim doses. The revised dosing scheme also permits dosing above 30mg/m2 if VAL-083 is safe and well-tolerated at that dose.
Accelerating the program will enable DelMar to complete the dose-escalation portion of the Phase I/II clinical trial, attain doses that are more likely to have anti-tumor effects and advance into registration-directed studies for refractory GBM in the timeliest manner possible. The company's goal remains to complete the dose-escalation during 2013 and be prepared to advance into registration-directed trials in 2014.
Enrollment in the first four cohorts of the VAL-083 trial has been completed with no significant adverse events or dose limiting toxicity (DLT) observed. Twenty five percent of patients evaluated in Cohorts 1-3 exhibited stable disease or tumor-regression and improved disease symptoms. Evaluation and clinical observations of Cohort 4 is ongoing.
Dose Escalation Scheme (mg/m2)

Patients Treated

Status

Original

Revised

1.5

1.5

3

Completed - No DLT

3.0

3.0

4*

Completed - No DLT

5.0

5.0

10*

Completed - No DLT

10.0

10.0

3

No DLT**

15.0

20.0

3 (planned)

Enrollment scheduled Dec 2013

20.0

25.0

30.0

3 (planned)

To be initiated subject to no DLT in 20mg/m2 dose

30.0
*Cohorts 2 and 3 were expanded to allow for patient demand and to gather additional data on CNS metastases patients. ** Observation period for final patient in this cohort ongoing
Highlight of the presentation include:
Maximum tolerated dose has not yet been reached.
Enrollment of Cohort 5 (20mg/m2) is expected in December 2013, subject to completion of mandated safety observation period with Cohort 4 (10mg/m2).
Pharmacokinetic analysis demonstrates a dose-dependent plasma exposure.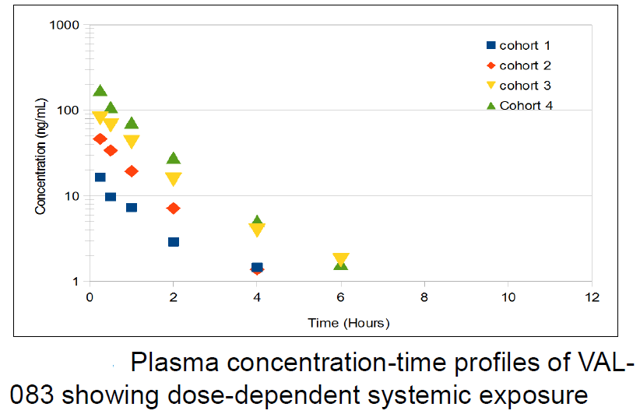 We are impressed by the safety profile of VAL-083, which is safe and well-tolerated by patients at the doses tested to date. We are also pleased to see some efficacy of VAL-083 in low doses.
Although accelerating dose escalation is not expected to significantly alter the duration of the trial, the company will treat fewer patients at sub-optimal doses and reach doses more likely to achieve meaningful patient benefit in a more cost efficient manner. Importantly, DelMar is proceeding on track to complete dose escalation and advance VAL-083 toward registration directed trials in refractory glioblastoma in the first half of 2014.
Based on historical data, we expect to see stronger patient benefit and tumor responses of VAL-083 as DelMar deliver higher doses.
Two Registration Directed Trials to Begin in Early 2014
DelMar plans to initiate a registration directed Phase II trial in refractory GBM in early 2014. Based on historical development of other products in GBM, it's possible that DelMar may be able to obtain FDA approval to commercialize VAL-083 to treat patients who have failed other therapies from an open-label Phase II registration-directed clinical trial, which will save significant costs of a large Phase III clinical trial. It's also possible that the FDA may grant fast-track, accelerated approval and/or priority review status to VAL-083, which will enable DelMar to begin filing for commercial approval during the clinical trial process.
Based on historical precedent with the FDA, the Phase II registration directed trial are expected to mirror the Avastin approval study in that indication. Under this scenario, the Phase II trial would be:
Single-arm; open label design;
Primary endpoints: PFS6 & Radiographic response
Secondary endpoints: overall survival;
N = 80-100 patients;
Minimum response rate = 20%;
Enrollment: Patients with recurrent GBM who have failed or are ineligible for both Temodar® and Avastin® (i.e. the same population as in the current trial);
The recent failure of Avastin in the front line treatment of GBM has highlighted the need for new therapies in newly diagnosed patients, particularly those with unmethylated MGMT promoter regions who do not respond to standard of care with temozolomide. DelMar would plan to advance modernized dosing regimen into a Phase II/III trial in newly diagnosed patients with unmethylated MGMT promoter in parallel with the refractory GBM registration trial (i.e. in early 2014). The Company has begun designing this trial with KOLs.
Randomized groups: Temodar vs. VAL-083;
Primary endpoints: overall survival;
Secondary endpoints: PFS6 & radiographic response;
N = 500 - 600 patients (with interim endpoint at ~10% enrollment);
VAL-083 Has the Potential for Treatment of Two Other Chemotherapy Resistant Cancers
On Oct. 21, 2013, DelMar Pharmaceuticals presented preclinical data at the AACR-NCI-EORTC International Conference on Molecular Targets and Cancer Therapeutics Annual Meeting.
Published historical and DelMar's new pre-clinical and clinical data demonstrate that VAL-083 is active against a range of tumor types and is well tolerated.
In addition to glioblastoma (GBM), the data presented, along with historical research by the U.S. National Cancer Institute (NCI), support the utility of VAL-083 as a potential new treatment for two other chemotherapy resistant cancers: chronic myelogenous leukemia (CML) and non-small cell lung cancer (NSCLC).
Using NSCLC RIF-1 cell line, VAL-083 is superior to cisplatin in tumor growth delay in an in vivo model, and combination of the two, resulted in a better than additive effect. DelMar plans to conduct preclinical studies of VAL-083 activity in cisplatin-refractory or cisplatin-resistant NSCLC and as a component of platinum doublet therapy in newly diagnosed NSCLC.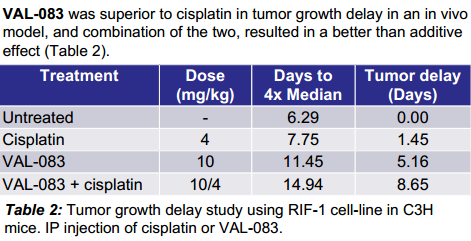 VAL-083 also demonstrated activity in CML cell lines. VAL-083 is approved for treatment of CML in China and has proven activity in clinical trials. DMPI plans to conduct preclinical and clinical studies of VAL-083 in hydroxyurea-resistant CML and as a component of combination therapy with hydroxyurea in newly diagnosed CML or refractory CML.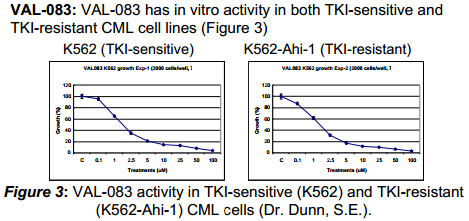 DelMar Exited Third Quarter With Financials On Budget
No revenue was recorded for the third quarter ended September 30, 2013.
R&D expenses were $0.6 million, and SG&A expenses were $0.7 million for the third quarter of 2013.
Adjusted non-GAAP net loss was $1.3 million ($0.03/share).
Balance sheet remains relatively strong. As of September 30, 2013, DelMar had cash and cash equivalents of approximately $5.2 million. We estimate that these funds will provide the company with sufficient capital to support its ongoing research and development activities for the next 18 months according to our financial model.
Valuation Is Attractive Now
We upgrade DelMar shares from Neutral to Outperform. Our 12-month price target is $4.50 per share. Our call is based on recent clinical progress the company has made and valuation of the company shares
DMPI is a clinical and commercial stage biopharmaceutical company focused on the development and commercialization of oncology drugs. The Company's lead drug candidate VAL-083 is currently in a Phase I/II trial for the treatment of recurring GBM.
Previous multiple clinical studies conducted by NCI have demonstrated that VAL-083 is safe and efficacious for the treatment of GBM. Interim data from the Company's Phase I/II trial confirmed the efficacy and safety profile of VAL-083 in GBM patients. Based on the data currently available, DMPI intends to initiate a registration directed Phase II trial of VAL-083 for recurring GBM and a Phase II/III trial for first line GBM in 2014. This will be a significant milestone for the Company which will position the Company in a late stage development.
VAL-083 has been approved in China for leukemia and lung cancer and DMPI has acquired its commercial rights in China market. Delmar is seeking to enter into a marketing partnership that could generate upfront fees, milestones and royalty revenue for DMPI, which is a de-risking event for the Company.
VAL-083 is a first-in-class alkylating agent with a different mechanism of action from that of Temodar, current market leader for GBM. The unique MOA of VAL-083 overcomes the resistance problem for Temodar.
Currently, DMPI shares are trading at around $1 per share, which values the Company at about $31 million in market cap based on 31 million outstanding shares. This is a deep discount compared to its peers. We noticed that most small biotech companies of development stage are valued from $50 million to $500 million depending on how advanced the pipeline is and which indications the company is targeting. DMPI's lead drug candidate VAL-083 is in a Phase I/II clinical trial and will enter a registration directed Phase II trial in early 2014.
We estimate VAL-083 could be approved by the FDA in 2017 for recurring GBM. The broad application of VAL-083, including first line, second line and third line treatment of GBM, and other cancers, means a great market potential for VAL-083, which could be a blockbuster for DelMar. We estimate DMPI will be profitable in 2018 with an EPS of $0.06 based on product sales of $35 million. EPS will grow to $0.35 in 2019 based on total product sales of $70 million.
Based on our financial model and the Company's fundamentals, we have a price target of $4.50 per share for DMPI. We think a P/E ratio of 38x is appropriate for DMPI considering its growth in the next few years. Based on this P/E multiple, we come up with our price target of $4.50 per share using 25% discount for 5 years. Our price target values DMPI at $140 million in market cap, which we think is appropriate and fair compared to its peers.
But risk is high at this point for DMPI. Although VAL-083 has been approved in China for marketing, its indications are leukemia and lung cancer, different from the current indication of GBM under development in the US. The bar on both clinical and regulatory hurdle in the US is higher. We remind investors that risks associated with drug development are high, especially for early stage of drug candidates. VAL-083 is only in Phase I clinical trial, and both clinical and regulatory hurdles are significant at this point.
Another concern we have is that DMPI has a limited pipeline. Right now, VAL-083 is the Company's only clinical-stage candidate. While DelMar has early-stage second-generation analogues from the VAL-083 chemistry platform and access to additional clinical-stage product candidates through its relationship with Valent Technologies LLC, no other clinical stage candidates are currently in the DelMar portfolio. If VAL-083 fails, the value of the Company will be negatively impacted significantly.
Disclosure: I have no positions in any stocks mentioned, and no plans to initiate any positions within the next 72 hours. I wrote this article myself, and it expresses my own opinions. I am not receiving compensation for it (other than from Seeking Alpha). I have no business relationship with any company whose stock is mentioned in this article.
Disclosure: I/we have no positions in any stocks mentioned, and no plans to initiate any positions within the next 72 hours.
Business relationship disclosure: I work as a Consultant Analyst for Zacks Investment Research. The article is written by me and is 100% my opinion. I receive compensation from Zacks for writing equity research reports and providing valuation analysis on this company's stock and expect to do so in the future. Zacks receives compensation from the company. Please see the Zacks Disclaimer for further information: http://scr.zacks.com/Disclaimer/default.aspx