I have written about Realty Income (NYSE:O) before twice in my life. The first time I discussed the company was this past May, as the company was crossing its all-time high of $55 per share. I pointed out that then that the company was "approaching bubble territory," and the company's price has since declined to $38-$39 today. With that said, it was entirely coincidental that I wrote the article within a day of Realty Income's all-time high, and if you expect that kind of accidental precision from me going forward, you will be severely disappointed.
The other time I wrote about Realty Income was just about exactly a year ago (November 27th, 2012), titled "Realty Income: Excellent Investment, Just Not Right Now" in which I expressed a very similar concern about Realty Income's valuation.
Now that the price of the stock has fallen to $38.28 (far off its $55 highs earlier in May), I find the question once again worth revisiting: Is Realty Income something worth buying today?
First, I'll start with my conclusion: Realty Income is at the very high end of fair valuation. This observation comes with two attachments: If interest rates increase by an amount greater than expected, the price of Realty Income could easily fall into the upper $20s. However, even if interest rates increase more than expected, the dividend is highly unlikely to decline.
I fully reject the notion that the price fall from $55 to $38 indicates the presence of a Grahamian "margin of safety," and the company's own telling of its impressive history seems to indicate that the company's stock price could have more room to fall in the event of a higher-than-expected rate jump: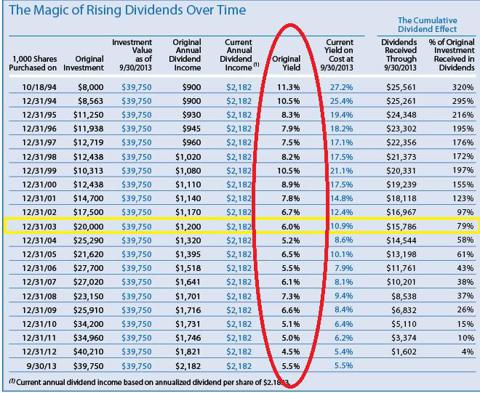 Click to enlarge
When you look at Realty Income's December 31st dividend yield every year since 1994, we see a dividend yield between 4.5% and 11.3%, with most of those figures hovering around the 6%, 7%, and 8% range, once you subtract the extraordinarily low interest rates that have propped up Realty Income's valuation in recent years. Just by taking a cursory look of the company's historical dividend valuation, we can see that the current 5.70% is on the lower end of what can reasonably be called the fair value dividend range.
Secondly, the company typically traded at a P/FFO range of 13-15 before entering this world of very low interest rates.
A quick reminder:
From 2003 to 2006, the P/FFO range hovered between 13.9 and 15.0.
From 2007 to 2009, the P/FFO range vacillated from 12.1 to 14.6.
Basically, the big-picture takeaway with this company's valuation is that it is on the cheap side of fair value when it trades at 13x funds from operations, and the company hits the rich side of fair valuation when it hits the 15x funds from operations mark.
The funds from operations per share is now around $2.40. The company is cheap, and should be a buy, when it trades at 13x that figure, or somewhere around $31 per share. The company hits the top end of what you'd reasonably want to pay when it hits 15x that figure, or roughly $36 per share. At the current price of slightly over $38 per share, we have better things to do than argue over a dollar or two of valuation, but the important point is that the current price is at the highest end of what constitutes fair value.
Of course, there are three factors that require more art than science when calculating what to pay:
1. First, you have to make an estimate about interest rate direction, and when that will occur, as well as how steep that will be. All of the figures I provided above occurred during periods of lowering interest rates. If you think the rates will rise soon, it is logical to insist on a P/FFO ratio of 13. If you think rates will hold steady for a year or two, paying a P/FFO ratio of 15 becomes quite defensible.
2. Second, you must make estimates about the company's future growth. Although interest rates are linked to REIT valuations, they are not entirely determinative of them. Analyst estimates of $3.00 per share in funds from operations by 2018 are starting to crop up. If that holds true, the P/FFO ratio could fall all the way to 12.75 over the next five years, and you'd still collect total returns annually of whatever total dividend the company pays out. Overpaying for a stock, and then collecting 5-6% annually in cold, hard cash is not the most detrimental consequence in the world for making a modest valuation misjudgment.
3. And thirdly, you need to acknowledge that this investment requires more faith in management than most other blue-chip stocks. This is a $7 billion company that makes over $500 million in acquisitions per year. If I write an article about this company in November 2015, an estimated 15% of the company will exist then that is currently not a part of it now. You need to recognize that reliance on management. Personally, I reached the conclusion that this management team is worthy of such faith considering that the American Realty Capital Trust acquisition actually improved the investment grade quality of the tenant base (sometimes a difficult feat with large transactions), but you may disagree with me.
The purchase of Realty Income at today's price of $38.28 can be intelligent if rates hold steady for a year or two. But I think it would be a delusion to pretend that the current price offers a Grahamian margin of safety. If you want a margin of safety that can ensure satisfactory returns no matter what interest rates do, then you need to be patient and wait for a price of $31-$32 per share, in line with the low-end valuations regularly seen in 2003, 2006, 2008, and 2009. As for me, my plan is to buy a small amount each month to hedge against rising rates (and make a substantially larger investment if rates rise and the price of the company tumbles), with the instruction to stop buying around $44-$45 per share because continual purchases above that point would mark a departure from common sense based on the current earnings power of the company. Of course, I would welcome revising that figure upward if warranted by increases in profitability.
Disclosure: I am long O. I wrote this article myself, and it expresses my own opinions. I am not receiving compensation for it (other than from Seeking Alpha). I have no business relationship with any company whose stock is mentioned in this article.