Starbucks (NASDAQ:SBUX) is a company that has had my attention for some time now. It's strong growth in earnings and revenue, combined with an ever-increasing dividend makes it a great company. However, even a great company can be a bad investment if bought at too high a price.
When I wrote my first article on Starbucks here on Seeking Alpha last February I said:
Even though I usually invest in higher yielding stocks, SBUX seems like a great investment, having increased its profit margin and EPS dramatically over the past 10 years. The solid financial health and the low payout ratio make dividend increases a very realistic possibility over the next few years. At $57.40, SBUX is trading well below its 52-week high of $62.00.
4 people commented on my article, with 3 of them stating I should wait for a market correction. Looking back, I'm glad I didn't, as the stock has risen by over 42% since then, recently hitting a new all-time high of $82.50.
And still, forecasts for SBUX are nothing short of amazing. In its 4th quarterly report for fiscal year 2014, SBUX states it expects EPS in the range of $2.55-$2.65. Analysts appear to agree, showing an average earnings estimate of $2.65 for the current fiscal year (2013) and $3.18 for fiscal year 2014. This puts the recent increase in price in a new perspective: even though the stock is a lot more expensive than it was 8 or 9 months ago, its expected earnings growth is very high, which lowers its forward price-to-earnings ratio. In other words, $80 per share might be a high price to pay for a company that had earnings per share of only $2.26 in 2013, but a low price for a company with expected EPS of $3.18 in fiscal year 2015.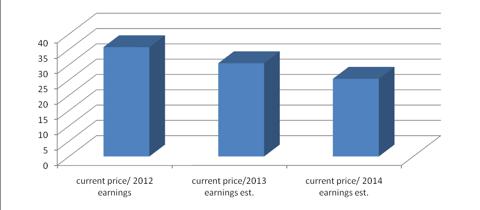 In fiscal year 2012, SBUX had earnings per share of $1.79, and paid out $0.72 in dividends, giving it a payout ratio of just 40.2%. The payout ratio for 2013 was slightly lower, at 39.3%. The current payout ratio leaves SBUX with plenty of cash to save and reinvest, as can be seen on their balance sheet: Cash and cash equivalents have jumped to $2.58 billion. Therefore, I expect the payout ratio will not go down. In fiscal year 2015, if analyst expectations are correct, I would expect SBUX's dividends to be somewhere near 40% of earnings, or $1.27 per share. This would give investors buying shares today a yield on cost of 1.57%, which is a lot better than the current yield of only 1.3%.
Starbucks opened 1700 new stores last year, and expects to open a further 1500 in fiscal year 2014. The company expects to be able to raise its revenues by at least 10%, and its operating margin by between 150 and 200 basis points. (SBUX 4th quarterly report 2013).
To sum it up: Starbucks' stock price has gone up by over 42% since I recommended buying it in March of this year, and over 50% year-to-date. However, I believe its strong expected growth in earnings as well as in number of stores can justify this higher price. The dividend is still quite low, but seeing as SBUX is able to save up money despite expanding at a rate of over 100 stores per month, I wouldn't expect the payout ratio to go down. Any increase in earnings will most likely lead to an increase in dividend. Despite the share price going up, SBUX is staying in my dividend growth portfolio.
Disclosure: I am long SBUX. I wrote this article myself, and it expresses my own opinions. I am not receiving compensation for it (other than from Seeking Alpha). I have no business relationship with any company whose stock is mentioned in this article.