Introduction
Although often seen as the number two player behind Coca Cola (NYSE:KO) in the soft drink wars, PepsiCo (NYSE:PEP) is much more than soft drinks. Indra Nooyi, Chairman and CEO of PepsiCo was quick to point this out during a televised interview on FirstCall on CNBC on Tuesday, February 2, 2010. To quote an excerpt:
PepsiCo is a $43 billion-dollar-company (revenues) on its way to becoming a $60 billion- dollar- company, the world's second largest food and beverage company, and lets not forget that Pepsi, the soft drink, is a tiny portion of the company.
Leadership
A great business, even a great franchise like PepsiCo is ultimately a reflection of its leadership. PepsiCo is blessed with great and experienced leadership at each of its divisions. However, leadership starts at the top and we believe PepsiCo is especially gifted at the top. Indra K. Nooyi, CEO since 10/1/2006 and named chairman on 5/2/2009 has provided exceptional service to PepsiCo since 1994. She has directed PepsiCo's global strategy for more than a decade including restructuring initiatives such as divesting the restaurant business into Yum Brands (NYSE:YUM), and acquiring Tropicana and merging with Quaker Oats. She is the chief architect of Pepsi's growth strategy – Performance with Purpose.
In Figure 1 we look at PepsiCo, Inc. (PEP) based on our earnings and price correlated Fundamentals-at-a-Glance research tool. This covers the time frame that Indra Nooyi has worked at PepsiCo.
Figure 1. PEP 17yr EPS Growth correlated to Price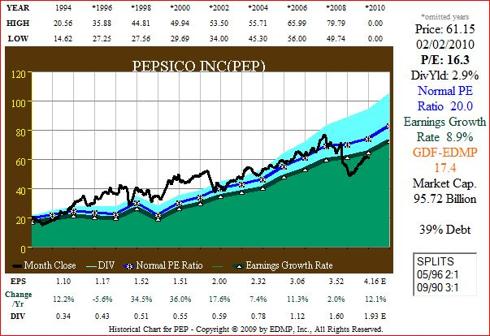 Click to enlarge
We thought it would be interesting to contrast Coca Cola's (KO) operating results over this same period. Interestingly, operating results are almost identical at just under 9% compounded. As an aside and for investor education purposes, notice how excessive overvaluation (red circle) since 1998 destroyed Coca Cola's shareholder returns.
Figure 2. KO 17yr EPS Growth correlated to Price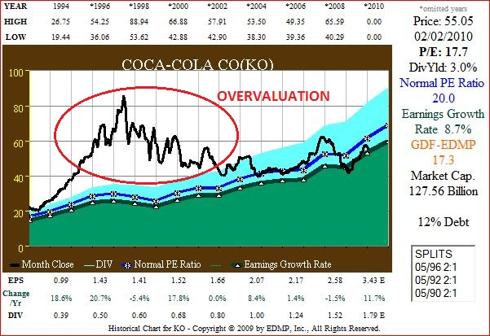 Click to enlarge
Poised For Growth
The next phase of PepsiCo restructuring is focused on growth. The pending acquisition of their two largest bottlers, Pepsi Bottling Group, Inc. (PBG) and Pepsi America, Inc. (PAS) should be synergistic and immediately accretive. Importantly, due to their intimacy with both entities integration should be seamless and quick. Pepsi's management forecasts these transactions to be accretive to earnings by $.15 (cents) a share once the synergies are fully completed.
Utilizing our Fundamentals-at-a-Glance research tool, Figures 3 and 4 look at Pepsi Bottling Group, Inc. (PBG) and PepsiAmericas, Inc. (PAS), since calendar 2000. Two points to note: first, both companies have been above-average growers in their own right. Second, both were trading at low valuations when Pepsi made the offer. As a sidebar, PBG just reported earnings that beat street expectations.
Figure 3. PBG 11 yr EPS Growth Correlated to Price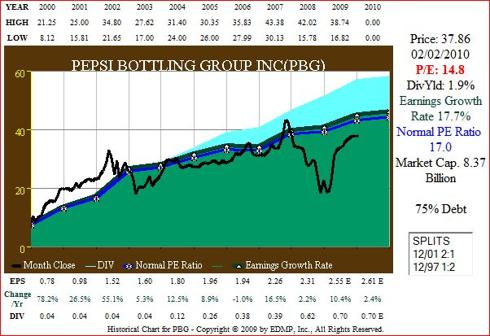 Click to enlarge
Figure 4. PAS 11yr EPS Growth Correlated to Price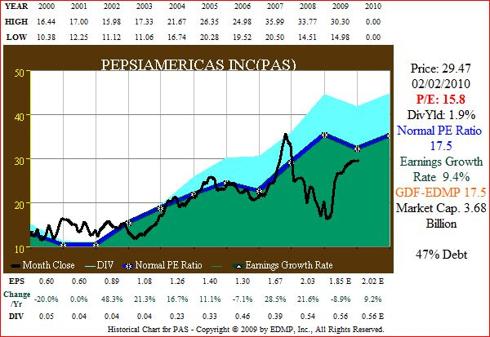 Click to enlarge
These acquisitions/mergers offer Pepsi direct control of over 80% of their North America beverage volume. Greater efficiency through consolidation and expanded revenue opportunities are major pluses. Additionally, these transactions are expected to directly compliment Pepsi's current effort to refresh important brands such as Pepsi and Gatorade, and facilitate the introduction of new products. Pepsi already offers the world's largest portfolio of billion-dollar food and beverage brands, which could increase with this focused re-engineering of the business. Cross selling opportunities with their important snack and food groups are numerous.
International Opportunities
PepsiCo is expanding in fast-growing markets such as Russia and China. Pepsi Bottling Group, Inc. (PBG) already serves Russia, Greece, Spain and Turkey in addition to the U.S., Mexico and Canada. Several side deals are also being penned for distribution opportunities in China and other regions of the world.
PepsiCo operates three major divisions: PepsiCo Americas Beverages, PepsiCo Americas Foods, and PepsiCo International. All three are participating in PepsiCo's transformation and launching of their Productivity for Growth initiative. All that Pepsi is doing is beyond the scope of this article: However, suffice it to say that Pepsi is on the move. They are focused on margin improvement and growth, and early indications are encouraging. Everywhere you look Pepsi is refreshing their business and retooling their extensive product line to be aligned with current consumer tastes, needs and budgets.
Corporate Citizenship
PepsiCo seems to understand their responsibility to the world they live in, as well as any company we have reviewed. Yes, they are a soft drink and snack company. However, they are developing healthier and more nutritional products across their entire line. Furthermore, they encourage active lifestyles, which is a major part of their Gatorade product refresh. PepsiCo's environmental policy is focused and committed to protecting and sustaining the world we live in.
Since 1962 the PepsiCo Foundation has been helping communities here, and more recently abroad. PepsiCo's commitment to philanthropy doesn't stop there however. Their recently launched "Pepsi Refresh Project" is a grass roots program that provides direct benefit to projects large and small.
Conclusion
PepsiCo is a world class franchise that appears attractively priced and poised for growth of both capital and dividends. Figure 5 shows that their current price to sales of 2.23 is at the low end of their historical range.
Figure 5. PEP 11yr Price / Sales

Click to enlarge
In Figure 6 we offer a Benjamin Graham modified earnings growth forecasting calculator based on consensus estimates for 5-year growth by both Zacks and FirstCall.
Figure 6. PEP 5yr EPS Growth Forecast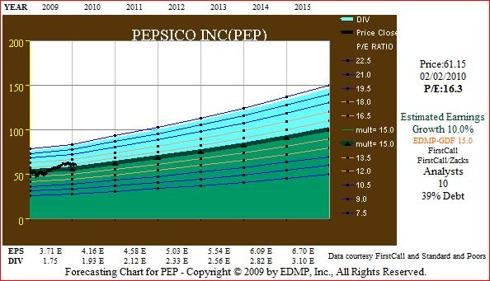 Click to enlarge
At the end of the day, PepsiCo looks like a blue chip stalwart with an attractive current yield that is "on sale". Therefore, we feel it is an excellent candidate for the prudent long-term investor seeking both growth and income.
Disclosure: Author holds long positions in PEP and KO at the time of writing.