We do not frequently write about currencies or exchange rates, but once in a while it is refreshing to view stock market investing from a different perspective. While most world stock markets have been recovering from their bear market lows, some have been doing noticeably better than others.
For simplicity we will compare the U.S. stock market (S&P 500) against the Australian stock market (NYSEARCA:EWA). Looking at the one year chart below, the first observation is that the Australian stock market trounced the S&P 500.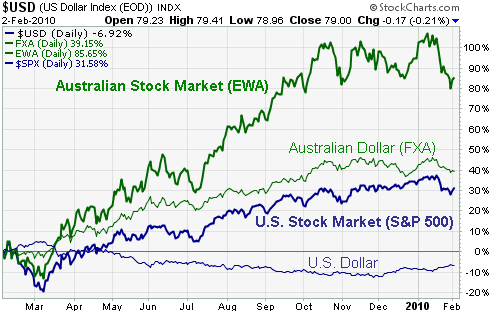 Interestingly, the chart also plots Australian dollar (NYSEARCA:FXA) and U.S. dollar gains/losses, respectively the light green and light blue lines. While there are many other aspects that come into play, it is a fact that the relative performance of the currencies directly factors in the performance of the respective stock markets.
Yes, the Australian dollar has been retreating of late, and the fact that the Reserve Bank of Australia decided to leave their interest rates unchanged on Tuesday, when everyone expected them to continue hiking, is not helping matters. And the U.S. dollar has been in a pretty strong relief rally since early December, and we would not be surprised if it keeps going for a few months longer.
The Australian comparison is not unique. The chart using the Brazilian stock market (NYSEARCA:EWZ) and Brazilian Real (NYSEARCA:BZF) is virtually identical. Countries with other commodity-based currencies such as Canada and Russia are experiencing similar gains.
The two primary takeaways for us here at The Green Investor are:
Despite the recent U.S. dollar resurgence, the fundamentals tell us that the long-term trend will remain down for years to come. This motivates us to continue with aggressive international diversification of our portfolio

The commodities and energy megatrends will not pause for very long, and the alternative energy stocks in the green sector will continue to benefit greatly
Disclosure: Author holds a long position in FXA