The consensus forecast for Friday's BLS Nonfarm Payroll report is for job growth to be 0, with a consensus range for economists surveyed by Bloomberg of -40,000 to 75,000. The markets will likely cheer a positive print, however, how much stock should we take in the headline number?
Regardless of the trend over the last year of downward revisions, the birth/death model used by the BLS puts any number in serious question. What won't appear in the headline number is a job loss of -824,000 which reflects an adjustment to the initial BLS numbers from April 2008 to March 2009. (click on all charts to enlarge)
Keep in mind those "extra" job losses are only from April '08 to March '09. Revisions for April '09 to March '10 will not come out until February 2011. However, Bloomberg estimates that over 990,00 job losses need to be adjusted from April 09 to Dec 09. That is a grand total of 1.8 million that have been understated in the BLS payrolls.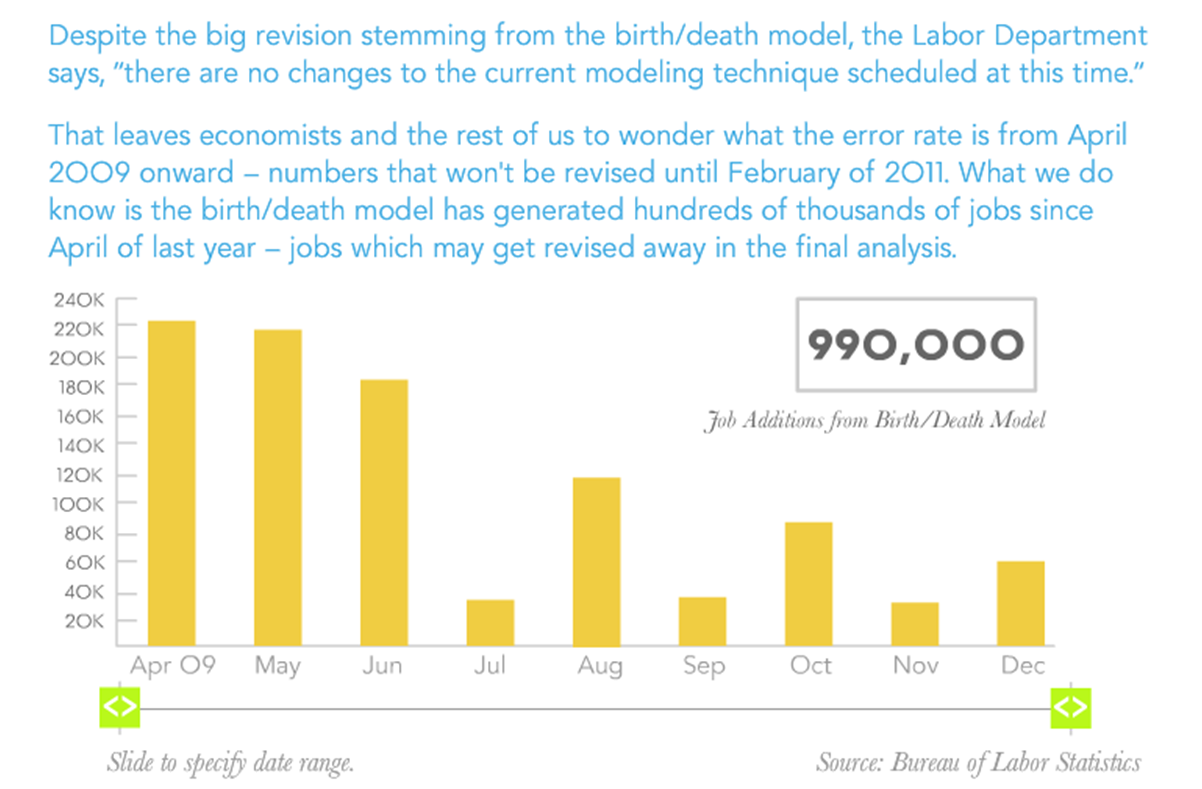 Source: Bloomberg
The issue at hand is one that has been discussed quite a bit over the last few months. However, the BLS Birth/Death model is grossly overestimating job creation. In reality, it has tainted the Nonfarm Payroll number to an extent that it is almost worthless to anyone other than technical and day traders hoping to trade headline number bounces/drops. The birth/death model uses the key assumption that jobs created at new companies make up for jobs lost at companies that close. However, this really applies to more stable economic times. As we have seen plenty of evidence of (particularly the huge push by the Obama administration on making jobs a priority) job creation is not happening. There is no reason to think that the dynamics that caused this discrepancy in the Birth/Death model have changed. Keep that in mind when reading Friday's report. It may not be until next year, but tomorrow's number will likely be revised significantly next February.

Disclosure: No Positions