Yamana Gold Inc. (NYSE:AUY) is a 9 billion dollar Canadian-based gold producer with significant gold production as well as a number of properties in development stage & exploration. They currently have land positions in Brazil, Chile, Argentina, Mexico and Central America. Their stock has recovered nicely moving above $12 after hitting a low of $5.80 in early 2009. The stock has moved up as gold has risen which is expected for a producing company of this size. If we look at the 1 year chart below (click to enlarge), we see that the stock has been in a consistent uptrend for the past year with higher lows occurring throughout the year (indicated by black line) and building support off those lows. The existing support level is just below $11.00 and the stock has done consistently well after earnings for the past 5 quarters with the price moving 5-10% higher within 2 weeks of earnings.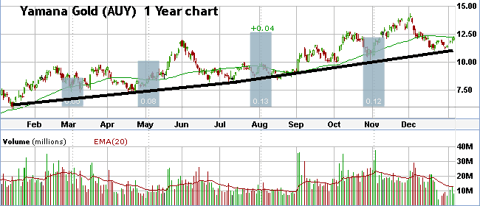 Yamana currently has focused in politically stable regions of South America for its current and future exploration. It has 6 mines in production with most of them producing 100,000 oz or more of gold per year. Yamana has been effective in managing and increasing production while keeping cash costs down for each of their mines. For example, for the Gualcamayo mine (pictured below), Yamana was able to bring production costs down to $316 per ounce and increase production by almost 100% between Q1 2009 and Q3 2009.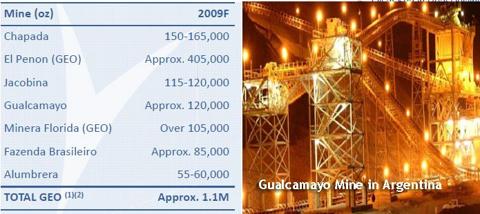 The technicals look good but for a clearer picture we need to look at how Yamana is executing against its growth objectives. The figure below (pulled from a recent AUY corp presentation) shows the company expects production to grow 55% from its current state of 1.1 million ounces per year to over 1.7 million ounces by 2013.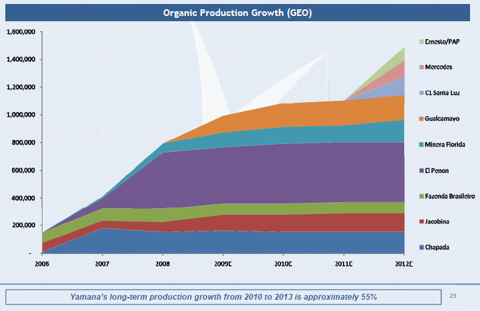 Assuming conservatively that cash costs do not come down, the price of bullion stays within 10-15% of its current level and operating margins stay intact, this puts earnings in the $0.70 - $0.90 range in 2010 and $1.00 - $1.20 by 2011 yielding a forward PE in the 11-13 range. This makes Yamana a very attractive buy at current levels ($12-13) and provides the potential for substantial returns if the price of gold bullion continues to climb or their development projects exceed targets.

Disclosure: No positions