Editors' Note: This article covers a micro-cap stock. Please be aware of the risks associated with these stocks.
Fresh Healthy Vending International, Inc.
Fresh Healthy Vending International Inc. (OTCQB:VEND) is a name that I believe is currently the target of a penny-stock promotion scheme. It is my view that the stock's intrinsic value is somewhere near $0, and it is with conviction that I recommend that any investors currently in the name sell the entirety of their stakes immediately. Yesterday's drop could just be the beginning. I also believe that Fresh Healthy Vending International Inc. is a stock definitely worth shorting. My track record of identifying and publicly exposing such highly overvalued equities is excellent:
| | | | | |
| --- | --- | --- | --- | --- |
| Ticker | Date of Publication | Price at Publication | Following Low | Percent Drop |
| | November 22, 2013 | $1.43 | | 60% (halted by SEC will be much lower when it reopens.) |
| | | $1.17 | .54 | 52% (early in pump, will end up lower) |
| | | $1.31 | .67 | 48% (early in pump, will end up lower) |
| | | $1.84 | $0.21 | 89% |
| | | $0.27 | $0.0027 | 99% |
| | | $1.42 | $0.15 (did hit $25 in an incredible short squeeze) | 89% |
| | | .33 | .01 | 97% |
Company Background
Fresh Healthy Vending, based in San Diego, California, is a leading healthy vending franchisor. Fresh Healthy Vending pioneered the concept of vending machines stocked with tried-and-tested fresh, healthy snack options and capitalizes on a growing market of health conscious consumers. The company has appointed more than 205 franchisees throughout the United States, Canada, Puerto Rico and the Bahamas and is looking to partner with like-minded entrepreneurs who share its vision.
The company offers three different machines: The Healthy Vending Combo snack and drink machine, Healthy Vending Cafe that brews gourmet hot beverages in less than 40 seconds and the brand new Healthy Vending Touch-the only 46" 3D interactive touch screen vending machine.
MS
Future?
As is usually the case with these types of hyped up scams, it takes only one quick glance at the balance sheet to realize that the $65M market capitalization that this equity commands is beyond ludicrous. With a net loss of $241,980 in the last quarter compared to a profit of $207,461 last year during the same quarter. They clearly are being over valued at the moment. The recent volume is due to overly bullish promotional mailers being delivered to people's homes.
Fresh Healthy Vending International Inc. follows the typical pattern most shells do that end up getting promoted.
#1) Business taken public with no revenues.
#2) Seed shareholders given shares for next to nothing
#3) Change in control
#4) Name and symbol change
#5) Forward split while all the shares were insider owned
After going through all the filings you come to the conclusion that the final share count is as follows
Authorized: 100,000,000 shares
Outstanding: 25,147,847
Nicholas Yates 15,648,278 shares
Private Placement shareholders- 2,788,369 shares at .434 per share
Seed Shareholders 6,711,200 free trading shares at .0085 per share.
Most companies that end up being promoted usually tend to have little to no trading history. Fresh Healthy Vending International Inc. is the same. Those seed shareholders cannot turn their shares into cash unless there are buyers. This is where they turn to stock promoters. Stock promoters get paid to send out overly bullish professional type mailers/emails to retail investors to lure them in. Let me show you what I mean:
Picture of VEND Chart
You can see that trading in Fresh Healthy Vending International Inc. really started trading 100k+ worth in volume on November 15, 2013 . Michael Goode blogged about a Fresh Healthy Vending International Inc.. hard mailer that was being sent out with a disclosed 1,300,00 budget. The hard mailer was first discovered by TMcNasty on twitter November 13, 2013.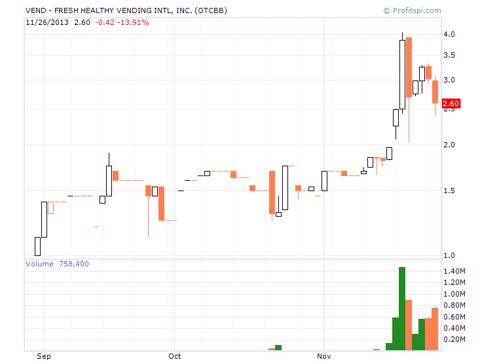 Click to enlarge
"The Wall Street Revelator and/or its publisher, Andrew & Lynn Carpenter, dba The Wall Street Revelator has received a total amount of Seventeen thousand five hundred dollars in cash compensation to assist in the writing of this Advertisement …
Brown Dog Marketing, Inc. paid one million three hundred thousand dollars to marketing vendors to pay for all the costs of creating and distributing this Advertisement"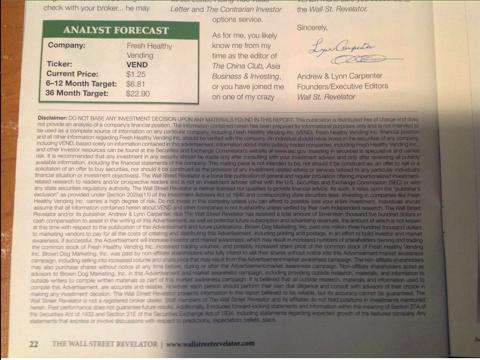 Click to enlarge
You can see obviously someone is interested in increasing public awareness for Fresh Healthy Vending International Inc. Most likely those seed shareholders with about 6.7 million free trading shares (who knows who owns what). Why else would someone spend $1,300,000 to increase public awareness? It is worth it to them because if they can bring in buyers and liquidate their shares around these prices that can mean about $17 million in profits! Running pump and dump schemes is a lucrative business and that is why we see it way to often. My job is to wake you up!
Promotional Page
The hard mailers being sent to people's home are coming from Andy Carpenter/ Wall Street Revelator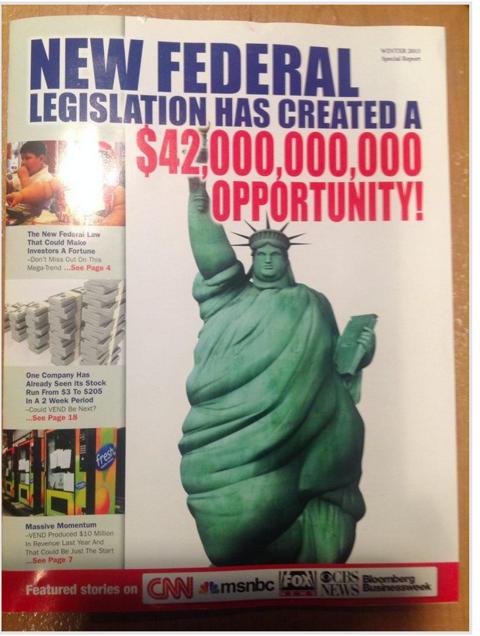 Click to enlarge
Promotion History
I have received mutiple Andy Carpenter hard mailers in the past. I want to show you how they all ended up.
$AGIN-American Graphite Technologies Inc.
Mailer received: March 13, 2013
Budget: $1,160,000
Chart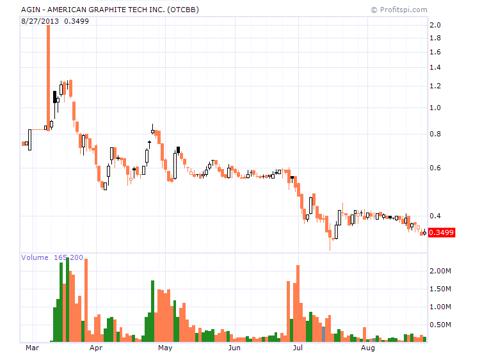 Click to enlarge
$BERX- Bering Exploration, Inc.
Mailer Received: January 14, 2013
Budget: 1,000,000
Chart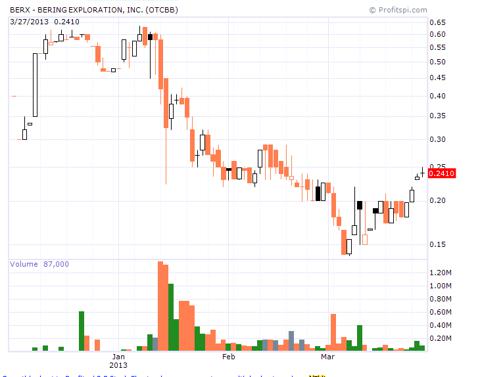 Click to enlarge
My Recommendation
Yesterday's drop is just the beginning. If you own shares of this company, get out now. Do not hope that you can hang on to sell them to a greater fool. These shares are worthless. I have showed you that the reason for the promotional mailers indicates that the individuals behind this stock scam are trying desperately to unload their worthless shares onto the unsuspecting public and book a huge profit before the inevitable collapse. If you are a more sophisticated investor and can get a borrow on these shares, then I believe that shorting this name will be highly lucrative for you.
I reached out to company about my concerns. In part two of my report I'll talk about how the people involved with Fresh Healthy Vending International Inc have had multiple run ins with the law.
Disclosure: I am short VEND. I wrote this article myself, and it expresses my own opinions. I am not receiving compensation for it (other than from Seeking Alpha). I have no business relationship with any company whose stock is mentioned in this article.