by David Silver
The year got off to an interesting start for the auto industry with Toyota (NYSE:TM), Honda (NYSE:HMC), and even Ford (NYSE:F) announcing recalls. The biggest news however, came from Toyota, which announced that it would stop selling eight of its top brands including the Camry, Corolla, and Tundra in North America as well as stop production following a recall of more than 3 million vehicles.
The company has since announced a "fix" for the sticking gas pedal, but the production halt continues. The company announced that its monthly sales dropped to less than 100,000 for the first time since 1999. The company estimates it lost 20,000 in sales as a result of the recall. Total sales were 98,796. Toyota estimated its market share fell to 14.2%, the lowest since 2006; it had a 17% share of the U.S. market in 2009.
Ford, on the other hand, continues to capitalize on some great momentum and put together another great month. Sales were in line with our expectations, but below some of the other analysts on the Street. Estimates have been steadily rising since the Toyota announcement; however, we felt that instead of seeing these customers switch to Ford or General Motors, it would only just delay those sales. For the most part, that belief came to fruition.
Industry-wide, the strong results were offset by the fact that much of the growth came from fleet sales to rental and commercial operators, which are generally less profitable than retail sales to individual customers. Retail sales were down modestly across the industry. The higher numbers compare with a weak year ago January, when many businesses either cut back on purchases or were unable to get vehicles because some auto plants weren't running or financing was unavailable.

Click to enlarge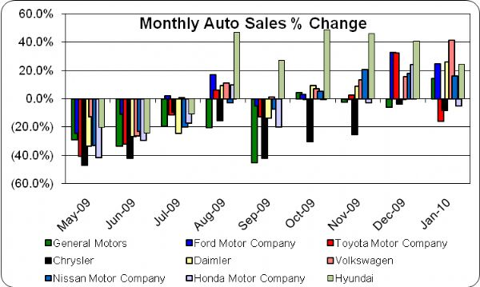 Click to enlarge

Looking at the monthly data and hearing about the recalls overshadows some other actions that occurred during the month. General Motors put in a solid month, with sales gaining almost 15% compared to a dismal January last year. Compared to December of 2009, incentives were about the same, and we expect to see incentives tick higher as Toyota is forced to offer incentives to get some customers back. Other automakers will follow.
Also not lost on us is the fact that Chrysler saw an 8.1% sales decline during the month to the lowest monthly figure in almost a decade. Honda, which one would think would directly benefit from the problems at Toyota, also saw a difficult month. So despite the positives from the month, there were plenty of negatives that will affect more than just this month's figures. Ford reported its first annual profit since 2005, but a good portion of its sales during the month were fleet sales which are far less profitable. If the growth in the industry is going to be fueled by fleet sales than perhaps Mr. Mulally is getting a little ahead of himself by expecting another annual profit during 2010.
Ford is still my favorite in the industry, as it has the most room for growth. Toyota is still a behemoth in the industry, but when you are on top, it gets harder and harder to surprise, plus, the chink in the company's armor can't simply be buffed out. It will take a few months (maybe even years) to overcome this problem. Sales are likely to suffer in February and perhaps into March (hurting the fourth quarter of the company's fiscal year), but consumers would have moved on by then.
Disclosure: Long F