During Tesla's (NASDAQ:TSLA) Q3 results, CEO Elon Musk explained in plain language the operational risk that faces the company: There is no lack of demand for the Model S; it is how quickly production can match such demand that will determine the success of Tesla. At this point, any objective reader will discern that the execution risk is the ultimate test for this vibrant automotive company. With the news of three fires (all accidents) happening within a very short period of time, the ability of Tesla to deal with the "regular" recalls and safety concerns of the automotive universe is under a microscope. To summarize, the three operational elements that will pose an immediate impact on Tesla's stock price are:
Specific milestones on the speed at which Tesla can ramp up production beyond the estimated 21,000 for 2013 or the projected 40,000 for 2014.
Results stemming from the NHTSA investigation and potential recall of the product; how Tesla is capable to handle potential recalls without crippling production?
Incremental improvement in the lithium-ion technology in range and cost coupled with an increased (or decreased) pace of Supercharger rollout. The stock of Tesla today is based on the future of the lithium-ion battery or whatever battery combination Tesla can produce in the next three years.
These internal elements are affected by two external factors that could significantly derail the mass acceptance of Tesla's electric car.
Substitution: Fuel cell technology to begin competing with EV as a viable substitution for ICE.
Competition: New entrants with stronger supply chain and better balance sheet decide to exploit the inefficiency of the supply gap of Tesla.
It is important to contextualize the accomplishment of Tesla to date: Very few people expected Tesla to survive, let alone thrive on the Model S. Since its founding in 2003, Tesla sought to establish a working business model and reliability earlier on with Roadster before attempting a mass-marketed product. For a startup company to enter a capital intensive industry with almost insurmountable barriers is a testimony of its resilience. Tesla successfully acquired the Fremont plant in 2010 and produced the first Model S in 2012. The company went public in 2010 with around 646 employees. Now, it has a workforce of over 3,000 with an impressive automated factory that many critics few years earlier dismissed as a mirage. In 2013, the rollout of superchargers and the intense marketing campaign, led primarily by Musk, has quickly silenced many of the critics. In May 2013, Tesla decided to repay loan and interest of $451.8M to the Department of Energy, nine years ahead of schedule -- with a portion of the money coming from common stocks and convertibles funds offering.
The reality is that the Model S is a formidable product that gathered raving reviews from respectable names such as Consumer Reports. Musk succeeded in creating an incredible marketing engine that powers the Tesla brand with a very loyal customer base. When Apple (NASDAQ:AAPL) came up with the iPhone and iPad, the innovation disruption was not only in the device itself but rather the ecosystem that created a need for connectivity through complementary and cooperative entertainment devices. Apple is, above all, a marketing company with a tremendous appeal and an uncompromising stance for a holistic quality product/ecosystem. Musk is using the synergy from SolarCity (NASDAQ:SCTY) to assist in building an infrastructure of charging stations that could create a system of clean energy usage for the purchasers of Tesla's cars. This is single-handedly the most important factor that could leap Tesla ahead of any competition and establish quickly the norm for charging stations.
But the Q3 results put things into perspective. The existential threat for Tesla his shifted to an operational risk. To emphasize this point I want to remind readers of Nokia (NYSE:NOK) and RIM, now known as BlackBerry (NASDAQ:BBRY), and how they ruled the mobile landscape for years. The unceremonious fall from grace of both companies is a wake-up call to anyone who thinks that other car companies are simply watching Tesla without a game plan. In game theory, Tesla has the first mover advantage but others can respond using their own competitive edge. The operational execution risk can be summarized as follow: Tesla cannot afford delaying the mass-marketing of their Model E or further delay the production of Model X.
At the same time, Tesla will have to maintain a steady growth rate in the short term production of Model S. There are two reasons for why this threat is an existential: For one, tarnishing the image of the "flawless" Tesla will create ripples effect that can dry out demand in the short to medium term, hence putting crushing weight on the balance sheet. The second reason is related to the external factors where companies are poised to take advantage of a delayed rollout to bring out alternatives or more competition for Tesla in the EV segment. Now, if the Q4 conference call is still vague with regard to the "giga factory" for the new cell design or shows reduced production numbers for 2014, this will be a bad sign for Tesla. I project 10%-20% downward correction in the stock if these predictions materialize.
Substitution
One of these risks we heard about last week is FCV, or fuel cell vehicles. FCV are powered by hydrogen and can create electricity by stripping the atoms of H2 form its electron and combining it with oxygen. Technically, these are as well electrical cars, but from a different chemistry and form. (However, H2 can still be used with conventional ICE, with nitrogen oxides as a byproduct.) The advantage of FCVs is that they combine the benefits of both ICE and EV; they have the range of ICE and the zero emissions of EV. Also, the specific energy of compressed hydrogen (amount of energy per mass) is even greater than that of hydrocarbons -- yet at a clear disadvantage on the volumetric density axis; it will still take considerable storage space in comparison to gasoline.
Click to enlarge images.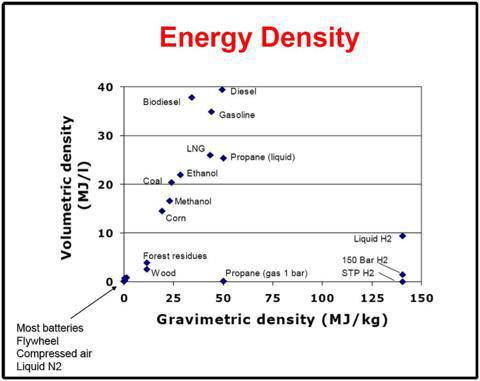 Source: Energy Trends Insider.
Just few days ago, Hyundai announced that it is releasing its first hydrogen-cell powered car, a Tucson, to be sold in 2014 in the U.S. This in itself shows that concerns over safety and technical problems with compressed hydrogen have been overcome and the testing of the market has begun. It is safe to say, though, that without a comprehensive fueling station infrastructure rollout, Tesla is still in the driver seat for the foreseeable future. Also, the only other point that could ultimately tip the balance in Tesla's favor is rapid advances in lithium-ion batteries or other types, in terms of cost and range that can be achieved and scaled quickly in a production environment. Tesla has filed patents earlier this year on the design of a second "non-metal-air battery pack" that can potentially extend the range significantly to over 400 miles.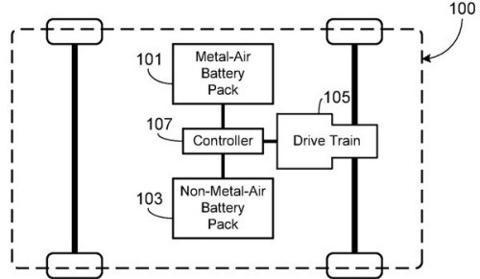 Source: Clean Technica.
Competition
The other external risk is from competitors who will exploit the apparent lack of supply form Tesla and fast-track their own EVs or hybrid as a "better" or quicker substitute. The advantage of Tesla remains the uniqueness of the Model S experience and the resonance of the brand. Yet, other car manufacturers hold strong supply chain and solid balance sheet to try and match the offering of Tesla with brand new EV models. Even if this doomsday scenario is not imminent, the current rise in supply of Hybrids and EVs -- which has more than tripled since 2012 -- may be indicative of car manufacturers determined to lay the foundation for their "mainstream" competitor to the Model E.
Yet, with other companies lacking agility and focus to divert resources to back up a serious contender to the Model S, the advantage will remain with Tesla on the short term. But do not count on more than a short term advantage: BMW, GM, and Volkswagen showed up at the Los Angeles Auto Show with new plug-ins. Whether BMW's i3 or i8, Cadillac's ELR, or Porsche's Plug-In Panamera could erode demand of Model S is yet to be seen. Once again, I think Tesla's brand and uniqueness stands as its competitive advantage that others cannot simply "push away" with concept designs in auto shows. However, the news is putting more pressure on Tesla to deliver flawlessly on their production ramp.
What to Look For
As an investor, one needs to look for signs that address the operational risk, track the competitive response and progress of new substitutes. This may include:
Increasing headcount at the Fremont factory
Finalizing deals on additional battery suppliers
Sharing the timeline for construction of the giga factory hinted at in Q3
Laying out execution plans for 2014 with hard numbers to share with investors during Q4
Automotive companies jumping on the FCV and combining forces to squash the BEV
Success (or failure) of FCV in the first market testing in 2014 and speed of hydrogen-fuel infrastructure rollout
Given the situation in the short term, Tesla's stock is a "hold" until more information is shared on the execution side. Musk promised sustaining 20K cars production in North America and reaching 40K total production at the end of next year. But given the dynamics of the industry, it will take a transparent strategy with overcoming difficult milestones, as has been executed in 2013, to maintain the engine of success for Tesla.
Disclosure: I have no positions in any stocks mentioned, and no plans to initiate any positions within the next 72 hours. I wrote this article myself, and it expresses my own opinions. I am not receiving compensation for it. I have no business relationship with any company whose stock is mentioned in this article.