A. Schulman (NASDAQ:SHLM) makes high-performance plastic resins and compounds. Europe is its largest geographic market, responsible for 73.2% of fiscal 2009 net sales. North America generated 23.3% of sales and Asia produced the rest.
The company's offerings consist of five product/service categories. The largest (44.3% of fiscal 2009 sales) is the color and additive concentrates category, which consists of resins designed to give plastics a specific color or physical property such as conductivity or flexibility. Polyolefins (27.5% of sales) consist of polypropylene and polyethylene resins and compounds used to make end products such as automotive interior trims, toys, small appliances, sporting goods, and office supplies.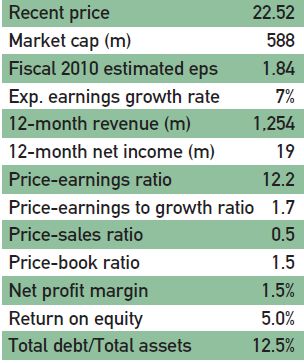 Engineered compounds (21% of sales) have specific characteristics such as chemical/heat resistance, electrical conductivity, and high strength-to-weight ratios. Polyvinyl chloride or PVC (2.9% of sales) comes in several grades for use in automotive, furniture, architectural, and consumer applications. Remaining revenues came from tolling services such as fees for processing customer-owned materials.
On the whole, fiscal 2009 was a difficult year. Weak economic conditions across all geographic markets resulted in sharply lower end-market demand. Net sales fell 35.5% year-over-year to $1.28 billion. Tonnage fell 26.6%. North American businesses were especially soft, down 37.8% collectively. The operating profit margin shrank 158 basis points to just 1.71%. Adjusted net income, which excludes asset impairment, restructuring, and other special items, fell 55.8% to $16.4 million or 64 cents per share.
However, full-year results mask the marked improvement in profitability that took place during the second half of the fiscal year. Although net sales declined 38.6% to $618.3 million during the period and total tonnage continued to fall, aggressive cost cutting actions coupled with a more favorable product mix helped lead to stronger-than-expected operating profit margins. As a result, the effect on the bottom line was limited. Net income fell 20.9% to $14.4 million or 57 cents per share, which was well ahead of the consensus estimate.
Fiscal 2010 is off to a strong start. Fiscal Q1 net sales fell 6.6% from the prior year to $362.9 million, which was well above the $322 million expectation. Tonnage dropped by just 4.5%. The operating profit margin more than tripled to 6.18%. Adjusted net income more than doubled to $19.7 million or 76 cents per share.
Despite significant improvements, the pace of SHLM's recovery will be dictated by the strength of its customers' end-markets. Unexpected weakness or a slower-than-expected recovery in these markets would negatively impact SHLM's own turnaround efforts. Higher prices for raw materials would also pressure margins, especially if price increases fail to keep up.
Furthermore, earnings could get diluted by the planned acquisition of ICO, Inc., a global provider of specialty resins and concentrates. SHLM will pay $105 million in cash and 5.1 million shares of common stock, which will increase shares outstanding by about 20%.
The near-term outlook remains promising with fiscal Q1 results signaling a recovery in demand, especially in North America. Thanks to strong cash flows, the company's finances should remain healthy. Even after the ICO acquisition, cash on hand will exceed total debt.