HICL Infrastructure (OTC:HICLF) is an excellent investment for income seeking investors or investors interested in decreasing portfolio risk. Its high and growing yield and negative correlation to equity markets make it a unique holding. The government backed infrastructure projects provide transparent income streams and with contracts linked to inflation there is inflation protection built into returns. The stock trades on a low multiple and with revenues growing YoY there is potential for capital appreciation along with a dividend yield of 5.3%.
Background
HICL is a UK listed investment company with a market cap of around £1.5bn ($2.4bn). The company was launched in 2006 and became the first infrastructure investment company to list on the London Stock Exchange.
The company invests in public infrastructure, working with the public sector to deliver high-quality infrastructure projects.
The initial investment portfolio comprised of 15 projects but today is made up of over 90 infrastructure projects. These projects span various sectors and geographic locations. The majority of the projects are operational, underpinned by long-term contractual agreements that deliver annual yield. Investments include hospitals and schools, where HICL owns long-term concessions and is paid an income stream of the course of the concession. Other projects include toll roads and high-speed rail links.
Investment Objective
The Company seeks to provide investors with long-term distributions, at levels that are sustainable, and to preserve the capital value of its investment portfolio over the long term with potential for capital growth.
Investment Criteria
The investment policy of the company is to ensure a diversified portfolio, which has a number of similarly sized investments and is not dominated by any single investment. The Group has aimed to and will continue to acquire infrastructure equity with similar risk/reward characteristics, which may include:
Public sector, government-backed or regulated revenues
Concessions which are predominantly "availability" based (payments from concessions do not generally depend on the level of use of the project asset)
Companies in the regulated utilities sector
Why I like this stock
Stability and Visibility of revenues - The revenue stream from the infrastructure projects often have clear visibility and stability. The projects have a lifespan and the concessions are all set. Investors hate uncertainty, and this transparency helps reduce this. The end result is that the stock is a lot less volatile than the broader equity market and also offers much more downside protection during market sell offs. The charts below highlight the share performance versus the global equity market during times of market stress.
US Downgrade and Eurozone Concerns (1st August 2011 - 1st Sept 2011)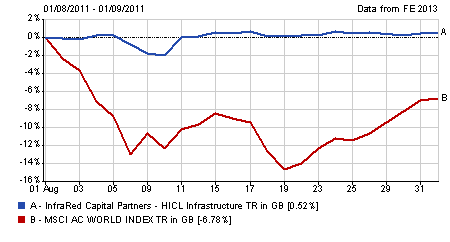 Eurozone Issues (1st May 2012 - 1st June 2012)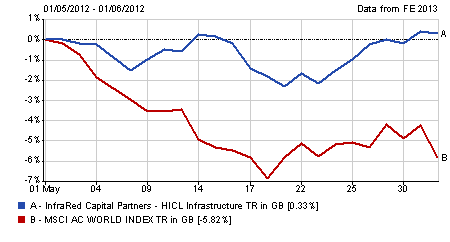 US Fed Tapering Concerns (22nd May 2013 - 22nd June 2013)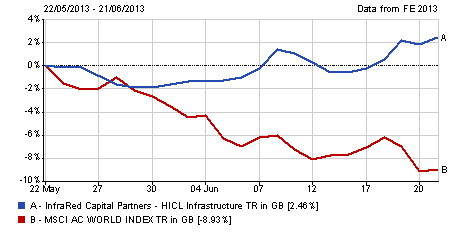 Negative/Uncorrelated to Equity Markets - The stock is a great way to diversify an equity portfolio. The return profile of HICL means that it is uncorrelated/negatively correlated to major equity markets and as such helps to reduce portfolio volatility and can provide a level of support in difficult market conditions. The correlation matrix below highlights the diversification HICL provides to equity markets.
1yr

Correlation Matrix

FTSE 100

HICL

MSCI AC WORLD INDEX

S&P 500

FTSE 100

-0.48

0.92

0.81

HICL

-0.48

-0.28

-0.18

MSCI AC WORLD INDEX

0.92

-0.28

0.93

S&P 500

0.81

-0.18

0.93

3yr

Correlation Matrix

Name

FTSE 100

HICL

MSCI AC WORLD INDEX

S&P 500

FTSE 100

-0.17

0.91

0.75

HICL

-0.17

-0.1

-0.04

MSCI AC WORLD INDEX

0.91

-0.1

0.91

S&P 500

0.75

-0.04

0.91

5yr

Correlation Matrix

Name

FTSE 100

HICL

MSCI AC WORLD INDEX

S&P 500

FTSE 100

0.01

0.9

0.79

HICL

0.01

0.19

0.19

MSCI AC WORLD INDEX

0.9

0.19

0.94

S&P 500

0.79

0.19

0.94
(based on monthly returns)
Attractive, rising dividend - HICL's management have a disciplined dividend policy and have successfully increased dividends YoY since launch in 2006. Given the nature of investments, with many projects' contracts linked to inflation this rising dividend should continue. As well as paying a rising dividend, HICL's level of dividend is very attractive; 5.35% (based on current share price and previous 12-month distributions). With interest rates in the US and UK at 0.25%, a +5% yield becomes highly appealing.
Inflation Protection - Contractual agreements in place with the UK government are linked to the Retail Price Index (RPI). This means that over the life of the contracts inflation will not erode "real" returns and dividends should be covered for inflation. This could become an important factor if, as many senior economists have predicted, we see a spike in global inflation following immense QE. While recent evidence from the developed world indicates high or even hyper-inflation is not a problem, having protection built into the contracts is sensible.
The Opportunity
In an ultra-low interest environment high yielding equities have become very attractive, providing income and the potential for capital growth. HICL currently yields 5.3%, which is a spread of 505bps over US and UK base rates, 250bps over 10yr US Treasuries and 247bps over 10yr UK Gilts. Given its low risk nature highlighted above this seems a very attractive risk premium. This could lead to capital appreciation as income seeking investors shift from low yielding fixed income assets to high yielding equities.
HICL has potential to grow earnings and with it share price. Within the UK the government recently published "Private Finance 2" and National Infrastructure Plan. The framework is now in place for the participation by private sector capital in the construction and funding of new public infrastructure. Private Finance 2 highlights the importance of long-term institutional investors in the provision of equity for the infrastructure projects. The UK Government specified 576 projects with a capital value of £310bn. This provides a huge opportunity for HICL to develop its investment portfolio and with it grow earnings and revenues.
Financials
Revenues have been increasing year on year since 2009. This has been driven by an expansion in the infrastructure portfolio, funded by new share issues. As such earnings have not always grown with revenues as there is an increase in shares outstanding and costs involved in raising equity.
| | | | | | |
| --- | --- | --- | --- | --- | --- |
| | 2009 | 2010 | 2011 | 2012 | 2013 |
| Revenue (£m) | 118.1 | 159.7 | 187.9 | 249.8 | 333 |
| EPS (pence) | 3.66 | 1.6 | 9 | 13.1 | 7.3 |
Despite earnings declining in 2013, the first 6 months of FY 2014 saw earnings reported at 6.2p (compared to 4.9p for H1 2013). This should see a pickup in full year earnings and support a higher share price.
Despite earnings fluctuating, HICL's management team have maintained their progressive dividend policy and successfully increased dividends YoY.
| | | | | | | | |
| --- | --- | --- | --- | --- | --- | --- | --- |
| | 2007 | 2008 | 2009 | 2010 | 2011 | 2012 | 2013 |
| Dividends (P) | 6.1 | 6.25 | 6.4 | 6.55 | 6.7 | 6.85 | 7 |
Valuations
Given the stable dividend growth "Gordon's Growth" model maybe the most appropriate valuation technique. I have assumed dividends grow in line with previous years (0.15p) and valued the stock using three different discount rates.
Price = (D0 x growth rate) / (required rate of return - growth rate)
| | | |
| --- | --- | --- |
| Required Rate of Return | Growth | Valuation |
| 8% | 2.20% | 124p |
| 7% | 2.20% | 149p |
| 6% | 2.20% | 188p |
If we take the average of the 3 share prices above it gives a share price of 153p, 17.5% upside from the current share price.
Another more crude valuation would be to look at P/E. The trailing P/E of HICL is 17.5x. EPS for the first six months of 2013 were 6.2p (previous 4.9p). If we assume EPS are the same for the next 6 months it will give 2014 EPS of 12.4p and a P/E of 10.5x. This multiple looks low for a high dividend equity. Typical income stocks such as GlaxoSmithKline (OTCQB:GLAXF) and Coca-Cola (NYSE:KO) currently trade on 20x earnings. The broad UK equity market (FTSE 100) trades on 16.5x 1yr earnings. Clearly if HICL can grow earnings there could be scope for a re-rating and upside. If EPS were to reach 10p for 2014 and the stock traded on 15x earnings (below market average) upside would be 15%. With a current dividend yield of 5.3% that equates to a total return of 20%.
Risks
The spread over cash funds or developed market sovereign bonds is very attractive currently. If we see a sharp increase in yields then the spread may decrease and prices may have to fall for the risk premium to be maintained. However, rate hikes could be a long way off given the fragility of the recovery, and rate rises are likely to be incremental. Another risk is a shift in government stance towards infrastructure projects. This could limit investment opportunities for HICL.
Due to liquidity constraints the stock maybe best accessed through the London Stock Exchange, Ticker HICL.
Disclosure: I have no positions in any stocks mentioned, and no plans to initiate any positions within the next 72 hours. I wrote this article myself, and it expresses my own opinions. I am not receiving compensation for it (other than from Seeking Alpha). I have no business relationship with any company whose stock is mentioned in this article.