On November 14th, Veris Gold (OTC:YNGFF) released its Q3 2013 financial performance. We have been following the company since 2011 because we saw that the company was trading at a significant discount to the potential market value of its business assets, in particular its ore roasting facility. We are seeing this discount to the replacement cost of its ore roasting facility intractably persist despite the fact that it owns one of only three ore roasting facilities in Nevada and the surrounding region. The other two roasters in the state are owned by Barrick Gold (NYSE:ABX) and Newmont Mining (NYSE:NMT) and neither company has any spare capacity at either firm's roasting facility. Veris Gold's Retired CEO Bob Baldock is still on the board of directors and he estimated that it would cost a company $1B to duplicate Veris Gold's roasting facility. Christopher Ecclestone at Hallgarten & Co estimates that Veris Gold's roasting facility is worth at least $500M (Replacement Cost) or $2.84/share. That compares favorably with Veris Gold's stock price of $0.47/share.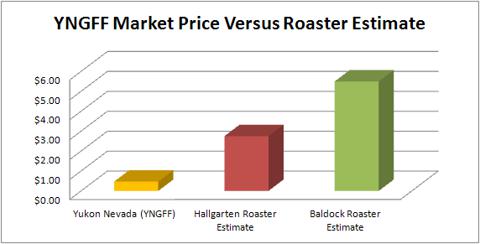 Source: ValueWalk
Strategic Alternatives:
Another reason why we believe that there is value to be unlocked at Veris Gold is the fact that it initiated a strategic review last year and hired RBC Capital Markets and Deutsche Bank Securities as its financial advisors. We most certainly don't believe that this clinches a sale; however we believe that this gives the company options in order to potentially unlock value on behalf of shareholders. We were not happy that Veris Gold's management approved of a poison pill to prevent a hostile takeover. However based on the low market value of the company in relation to the value of the company's roasting facility, we believe that there is no reason why Newmont or Barrick couldn't propose a friendly offer.
Even if a major gold miner offers a 600% premium to Veris Gold's market price, it would be getting the upgraded roaster and the rest of Veris Gold's operations as a throw-in, which it could shut down if it wanted to. Newmont already has a relationship with Veris Gold with regards to Veris Gold processing Newmont's ore in Veris Gold's roaster at a cost-plus basis. Veris Gold signed a longer-term toll milling agreement in Q3 2013 with Newmont to process up to 45,000 tons per month of ore. Veris Gold also signed its second toll milling agreement with Klondex to mill non-refractory ore from Klondex's Fire Creek property nearly 120 miles away from Jerritt Canyon and signed a third toll milling agreement with Atna. We also like that three large institutional shareholders owned ~45% of Veris Gold's outstanding shares. Sprott Asset Management owns 32.6M shares (23.4%), Orifer S.A. owns 19.1M shares (13.6%), and Deutsche Bank has 11.35M shares (8.2%).
Management Progress:
We were pleased with the progress that Veris Gold made while R. Llee Chapman came out of retirement to serve as its Co-CEO. Although Mr. Chapman has stepped down from serving as Co-CEO of Veris, he still serves as a business development consultant to assist with identifying further toll milling, as well as other growth opportunities consistent with Veris Gold's strategy. Veris Gold's Executive Chairman Francois Marland took over as the sole CEO of the firm while its other Co-CEO and CFO Shaun Heinrichs is now focused on his role as the firm's CFO. Veris Gold appointed its Lead Director Gerald Ruth as Non-Executive Chairman to replace Marland. Francois Marland blew the whistle to US prosecutors on the purchase of Executive Life, which violated restrictions on foreign ownership of US insurers, according to the Insurance Journal.
According to Veris Gold's Chief Operating Officer Graham Dickson, Veris Gold's operations at Jerritt Canyon continue to improve each month and he attributed credit for these improvements to the new leadership of General Manager Bill Hofer, which continues to perform better each month. Dickson also acknowledged the efforts of the processing plant management team Kiedock Kim and Chris Jones.
Most Recent Quarter:
Veris Gold released its Q3 earnings on November 14 and it was a bit of a mixed bag. We were pleased at the increased production levels, gold sales and revenues but were displeased at the increased capital expenditures and narrower gross margin. At least the company achieved its fifth straight quarter of positive gross margin after four straight years of negative gross margins. Veris Gold's gross margin in Q2 2013 was $11.2M (18.6%). Revenue from gold sales grew by 10.7% year-over-year as a 35% increase in gold ounces sold more than offset a 20.2% decline in its average gold price per ounce received. The sharp decline in its average gold price explained why its gross margin declined by $3.4M year-over-year.
Payable gold ounces produced also increased by 5.7% year-over-year to 37,544 ounces and this was the third quarter in the last five in which Veris Gold produced 35K+ worth of payable gold ounces. Veris Gold's payable gold ounces produced during the quarter were within 1.25% of its all-time high even though the Jerritt Canyon roaster facility underwent a 10 day scheduled maintenance shutdown in July. We attributed this level of production to the steady state production levels achieved in June 2012 and maintained throughout the last 15 months.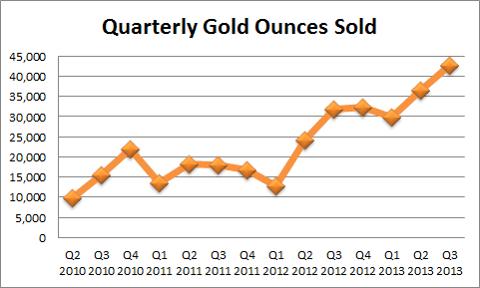 Source: Veris Q3 2013 Earnings Release
Veris Gold's general and administrative expenses decreased by $1.2M due to an $800K reduction in share-based payments versus the Q3 2012 period ($400K adjusted decrease in general and administrative expenses). Veris Gold saw its depreciation and amortization expenses increase by $1.8M year-over-year due to an increased depreciable asset base, which resulted from placing the second tailings facility into operation in July 2013, as well as $1.4M increase in depletion of mineral property additions resulting from both increased production levels and a larger depreciable asset base.
The company saw operating income of $$4.5M in Q3 2013 versus $8.5M in the prior year period. Veris Gold incurred $22.7M in net realized finance expenses primarily due to interest expenses and fair valuation losses on its senior secured gold facility. On a cash flow basis, the company reported a wider free cash flow deficit during the quarter of $17.2M versus $1M due to increased capital expenditures, reduced gross margins and increased payments towards environmental reclamation agreements.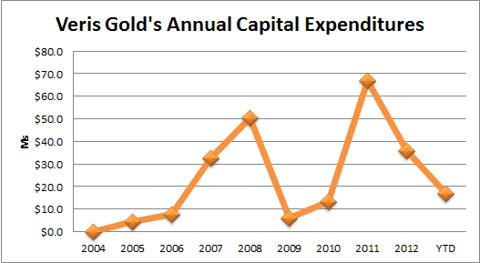 Sources: Veris's 2005-2012 Financial Statements and Veris Q3 2013 Earnings Release
Capital Asset Management and Financing:
We previously discussed Veris Gold's capital raising transactions in the first nine months. We felt a little bit of disgust when evaluating these transactions because the company has diluted its shareholders significantly over the years and has more than doubled its outstanding share count since 2009. Furthermore, Veris Gold's outstanding share count does not include over 40M in shares that Veris will issue upon the exercise of warrants and equity options.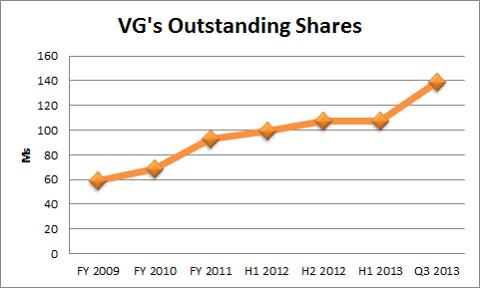 Sources: Veris's 2005-2012 Financial Statements and Veris Q2 2013 Earnings Release
Operational Highlights
Veris Gold's CFO Shaun Heinrichs recently gave an interview with Secutor Capital Management Corporation and described how the company is making progress towards operational excellence and execution. Heinrichs is targeting 145,000 to 155,000 ounces in total gold production for Veris Gold, which is in line with our expectations. We were happy to see the Jerritt Canyon mill processing 4,000-4,500 tons per day as it completes its second batch of Newmont Mining ore as part of a toll milling agreement between Newmont and Veris Gold. Newmont recently completed the rehabilitation of the SSX-Steer Mine by bringing in new electrical infrastructure and mining equipment. This will support the solid mine life that Veris Gold's management expects from the mine and the fairly stable production that Veris Gold has achieved out of Jerritt Canyon.
Heinrichs also mentioned that Veris Gold has been approached a number of times by different companies and individuals. If Veris added more toll milling contracts, especially concentrate-type contracts, it would have a positive impact on its cash costs. Since concentrates typically have higher sulphide content, the company could use the sulphur to displace its own use of coal. If Veris Gold processed around 200 tons of sulphide concentrate at a toll milling rate of say around $250 a ton, Veris Gold would also be displacing over 40 tons a day of coal usage. That adds up to $2M in annual cost savings. Veris Gold has also completed 80% of the necessary permitting to develop its Ketza River mine.
Veris Gold recently announced it achieved record production for the month of October. Veris Gold's Jerritt Canyon operations produced a record 16,407 ounces of gold during the month. The plant processed almost 4,000 tons of ore during the month and operated at over 5,000 tons per day for several days. We agree with Veris Gold's management that investors should continue to expect the company to continue improving its production for Q4 2013.
Conclusion:
In conclusion, we believe that Veris Gold's share price is undervalued relative to its assets. Part of the reason why it is trading at a discount is because the company's previous management expanded too far too fast and made a number of strategic and operating missteps that the current leadership has had to spend time to clean up. However, we are encouraged to see increased ore mining production at Jerritt Canyon and increased gold production at Jerritt Canyon Mill. Veris is able to continue to raise money in order to survive as an independent going concern and has at least stabilized its operating losses and reduced capital expenditures. We also like that Veris achieved another monthly production record in October. Because of the Fed's QE Infinity Program and its improved operating position, we expect that there is a high potential for the company's share price to stabilize and improve in 2013 even if the economy remains weak and even if gold prices continue to ease.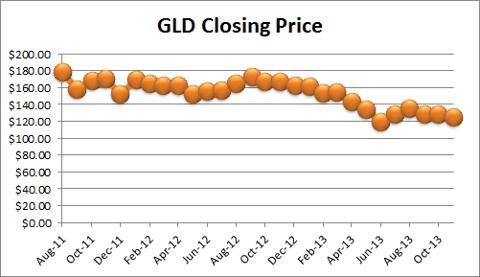 Source: Morningstar Direct
Disclosure: I have no positions in any stocks mentioned, and no plans to initiate any positions within the next 72 hours. I wrote this article myself, and it expresses my own opinions. I am not receiving compensation for it (other than from Seeking Alpha). I have no business relationship with any company whose stock is mentioned in this article.