Tyler Dann is a portfolio manager for the $5 billion AIM Charter Fund, a large-cap core, open-end mutual fund ranked four stars by Morningstar Inc. The management team looks to invest in good businesses with high or increasing returns on capital that have strong growth prospects and are temporarily mispriced. AIM Charter Fund is distributed by Invesco Aim Distributors, Inc. Mr. Dann has 16 years of industry experience and is a CFA charterholder.
We had the opportunity to ask Tyler about his single highest conviction stock holding.
• • •

Seeking Alpha (SA): What is your highest conviction stock position in your fund - long or short?
Tyler Dann (TD): The AIM Charter Fund is a long-only mutual fund, and so CVS, which is the stock I will be discussing below, is a long position. It is a top 10 position in the AIM Charter Fund.
The company operates retail drugstores with approximately 5,500 stores in the United States, primarily under the CVS Brand name, and operates one of the three large pharmacy benefit management (PBM) companies in the U.S., Caremark.
SA: Can you talk a bit about the industry/sector? How much is this an "industry pick" as opposed to a pure bottom-up pick?
TD: Our company analysis encompasses significant business analysis, so to some extent our stock selection is informed by industry factors.
We build the Charter Fund portfolio on a stock-by-stock basis and it is fairly concentrated, so we do a lot of company-specific due diligence. Our research process is focused on identifying what we call "growth/value anomalies", meaning companies we believe are fundamentally sound, in good businesses, managed by generally able and honest people, trading at a discount to our appraisal of intrinsic worth.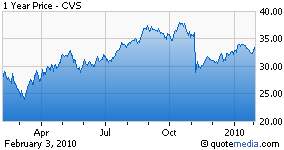 Usually what creates this discount is some sort of controversy, industry or management-driven. In the case of CVS, the weak economy and the overall competitive landscape has caused some weakness in the company's consumer-facing businesses, to be sure; as well, some of the controversy in the stock relates to the pall broadly cast over health care companies as the federal government has mulled health care reform over the past 12 months. However, we attribute most of the controversy to concerns over management execution in the PBM business, which is discussed below.
SA: How would you describe CVS's competitive environment?
TD: The company's retail pharmacy business faces an extremely competitive environment. Walgreens (WAG) and Wal Mart (NYSE:WMT) are two fierce competitors, and CVS is viewed as having some reasonably good real estate but in general a slightly inferior competitor. There is some threat to their business from online competitors as well, but the good news for CVS is that they and Walgreens have been able to take share from Rite Aid (NYSE:RAD) and from small local pharmacies.
The Caremark PBM business is a high volume, low margin, good return business characterized by low client turnover. Client contracts are typically three to five years, and there is an annual renewal season each fall. This most recent renewal season did not go well for Caremark, as their renewal rate was as low as it's been in recent memory – at 92%. That is good and bad – they did not execute well, to be sure, but they still were able to keep 92% of their clients! Their primary competitors, Medco (NYSE:MHS) and Express Scripts (NASDAQ:ESRX), have been aggressively marketing against Caremark, and this, coupled with some client service issues, has contributed to the weak renewal results. For the 2010 renewal season, approximately 18% of Caremark's business is up for review; it would be hard to imagine that the renewal rate would worsen from 92%.
SA: Can you talk about valuation? How does valuation compare to the competitors?
TD: We look at valuation using three primary methods: discounted cash flow (DCF), traditional multiple analysis and sum-of-the-parts. Each of the company's businesses trades at a wide discount to peers; as well, the stock trades at a significant discount to its own history and our DCF value under a base case which utilizes conservative assumptions and a 10% discount rate.
Under our base case, our analysis suggests the stock is worth above $40/share; it could be worth $26 under a bearish scenario and $54 under a best-case scenario. So we think the risk/reward proposition is favorable.
SA: What is the current sentiment on CVS? How does your view differ from the consensus?
TD: As you'll see in more detail below, current sentiment is pretty negative, stemming from two areas of concern: first, concern over the competitive environment in the retail pharmacy business; and second, concern over management execution related to the Caremark PBM business.
While we'd concede that the retail pharmacy business is facing significant competition, this is nothing new in our view, and so while we'd not be dismissive, we think that this concern's been reflected in the current stock price. To some extent we think the same thing on management – they've replaced the head of their PBM business with what we believe is a capable, thoughtful manager – one who has deep PBM industry experience and is respected by his peers. We believe that the renewed focus on letting Caremark positively differentiate itself should bear fruit in the upcoming renewal season in fall 2010.
SA: Does the company's management play a role in your position?

TD: We believe that concerns over management have driven the stock price lower. The consensus view of management is that they have dropped the ball on the Caremark acquisition on the PBM side of the company and are a notch below Walgreens on the retail side of the company – so in general, this management team is viewed as under-achievers.
We do not disagree with some of the complaints about management but believe that they are doing a competent job managing the retail-facing business and have taken steps to improve the focus on Caremark.
SA: What catalysts do you see that could move the stock?
TD: In the near term, we think that there will be cross currents. The retail environment is challenging and this could depress near-term results. As well, the company recently reduced its 2010 profit forecast. However, it is possible that the PBM renewal season (upcoming this fall) could be better than last year's and thus this could be positive for sentiment on the stock.
Longer-term, we believe there are two potentially significant, generally positive catalysts. The first catalyst is what we would call the generic wave. When branded drugs go off patent and are thus open to competition from generic drug manufacturers, this has historically translated into an economic windfall opportunity for PBMs. Typically, generic drugs are more than twice as profitable for PBMs to sell versus branded pharmaceuticals. Our analysis suggests that the next generic wave should begin late in 2011 and continue through 2014.
Secondly, as the number of insured patients likely rises as health care reform takes root, we believe that prescription volume (script) trends will be incrementally favorable, which has a positive impact both on the PBM but also a secondary impact on the retail pharmacy business as foot traffic would notionally increase through their stores.
The catalysts described above should drive 15%+ earnings growth per annum in the 2011-2014 period; at current valuation levels we are hard-pressed to find better growth stories out there.
SA: What could go wrong with this stock pick?
TD: There is plenty that could go wrong, but there are two elements that we're watching that could most materially change our view on the company and our appraisal of value.
First, the earnings forecast could be cut again if their retail business remains challenged – if terribly bad this would cause us to revisit our long-term economic assumptions for this business and likely reduce our appraised value.
Second, management could again stub its toe this upcoming renewal season, which would be viewed as a further indictment of this team and may impair their ability to garner as much profit as the could during the upcoming generic wave – and may end up being a catalyst for further senior management change.
SA: Thank you very much, Tyler.
TD: My pleasure.
Disclosure: Tyler Dann's fund is long CVS
If you are a fund manager and interested in doing an interview with us on your highest conviction stock holding, please email Rebecca Barnett: rbarnett@seekingalpha.com