Intel Corp. (NASDAQ:INTC) is a popular tech company that does not require introduction, causing its stock to be one of the most sought after by investors. Recently, the company held its Investor Day presentation in which Intel shared its plans for the future. Despite the good intentions though, investors and analysts had mixed emotions. What is even worse is that the shares went down after the announcement of the 2014 guidance.
Even though share price went down to $23.50, the lowest since October this year, this does not mean it is time for investors to sell this stock. In fact, despite the recent slide, there are a number of reasons that will allow Intel to swing back to its high place.
Pleased Investors
Through the Investor Day held recently, Intel was able to put a smile on its investors' faces. One of the reasons for this is because the company has announced that they have plans on increasing their tablet CPU deliveries fourfold next year. Another bold statement was that the company will focus more on their foundry business. These two declarations alone made investors excited, allowing the company shares to rise throughout the Investor Day.
Analysts are Positive
Although shares are lower and some analysts have already reduced their target price for Intel, not everyone agrees. Take for example Jefferies analyst Mark Lipacis who still has a Buy rating for the stock. He even raised his target price from $30 to $32. Goldman Sachs may be bearish on Intel, but many other analysts also gave the stock a Buy rating including Mizuho Securities, which set the price to $30.
Moreover, Alpine Capital Research finds an opportunity for Intel to reach out to more customers, believing that Intel stock can survive in the long run. With the company being the only one that produces a tablet chip compatible with mobile operating systems of both Google (NASDAQ:GOOG) and Microsoft (NASDAQ:MSFT). This is a positive prospect that can add even more value to Intel.
Steady Dividend Growth
A number of dividend growth investors have decided to say goodbye to Intel stock because the company has paid the same amount for every share for six quarters in a row. This is disappointing, but the truth is that the annual dividend per share of the company has increased since 2003. Although it may appear that Intel is a slow moving stock compared to the other big names in technology right now, the company still has time until next year to continue moving its dividend growth up.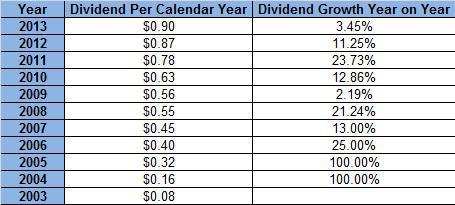 Still about dividend, Intel actually fares better than its contemporaries including Nvidia (NASDAQ:NVDA) and Qualcomm (NASDAQ:QCOM). Additionally, Intel's payout ratio is higher than the two mentioned companies as well as with Microsoft and Cisco (NASDAQ:CSCO).

Positive Outlook for Handheld Devices
There are other leading company names when it comes to smartphones and tablets. However, this does not make Intel lag behind its competition. As a matter of fact, Intel's System on a Chip (SOC) based on Atom architecture can now be found in 15 tablets and 12 smartphones. Intel also hopes to conquer the tablet market by increasing shares in 2014.
More Reasons to Buy Intel
The 2014 guidance may have presented a tough move for Intel, which many consider as the price that both Intel and the shareholders will have to pay. However, the failure will only affect the company for a short period of time because it has its eye on the future. The management is looking into a long-term win, which they will most likely achieve in the end. Intel is slowly moving away from the PC market since it is crumbling anyway. Also, Intel may earn $500 million through the sale of their Internet TV platform, OnCue. According to Brian Krzanich, Intel's CEO, this will allow the company to focus more on the mobile market.
If you are still in doubt about Intel especially because of the recent slide, remember that it is still viewed as the frontrunner in server processors as well as in notebook and desktop processors. Furthermore, the company is getting into tablets, which from a long-term perspective will help Intel continue as a prominent part of the technological world.
Disclosure: I have no positions in any stocks mentioned, and no plans to initiate any positions within the next 72 hours. I wrote this article myself, and it expresses my own opinions. I am not receiving compensation for it (other than from Seeking Alpha). I have no business relationship with any company whose stock is mentioned in this article.