By David Russell
Energy Transfer Partners (NYSE:ETP) has pulled back after surging higher last month, and now one trader is using in-the-money calls to leverage a rebound.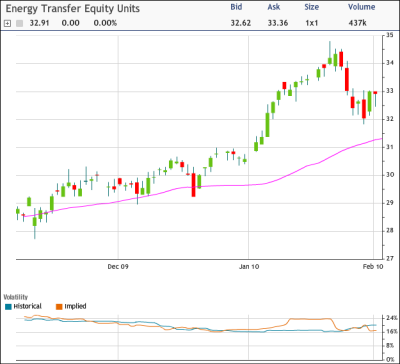 optionMONSTER's Heat Seeker tracking program detected the purchase of 13,200 February 30 calls on the pipeline stock for $2.90. Volume was 27 times greater than open interesting the strike.

ETE was unchanged at $32.91 yesterday and is up 16 percent in the last three months. The shares rallied to a 22-month high of $34.80 on Jan. 21 and are now consolidating above the $32.50 level where they traded before collapsing in late 2008.

Some chart watchers may interpret the price action as evidence of a bullish trend higher.
By purchasing in-the-money calls near expiration, the trader paid almost nothing in time value and will profit directly from any gains in the share price. The options have a delta of 1, meaning they will move dollar-for-dollar with ETE. (See our Education section)
The strategy provides significant leverage. For instance, if the shares climb 6.3 percent to $35, the in-the-money trade will earn about 70 percent.

The trade occurred in two parts in the final 65 minutes of yesterday's session and accounted for almost all the option activity in the name. Calls outnumbered puts by a bullish 228-to-1 ratio and overall options volume was 14 times greater than average.

(Chart courtesy of tradeMONSTER)